Dow closes lower, but up from plunge of more than 560 points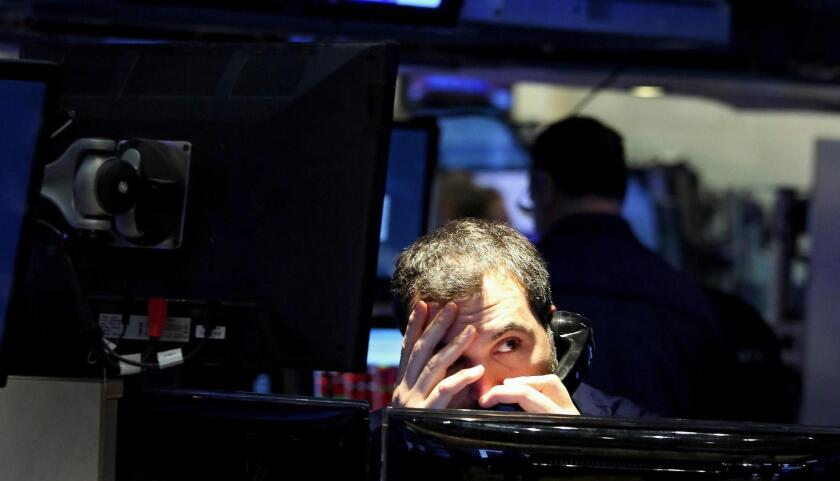 The stock market endured another wild ride Wednesday, and the thrills aren't likely to end soon as the free-fall in oil prices and growing concern over China's slowing economy kept investors on edge.
U.S. stocks began in full-scale retreat after Asian and European markets fell, sending the Dow Jones industrial average down 565 points, or 3.5%, and pushing some other market indexes to their lowest levels since early 2014.
Prices rallied somewhat in the afternoon, especially shares in the tech-heavy Nasdaq composite index, before tailing off again and finishing with moderate losses.
The main culprit was another severe drop in global oil prices, which now have plunged nearly 30% in only three weeks to 12-year lows below $27 a barrel.
That's hammered the outlook for energy companies, raised fears of weaker economic growth worldwide and added another layer to the volatility that's expected to keep rocking the markets early this year.
"Clients are certainly nervous right now" and the markets' "volatility could continue to be quite high," said Aaron Jett, vice president of equity research at Bel Air Investment Advisors in Los Angeles.
The Dow Jones industrials finished with a loss of 249.28 points, or 1.6%, at 15,766.74, its lowest level since last August. The Dow is now off 9.5% so far this year.
The broader Standard & Poor's 500 fell 22 points, or 1.1%, to 1,859.33 and the Nasdaq composite index slipped 5.26 points to 4,471.69.
The benchmark U.S. light crude oil dropped $1.91, or 6.7%, to $26.55 a barrel on the New York Mercantile Exchange, the biggest one-day drop since Sept. 1.
Stocks have been under pressure all month not only from oil prices but from sharp declines on China's stock markets and the underlying concern that China's economy, the world's second largest, is growing at a much slower pace.
But some analysts noted that the U.S. economy continues to expand and that Wednesday's stock-market gyrations might have been an overreaction, a pullback fueled more by momentum than by any major change in U.S. companies' business prospects.
"I don't believe that from one day to the next that the earnings outlook for the firms has gone that far south," said Tony Cherin, a professor emeritus of finance at San Diego State University.
Chris Rupkey, chief economist at Union Bank in New York, said the market's sell-off was "simply happening too fast" and that "panic selling, more than reasoned investment decisions based on fundamentals like the economy and corporate earnings, are driving these losses. It can't last."
But it could well linger a while.
It was only last spring and summer that the Dow Jones industrials and other major indexes hit record highs, extending a six-year bull market that many believed was overdue for a sustained reversal.
"We're long overdue for a reasonable decline," said Joe Duran, chief executive of United Capital, a Newport Beach firm that manages $15 billion in assets.
------------
FOR THE RECORD
Jan. 21, 1 p.m.: An earlier version of this article stated that United Capital manages $16 billion in assets. It manages $15 billion in assets.
------------
It appeared the pullback might have been underway last August when prices plunged in some of the wildest sessions in years. But stocks soon rebounded and recouped much of those losses during the rest of 2015.
Now the downturn is occurring again and Sung Won Sohn, an economist at Cal State Channel Islands, said the volatility reflects persistent concerns about a slowing global economy.
"The world's economy is not as healthy as it seems and I would begin to worry," he said, although he added that the U.S. economy should grow about 2% this year.
Tumbling oil prices often are a sign of rapidly weakening demand. But while worldwide demand slowed somewhat toward the end of last year, oil prices are plummeting largely because of a supply glut, the International Energy Agency said.
With nuclear-related sanctions lifted on Iran, there are fears the oversupply soon will get worse as the country with the world's second-largest reserves of natural gas is able to start shipping its oil into the world market.
But lower oil prices also benefit the economy in some ways, such as helping curb inflation. The consumer price index fell 0.1% in December, largely because of a 3.9% decline in gasoline prices, the Labor Department said Wednesday.
"Markets are seeing the damage of lower oil prices but not fully pricing in the benefits," Brad McMillan, chief investment officer at Commonwealth Financial Network, wrote in a note to clients Wednesday. "In other words, markets are overreacting."
Whether it's an overreaction or not, stocks generally are now much cheaper relative to the corporate earnings that typically drive share prices.
Last August, before the market nosedived, the S&P 500 index was trading at 21.6 times its member companies' profits for the previous 12 months, according to the research firm Birinyi Associates.
That was well above the historical average of 15.5 and an indication that perhaps stocks had climbed too high relative to corporate earnings. Now that the market has dropped again, the S&P index is selling for 16.5 times earnings, much closer to normal.
"We're certainly cautious for the next couple of quarters" owing to Wall Street's volatility, Jett said. "So we definitely aren't saying, yes, this is the time to double-down on your equities exposure. But we are nibbling."
Twitter: @PeltzLATimes,
---
Your guide to our clean energy future
Get our Boiling Point newsletter for the latest on the power sector, water wars and more — and what they mean for California.
You may occasionally receive promotional content from the Los Angeles Times.