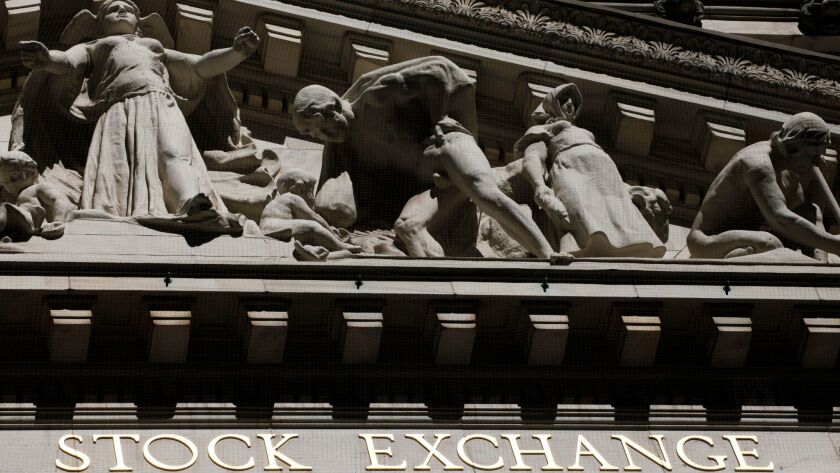 Wall Street closed out the final day of the second quarter with slight gains after a broad rally faded in the last few minutes of trading Friday.
The Dow Jones industrial average and the Standard & Poor's 500 index eked out tiny gains, while the Nasdaq composite closed essentially flat.
Industrial stocks and consumer-focused companies led the gainers. Energy stocks also rose as crude oil prices closed higher for the seventh straight day. Utilities, technology and healthcare companies were among the biggest decliners.
Trading was mostly subdued ahead of the Fourth of July holiday next week, though many investors seized on the final trading day of the quarter and the previous day's market slide to buy more shares or close out positions and book profits.
"Overall we're ending this quarter with a strong market. Even though technology has taken a hit, other sectors have moved up," said Quincy Krosby, chief market strategist at Prudential Financial.
The S&P 500 index rose 3.71 points, or 0.2%, to 2,423.41. The Dow went up 62.60 points, or 0.3%, to 21,349.63. The Nasdaq edged down 3.93 points, or 0.1%, to 6,140.42. The Russell 2000 index of small-company stocks slipped 0.84 of a point, or 0.1%, to 1,415.36.
Bond prices fell. The 10-year Treasury yield rose to 2.30% from 2.27%.
The major stock indexes got off to a shaky start early Friday, but they soon veered higher and held course for much of the day. A last-minute flurry of selling nudged the Nasdaq and Russell 2000 slightly into the red.
The Dow, S&P 500 and Nasdaq ended the week in negative territory. This was also the worst week of the year for the Nasdaq and the third loss in the last four weeks for the tech-heavy index.
The market's snapshot at the halfway mark for 2017 is more encouraging, however.
The S&P 500 index, the broadest measure of the stock market, is up 8.2% this year, while the Dow is up 8%. The Nasdaq has racked up a gain of 14.1%. The Russell 2000 is up 4.3%.
Strong corporate earnings and revenue have underpinned the market's gains this year. Expectations among investors that President Trump and the Republican-led Congress would slash taxes, boost federal spending on infrastructure and enact other business-friendly policies have also helped drive stocks higher.
Investors appeared to temper those expectations in recent weeks as the Trump administration hit legislative snags in its bid to pass a health insurance overhaul.
On Thursday, S&P Global Ratings noted that sentiment on Wall Street — which had been strong following Trump's election — has begun to soften.
"We no longer believe the federal government will be able to push through even a small infrastructure-spending package, and we expect only moderate tax cuts to be passed early next year as midterm elections approach," wrote Beth Ann Bovino, S&P Global's U.S. chief economist.
Remarks from central bank officials in Europe earlier this week helped set the tone for the market, spurring speculation among investors that global interest rates could rise. That sent bond yield sharply higher and helped lift shares in banks.
Traders also sold off technology stocks. The sector had its worst week this year.
Even so, technology still leads all other sectors. It's up 16.4% this year, followed by healthcare and consumer discretionary stocks. Energy stocks are the biggest laggard so far this year, down 13.8%. Phone companies are also in the red.
On Friday, investors sized up the latest economic reports, company earnings and deal news.
The Commerce Department said consumer spending grew just 0.1% in May, less than the previous couple of months. Personal income grew a healthy 0.4%, but spending rose only 0.1%.
Athletic apparel maker Nike had its best day in almost two years Friday. Its shares jumped 11% to $59 after a strong quarterly report. Nike also said it's testing a program to sell sneakers directly through Amazon.com. Nike shares were the biggest gainer in the S&P 500.
Specialty contractor Quanta Services was the biggest gainer in the industrials sector, rising 3.3%, to $32.92.
Parkway vaulted 12.3% to $22.89 after the Canada Pension Plan Investment Board agreed to buy the commercial real estate investment trust for about $1.13 billion.
Hain Celestial climbed 8.6% to $38.82 after activist investor Engaged Capital disclosed a 9.9% stake in the organic food maker.
American Outdoor Brands — which changed its name from Smith & Wesson earlier this year — slid 7.4% to $22.16 after the firearms maker issued weak forecasts for the current quarter and the fiscal year.
Crude oil prices rose for the seventh straight day. Benchmark U.S. crude climbed $1.11, or 2.5%, to settle at $46.04 a barrel in New York. Brent crude, the international standard, rose $1.14, or 2.4%, to $48.77 a barrel in London.
In other energy futures trading, wholesale gasoline ticked up 4 cents to $1.51 a gallon. Heating oil rose 3 cents to $1.48 a gallon. Natural gas was little changed at $3.04 per 1,000 cubic feet.
Among metals, gold fell $3.50 to settle at $1,242.30 an ounce. Silver slipped 3 cents to $16.63 an ounce. Copper rose 2 cents to $2.71 a pound.
The dollar rose to 112.45 yen from 112.07 yen. The euro gave up some of its gains from earlier in the week, falling to $1.1417 from $1.1432. The pound rose to $1.3014 from $1.2991.
Major stock indexes in Europe fell. Germany's DAX and the CAC 40 in France each lost 0.7%. The FTSE 100 index of leading British shares slid 0.5%.
In Asia, trading was mixed. The Hang Seng in Hong Kong fell 0.8%, while Japan's Nikkei 225 index dropped 0.9%. South Korea's Kospi lost 0.2%. Shares in Southeast Asia were mostly lower. And Australia's S&P ASX 200 lost 1.7%.
---
UPDATES:
2:55 p.m.: This article was updated with closing prices, context and analyst comment.
This article was originally published at 7 a.m.
---