Stocks rise as investors expect interest rates to stay low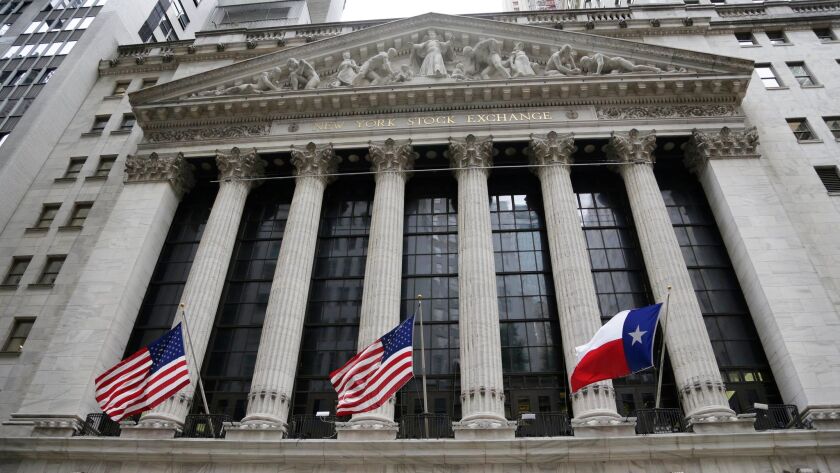 Not great, but good enough: U.S. stocks rose Friday as investors viewed a relatively weak jobs report for August as likely to help keep interest rates low. Banks, energy companies and automakers led the way.
The Labor Department said U.S. employers added 156,000 jobs in August. That was a bit less than analysts expected, but investors were pleased that the economy kept growing at a steady pace while inflation remains weak. They bet that will keep the Federal Reserve from raising interest rates too quickly.
August was a good month for blue-collar jobs, but overall hiring tailed off »
Car companies rose as they reported their August sales. Wall Street expects them to get a boost as Gulf Coast residents replace the hundreds of thousands of cars that have been damaged by rains and flooding this week.
Hurricane destruction is expected to boost auto sales »
Banks rose as bond prices dropped, which sent yields and interest rates higher.
The pattern of slow but steady job gains and weak inflation has helped push stocks up for years. Investors have worried at times that the Federal Reserve would raise rates too fast and that the economy would stumble.
"The market is looking at economic news that is below expectations as a sign that the Federal Reserve is not going to do much in terms of interest rate hikes," said Scott Wren, senior global equity strategist for Wells Fargo Investment Institute. He said Friday's report was "like almost every other jobs report we've seen over the last four years."
The Standard & Poor's 500 index rose 4.90 points, or 0.2%, to 2,475.55. The Dow Jones industrial average rose 39.46 points, or 0.2%, to 21,987.56. The blue-chip index had its first change in more than two years on Friday, as longtime Dow component DuPont combined with former rival Dow Chemical to form DowDuPont. The Nasdaq composite rose 6.67 points, or 0.1%, to 6,435.33. It was the best week this year for the Nasdaq as technology and healthcare companies surged. The index is at record highs.
The Russell 2000 index of smaller-company stocks climbed 8.29 points, or 0.6%, to 1,413.57.
Six months ago, stocks made their biggest gain of the year: The S&P 500 jumped 1.4% on March 1. The index has gained just 3.3% since then.
Although businesses continue to hire workers at a steady pace, inflation is well still below the Federal Reserve's target of 2%. The Fed has raised interest rates three times in the last year. It says that it plans to raise rates once more this year and three times in 2018. But based on reports such as Friday's, investors don't think that will happen.
Long-term government bond prices moved down. The yield on the 10-year Treasury note rose to 2.16% from 2.12%, but the yield on the two-year note stayed at 1.33%. Still, the rises in bond yields and interest rates gave banks a boost. JPMorgan Chase rose 0.9% to $91.70.
General Motors said its sales improved in August, and its stock rose 2.2% to $37.36. Car sales declined overall, partly because Hurricane Harvey slowed car buying in Houston, one of the largest U.S. markets. But investors expect that will help sales in the months to come. Ford shares rose 2.9% to $11.35. Fiat Chrysler jumped 7.2% to $61.68.
Benchmark U.S. crude rose 6 cents to $47.29 a barrel in New York. Brent crude, which is used to price international oils, fell 11 cents to $52.75 a barrel in London. Wholesale gasoline prices, which have surged this week, fell 3 cents to $1.75 a gallon.
Wholesale gasoline prices have climbed because of rains and flooding in the Gulf Coast. At least two major pipelines have been slowed or stopped, and oil drilling and refining have been curtailed.
It's not clear how much damage Hurricane Harvey, which is now a tropical depression, will cause to the region or to the U.S. economy. But investors expect at least some companies will benefit: those that will be involved in the cleanup after the flood waters recede. Consulting and engineering services company Tetra Tech climbed 1.8% to $43.35, for a 7% gain this week. Environmental services company Clean Harbors and radioactive and hazardous waste services company U.S. Ecology took small losses Friday, but for the week, Clean Harbors rose almost 5% and U.S. Ecology jumped 8.5%.
Lululemon Athletica jumped 7.2% to $61.69 after the athletic-inspired clothing company reported a solid quarter and gave strong forecasts. Clothing retailers rallied in the wake of Lululemon's report, including Victoria's Secret parent L Brands, which rose 3.4% to $37.46.
Ambarella dived 22.4% to $42.24 after the Santa Clara, Calif., video-compression chipmaker lowered its annual sales forecast.
Gold rose $8.20 to $1,330.40 an ounce. Silver jumped 24 cents, or 1.4%, to $17.82 an ounce. Copper rose 2 cents to $3.12 a pound.
Heating oil was little changed at $1.75 a gallon. Natural gas rose 3 cents to $3.07 per 1,000 cubic feet.
The dollar rose to 110.24 yen from 109.98 yen. The euro fell $1.1869 to from $1.1903.
The French CAC 40 gained 0.7%, as did the DAX in Germany. In Britain, the FTSE 100 edged up 0.1%. Japan's benchmark Nikkei 225 rose 0.2% and the Kospi in South Korea lost 0.2%. Hong Kong's Hang Seng was little changed.
---
UPDATES:
3 p.m.: This article was updated with closing prices, context and analyst comment.
9:05 a.m.: This article was updated with market prices and context.
This article was originally published at 7 a.m.
---
Must-read stories from the L.A. Times
Get the day's top news with our Today's Headlines newsletter, sent every weekday morning.
You may occasionally receive promotional content from the Los Angeles Times.