U.S. employers add 156,000 jobs in August; unemployment rate edges up to 4.4%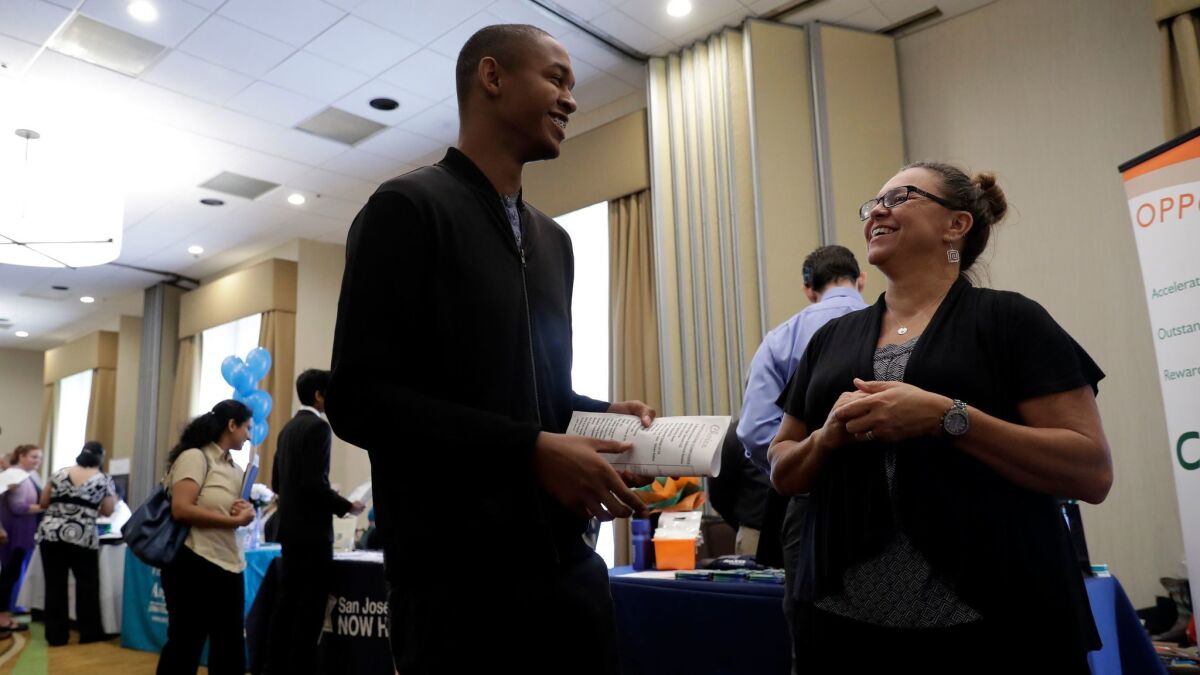 Reporting from Washington —
August was a good month for blue-collar jobs, but hiring on the whole tailed off from earlier in the summer and there was no indication of an upturn in wage growth, which has been missing in the nation's long economic recovery.
Despite solid gains in manufacturing, construction and mining, U.S. job growth overall last month fell short of economists' expectations and recent trends. Employers added 156,000 net new jobs, a slowdown from payroll increases of 189,000 in July and 210,000 in June, the Labor Department said Friday.
The nation's unemployment rate ticked back up to 4.4%, from 4.3% in July. Average hourly earnings barely rose, and the typical number of hours worked per week slipped a fraction last month.
Economists cautioned against reading too much into one's month data, especially coming in a summer when seasonal factors are more tricky for statisticians to filter out.
Job creation last month was still more than enough to absorb the growth in the working-age population. The unemployment figure remains just shy of a 16-year low, and the economy this summer entered its ninth year of expansion.
"Even though August's numbers were softer than those of recent months, labor market conditions remain strong overall," said Brian Schaitkin, senior economist at the Conference Board, an employer-sponsored research group in New York.
In a study timed to Labor Day, the Conference Board said its measure of job satisfaction surpassed 50% for the first time since 2005, with workers feeling better thanks largely to a greater sense of job security and more employment opportunities.
Analysts said the August jobs report was not likely to alter the Federal Reserve's views of the economy and its plans to gradually withdraw monetary support for the economy by selling some bonds and raising interest rates one more time this year.
Still, the latest snapshot of the labor market was broadly disappointing, and it adds to the uncertainty that has risen following the massive storm named Harvey.
Labor Department officials Friday made it clear that Harvey, which pounded southeast Texas over the last week, had no effect on the jobs report because data were collected earlier in the month. But economists expect initial unemployment claims to jump over the next few weeks as many businesses and workers have been immobilized by the devastating storms in Houston and across the Gulf Coast.
Harvey also could have a modest effect on the employment numbers in September, by some estimates reducing national job growth by 30,000 this month. Though that isn't much, it nonetheless won't help the labor market or the broader economy.
The economy had been gathering steam in recent months, with economic output climbing by an annual rate of 3% in the second quarter and on pace for similar growth in the current quarter.
Separate reports Friday showed the nation's manufacturing sector expanded robustly in August behind strong gains in employment and inventory measures, while consumer confidence, as tracked by the University of Michigan, rose sharply last month as household sentiments were buoyed by increases in incomes and rising wealth from appreciating stocks and home values.
As destructive as Harvey was — some damage estimates top $100 billion — most economists think the disaster's effect on the nation's economy will be relatively minor or transitory. Barclays Bank on Friday estimated that Harvey would knock a sizable 1 to 1.5 percentage point from third-quarter GDP growth, thanks to the high-value-added energy sectors in the Gulf Coast and the timing of the storm's landfall.
But With U.S. consumers already paying a little more for gasoline, if job growth and earnings should slow further, the crimp to economic growth will likely be more lasting. On Friday, Macroeconomic Advisers shaved 0.2 percentage point from its third-quarter growth forecast because of the unexpected weakness in employment, hours and earnings in August and what that implies for incomes and spending.
Last month, the average workweek for all employees dropped a notch to 34.4 hours. And average hourly earnings rose just 3 cents to $26.39, down from the 9-cent increase in July. Compared with a year ago, the average pay in August was up 2.5% — the same modest pace in past months.
Analysts had been expecting wages to grow more quickly as unemployment fell to low levels and more employers reported trouble finding workers.
But Jed Kolko, chief economist with employment website Indeed.com, said average wage growth may be lagging because of the aging of the workforce — older adults tend to get smaller wage gains or are replaced by lower-paid younger workers when they retire. What's more, he noted that the economy has been in a long period of sluggish productivity growth, which is crucial to long-term improvements in incomes and living standards.
Secretary of Labor Alexander Acosta acknowledged the slow pay gains, saying "real wage growth has room for improvement." But his statement Friday focused on the bright spots in the report, particularly the solid gains for America's blue-collar workers.
Manufacturers last month added a brisk 36,000 jobs. Much of that came in auto manufacturing, a sector in which payrolls can be volatile in the summer as companies retool their plants. One notable exception was apparel manufacturing, which continued its long slide in employment last month.
Construction hiring surged by 28,000, after being listless in the prior five months. And the mining sector, which includes oil and gas extraction, bulked up its payrolls by 6,500 workers, continuing a rebound this year after losses in the prior two years from depressed petroleum prices.
"These family-sustaining jobs are the foundation of the American dream," said Acosta, sounding very much like President Trump, who has made reviving industrial America a top priority.
Acosta noted that the unemployment rate for Americans with less than a high school diploma dropped nearly a full percentage point last month and is now down to its lowest figure in nearly 11 years, at 6%. In fact, the jobless rate for this group has been lower than 6% just once in the last 25 years of record-keeping by the Labor Department.
By comparison, the August unemployment rate for high school graduates stood at 5.1%. It was 3.8% for adult workers with some college, and 2.4% for those who have at least a college degree.
The white-collar industries, or the larger service-producing part of the economy, did not have a particularly strong month. Apart from business and professional services and health services, which had decent job growth, most of the other service employers hired little or cut back.
Leisure and hospitality, one of the fastest-growing lower-paying sectors in recent years, added just 4,000 jobs last month. Employment in retail trade and transportation was essentially unchanged.
Government, meanwhile, shed 9,000 jobs in August, and payrolls in the high-wage information sector were down 8,000 — more than half in the film industry.
ALSO
Behind a $13 shirt, a $6-an-hour worker
Is L.A.'s long-running Car Night on its last lap?
Harvey likely to be the second-most costly natural disaster in U.S. history
---
UPDATES:
11:50 p.m.: This article was updated throughout with additional details, reaction and analysis.
6:50 a.m.: This article was updated with staff reporting.
This article was originally published at 5:40 a.m.
Sign up for the California Politics newsletter to get exclusive analysis from our reporters.
You may occasionally receive promotional content from the Los Angeles Times.