Stocks rise broadly as GOP tax plan moves forward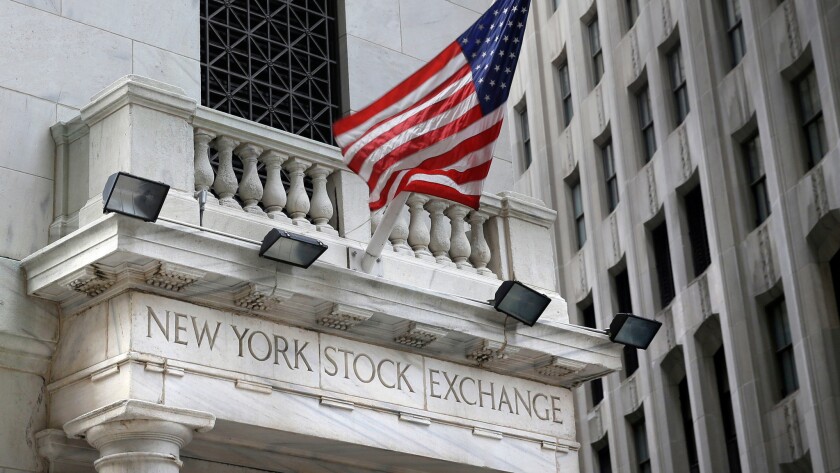 Wall Street capped the week with broad gains, propelling the major stock indexes to a new set of milestones Friday.
Investors welcomed signs that congressional Republicans were solidifying support for a major overhaul of the nation's tax laws. A vote is expected next week.
Technology stocks led the gainers, which more than wiped out the market's Thursday losses. Healthcare companies and banks posted solid gains. Energy stocks were the only laggard.
Small-company stocks, which stand to benefit most from lower corporate tax rates, rose more than the overall market.
"The tax bill seems to be the driver right now," said Erik Davidson, chief investment officer at Wells Fargo Private Bank. "The market just thinks it will get done."
The Standard & Poor's 500 index climbed 23.80 points, or 0.9%, to 2,675.81. The Dow Jones industrial average rose 143.08 points, or 0.6%, to 24,651.74. The Nasdaq advanced 80.06 points, or 1.2%, to 6,936.58. The Russell 2000 index of smaller-company stocks jumped 23.47 points, or 1.6%, to 1,530.42.
The Dow, S&P 500 and Nasdaq closed at record highs.
The indexes headed higher early Friday as investors watched developments in Washington with the Republican-led tax overhaul bill. GOP leaders moved to placate Sen. Marco Rubio (R-Fla.), who had said Thursday that he would vote against the bill unless the child tax credit was beefed up.
By Friday afternoon, congressional Republicans had finalized the bill, expanding the child tax credit and winning Rubio's support. The move provided a major boost for the GOP lawmakers in the Senate who are trying to hold together a razor-thin majority to pass the bill in a vote next week.
Technology stocks, which are leading the market this year, notched solid gains. Intel rose 3% to $44.56.
"We had seen some rotation out of it the last few weeks," said Jim Davis, regional investment strategist at U.S. Bank Wealth Management. "We're starting to see more of a change back to some of the sectors that have done well this year."
Banks and other financial firms were among Friday's biggest gainers. Navient climbed 4.6% to $13.20.
A batch of strong company earnings and outlooks also helped lift the markets.
Costco Wholesale climbed 3.3% to $192.73 after the warehouse club operator's latest quarterly earnings and sales came in well above analyst expectations.
Jabil rose 1.5% to $27.87 after the electronics manufacturer posted a bigger profit and better revenue than analysts anticipated.
Oracle fell 3.8% to $48.30 after the business software company posted its quarterly results. Traders were disappointed by its forecast for its current quarter and by its cloud-computing business's performance last quarter.
CSX slumped 7.6% to $52.93 — the biggest decliner in the S&P 500 — after the railroad operator said CEO Hunter Harrison is taking a medical leave.
Bond prices were little changed. The yield on the 10-year Treasury held steady at 2.35%.
Benchmark U.S. crude rose 26 cents to settle at $57.30 a barrel. Brent crude, used to price international oils, fell 8 cents to close at $63.23 a barrel. Wholesale gasoline fell 2 cents to $1.65 a gallon. Heating oil fell 1 cent to $1.90 a gallon. Natural gas fell 7 cents to $2.61 per 1,000 cubic feet.
Gold rose 40 cents to $1,257.50 an ounce. Silver rose 13 cents to $16.06 an ounce. Copper rose 6 cents, or 2%, to $3.13 a pound.
The dollar rose to 112.63 yen from 112.18 yen. The euro fell to $1.1757 from $1.1792.
Bitcoin futures finished their first week of trading on the Cboe Futures Exchange on a high note, climbing $1,305, or 7.8%, to $18,105.
The futures enable investors to make bets on the future price of the digital currency. The average price of an actual bitcoin was $17,682 in trading Friday on private exchanges, according to CoinDesk. Bitcoin's price has soared this year; it began 2017 under $1,000.
Bitcoin futures trading on the Cboe — which began late Sunday and had its first day of full trading on a major U.S. exchange Monday — slowed a little bit after the first day, said Kalen Holliday, spokeswoman for Interactive Brokers, which handled half the volume on the initial day of trading.
All told, the weekly volume for the January contract was 9,588, according to FactSet.
It's too early to tell whether futures trading, which makes it easier to short bitcoin, will reduce the currency's volatility.
"You have to have a pretty strong stomach at this point," Holliday said. "It's just right at the outset. Maybe things will settle down, maybe they won't."
Investors will get another option to trade in bitcoins Sunday, when the Chicago Mercantile Exchange is set to begin trade in bitcoin futures contracts.
Major stock indexes in Europe finished mostly higher. Germany's DAX rose 0.3%, while France's CAC 40 shed 0.2%. Britain's FTSE 100 rose 0.6% after European Union leaders said they would let the "Brexit" talks move on to the next stage, including trade.
Earlier in Asia, Japan's benchmark Nikkei 225 index fell 0.6%, while South Korea's Kospi climbed 0.5%. Hong Kong's Hang Seng dropped 1.1%.
---
UPDATES:
2:35 p.m.: This article was updated with closing prices, context and analyst comments.
This article was originally published at 7:45 a.m.
---
Must-read stories from the L.A. Times
Get the day's top news with our Today's Headlines newsletter, sent every weekday morning.
You may occasionally receive promotional content from the Los Angeles Times.