Stocks rebound; technology rally leads Nasdaq to record high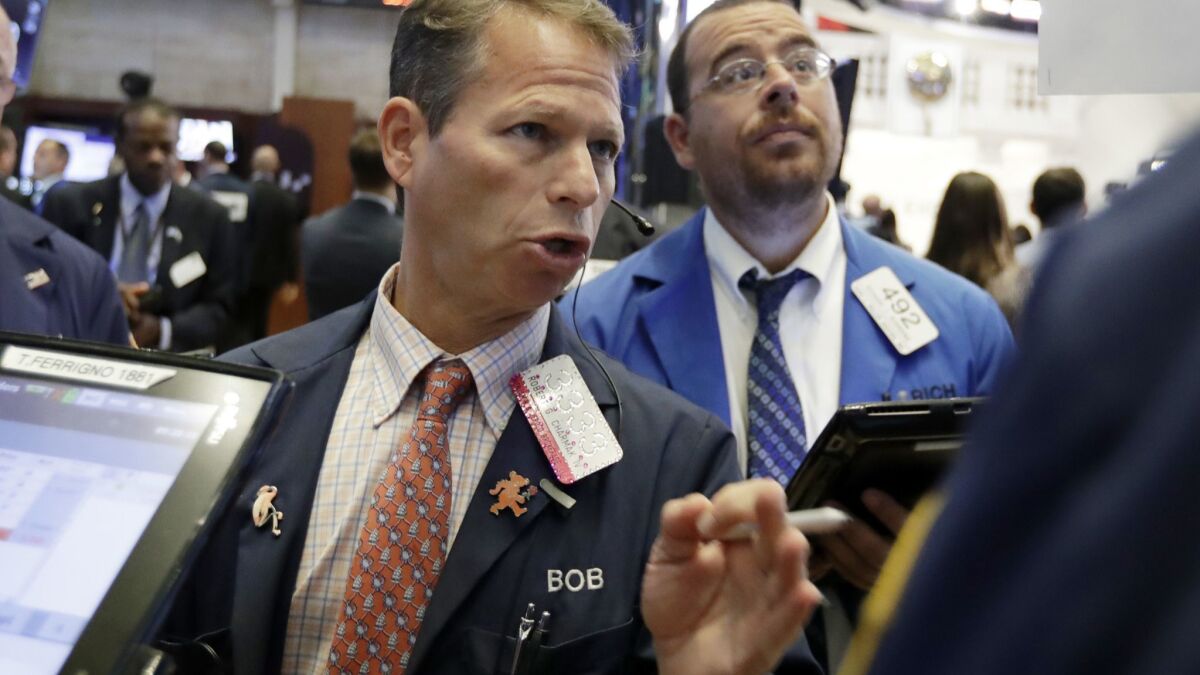 Technology companies soared Thursday as major U.S. stock indexes recovered the ground they lost the day before. The Nasdaq composite closed at another all-time high.
Big names such as Apple and Microsoft and chipmakers including Intel made big gains. Investors remained optimistic about the technology sector even though much of the market has been shaken by escalating tensions between the United States and its trading partners, especially China.
Banks will begin reporting their second-quarter results Friday morning. Investors expect another round of strong profit growth for the whole market, but they're especially optimistic about technology companies, which will announce their earnings later this month.
"Tech has been there for them through all of these ups and downs," said Karyn Cavanaugh, senior markets strategist at Voya Investment Management. "They're a good wingman for investors, and that's why investors are sticking with them."
The Standard & Poor's 500 index rose 24.27 points, or 0.9%, to 2,798.29. The Dow Jones industrial average rose 224.44 points, or 0.9%, to 24,924.89.
The Nasdaq composite index jumped 107.30 points, or 1.4%, to 7,823.92, beating its June 20 record.
The Russell 2000 index of smaller-company stocks rose 6.61 points, or 0.4%, to 1,690.28.
Industrial companies also regained much of their Wednesday losses, but energy companies and basic materials makers didn't rally. Defense contractors climbed after President Trump advocated for more defense spending in the United States and Europe.
Several European leaders said NATO spending plans haven't changed.
Software maker CA soared 18.7% to $44.15, the biggest gain in the technology sector, after it accepted an takeover offer from Broadcom worth $18.9 billion, or $44.50 a share. Broadcom investors expressed their disapproval of the deal, which involves Broadcom taking on $18 billion in debt. The stock dropped 13.7% to $209.98. Broadcom's market value fell by $14.4 billion.
CVS Health rose 1% to $67.99, and Aetna climbed 1.9% to $191.08 after Bloomberg News reported that the Justice Department won't try to stop CVS from buying Aetna.
AT&T fell 1.3% in aftermarket trading after the Justice Department appealed a court ruling that allowed AT&T to buy Time Warner.
Papa John's International jumped 11% to $53.67 as founder John Schnatter resigned as chairman after confirming a report that he had used a racial slur during a conference call in May.
Stifel analyst Christopher O'Cull said Wall Street has viewed the company as a potential sale target for some time and investors feel that's more likely without Schnatter in charge. Since Schnatter is still its largest shareholder, Cull doesn't think that will happen.
Schnatter owns about 29% of the company's stock, and the value of his stake jumped by $50.5 million Thursday to about $507 million.
Benchmark U.S. crude slipped 0.1% to $70.33 a barrel in New York. Brent crude, used to price international oils, rose 1.4% to $74.45 a barrel in London.
A day earlier, U.S. crude dropped 5% and Brent nosedived almost 7% as investors worried that the trade conflict will hurt the global economy. They also expect oil supplies to increase after Libya announced that it will start exporting oil again.
Wholesale gasoline rose 0.5% to $2.07 a gallon. Heating oil rose 1.1% to $2.12 a gallon. Natural gas fell 1.1% to $2.80 per 1,000 cubic feet.
Bond prices rose. The yield on the 10-year Treasury note fell to 2.85% from 2.86%.
Gold rose 0.2% to $1,246.60 an ounce. Silver rose 1% to $15.98 an ounce. Copper rose 1.2% to $2.78 a pound; on Wednesday, it fell to an 11-month low.
The dollar rose to 112.46 yen from 112.04 yen. The euro edged down to $1.1670 from $1.1674.
Stocks around the world slumped Wednesday after the Trump administration released a list of $200 billion in imports from China that it could hit with a 10% tax. China said it would retaliate if the tariffs take effect, and the dispute could impair global economic growth.
Stocks overseas took bigger losses than U.S. indexes did and they made smaller recoveries Thursday.
In Paris, the French CAC 40 climbed 1%. Germany's DAX gained 0.6%, and the Britain FTSE 100 rose 0.8%.
Tokyo's Nikkei 225 climbed 1.2%. Hong Kong's Hang Seng advanced 0.6%. Seoul's Kospi ticked up 0.2%.
---
UPDATES:
2:30 p.m.: This article was updated with closing prices, context and analyst comment.
9:55 a.m.: This article was updated with the latest stock market news.
This article was originally published at 7:15 a.m.