Stocks rally again, but October was their worst month in 7 years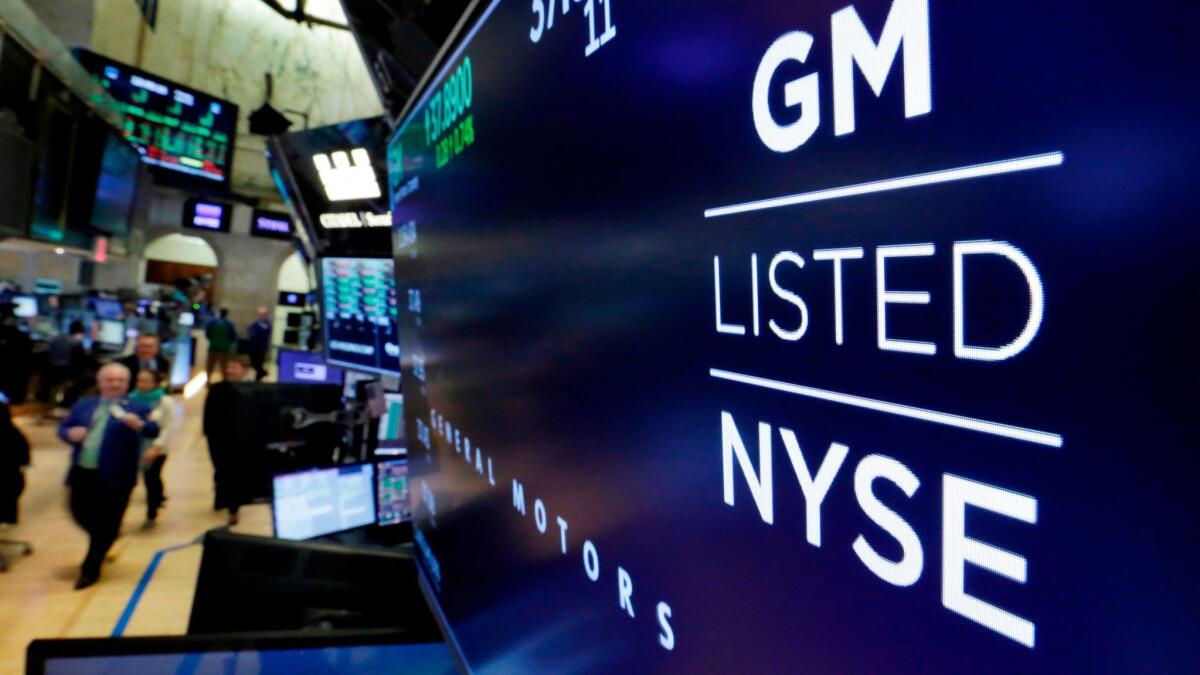 Stocks climbed Wednesday for the second day in a row at the end of a brutal month for the global market. Investors applauded strong quarterly results from companies including Facebook and General Motors, but U.S. stocks still finished with their biggest monthly loss in seven years.
Markets in Europe, Asia and the United States rallied following better-than-expected results from various companies and continued hiring by U.S. businesses. Many of Wednesday's biggest gains came from technology and internet companies and retailers, which dived early in October as investors worried about rising interest rates and the U.S.-China trade war.
The Standard & Poor's 500 hadn't risen for two consecutive days since late September. It finished October with a loss of 6.9%, its biggest since September 2011. The third quarter of this year was the best in five years for U.S. stocks, but those gains were wiped out this month. The S&P 500 is now up 1.4% for the year.
Stocks began sinking Oct. 3 as interest rates jumped. Even after those rate gains eased, investors kept selling stocks as they worried about the trade war and other factors that could also hurt economic growth and company profits.
Investors are that much more nervous because corporate profit growth is already expected to slow in 2019 after jumping this year. A big portion of this year's jump stemmed from the one-time corporate tax cut.
Schroders investment strategist Marina Severinovsky said several factors could help stocks over the next few weeks: Corporate stock purchases are expected to increase, and President Trump and China's President Xi Jinping could meet next month, an opportunity for progress in U.S.-China trade talks.
"If there's any kind of movement, even a stay of execution [on tariff hikes] could be a positive for the market," she said. Severinovsky added that whatever the outcome of next week's midterm elections, stocks will probably rise once the elections are over.
"Markets tend to rally on certainty," she said.
The S&P 500 index climbed 29.11 points Wednesday, or 1.1%, to 2,711.74. The Dow Jones industrial average rose 241.12 points, or 1%, to 25,115.76. The Nasdaq composite jumped 144.25 points, or 2%, to 7,305.90.
The Russell 2000 index of smaller companies edged up 4.78 points, or 0.3%, to 1,511.41. Smaller and more U.S.-focused companies did even worse than the rest of the stock market in October.
Facebook had a mixed third quarter, with better-than-expected earnings and disappointing revenue. But after the company's recent losses, even that was a relief to Wall Street. The stock climbed 3.8% to $151.79, adding to Tuesday's 2.9% gain Tuesday.
Other high-flying internet and tech stocks did better. Netflix jumped 5.6% to $301.78. Amazon climbed 4.4% to $1,598.01. Apple, which held up much better than the broader stock market this month, rose 2.6% to $218.86.
Facebook has plummeted 30% since reaching a record high in late July. That same month, the social network reported weaker-than-expected user growth and said it's spending more on security, moderation and product development.
Investors worry that companies like Facebook will be subject to more regulation following several data privacy scandals as well as online election meddling from outside the United States. Facebook is also facing harsh criticism that its platform is being used to inflame ethnic and religious conflict in Myanmar. On top of all that, high-tech stocks such as Facebook have stumbled this month as investors looked for safer, steadier options.
Amazon fell 20% for the month, wiping out around $200 billion in market value. The tech-heavy Nasdaq skidded 9.2%, its biggest one-month loss since November 2008.
General Motors jumped 9.1% to $36.59 on Wednesday after reporting that it did far better than expected in the third quarter as it raised prices in North America and that its China division held up well. The company also moved to cut costs by offering buyouts to about 18,000 white-collar employees in North America.
Bond prices dropped. The yield on the 10-year Treasury note rose to 3.14% from 3.11%.
The French CAC 40 surged 2.3% as aircraft maker Airbus and cosmetics maker L'Oreal's both jumped. Germany's DAX gained 1.4% and Britain's FTSE 100 added 1.3%.
Japan's Nikkei 225 index jumped 2.2% and Hong Kong's Hang Seng rose 1.6%. The Kospi in South Korea gained 0.7%.
Stock indexes overseas also tumbled in October. The Hang Seng, Kospi, CAC 40 and Mexico's Bolsa all did worse than the S&P 500. U.S. stocks had done far better than all of those indexes this year.
"The U.S. was showing extraordinary outperformance to the rest of the world, and it wasn't necessarily justifiable," Schroders' Severinovsky said.
The S&P 500's last winning streak was a three-day string of gains that ended Sept. 20, the day of its latest record high. That was 28 trading days ago. According to Ryan Detrick of LPL Financial, that's one of the longest gaps since the Great Depression: The S&P 500 also went 28 days without a winning streak in 1970, 1994 and 2015.
Benchmark U.S. crude slid 1.3% to $65.31 a barrel in New York. Brent crude, used to price international oils, fell 0.6% to $75.47 a barrel in London.
U.S. crude has fallen 10% this month, and energy companies' stocks have lagged behind the overall market.
Wholesale gasoline fell 2.1% to $1.77 a gallon. Heating oil edged up 0.1% to $2.26 a gallon. Natural gas rose 2.3% to $3.26 per 1,000 cubic feet.
Gold fell 0.8% to $1,215 an ounce. Silver fell 1.2% to $14.28 an ounce. Copper slipped 0.2% to $2.66 a pound.
---
UPDATES:
2:40 p.m.: This article was updated with closing prices, context and analyst comment.
9:10 a.m.: This article was updated with the latest market results.
This article was originally published at 7:25 a.m.