As online lending companies gain popularity, the Trump administration is making it easier for them to bypass state regulations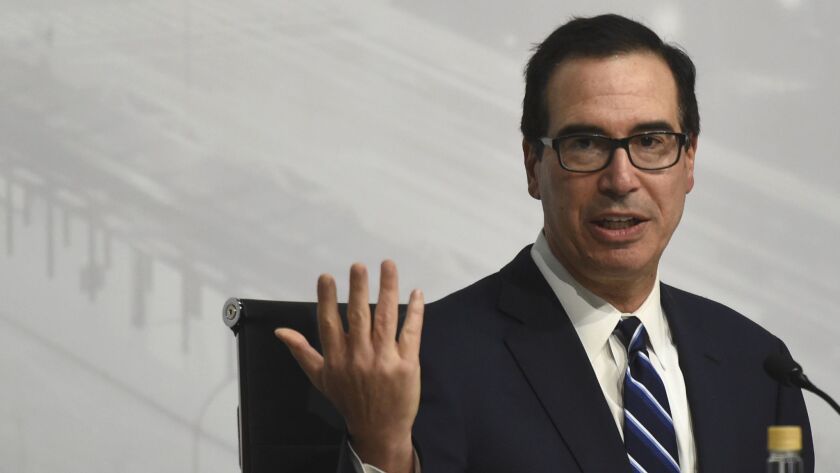 Reporting from Washington —
Federal officials said Tuesday they would make it easier for financial technology firms to operate nationwide following a Trump administration report calling for sweeping regulatory changes to advance new fintech companies and services.
Just hours after the Treasury Department unveiled its long-awaited findings, the Office of the Comptroller of the Currency announced it was moving ahead with a plan to begin offering national banking charters to innovative companies offering loans or online payments.
Those firms would bypass state laws, which now govern most financial technology and nonbank services.
Companies such as San Francisco online lender SoFi have sprung up in recent years to leverage technology and offer consumers, particularly younger ones, new ways to manage their money and make payments beyond traditional bank accounts.
Most of those companies fall outside the existing banking system and a regulatory framework largely designed years before the internet and smartphones.
"Companies that provide banking services in innovative ways deserve the opportunity to pursue that business on a national scale as a federally chartered, regulated bank," said Comptroller of the Currency Joseph M. Otting, one of the nation's top financial regulators.
However, companies that get the new charters would not be allowed like banks to take deposits that would be insured by the Federal Deposit Insurance Corp., the OCC said.
The Treasury report had recommended that the OCC move ahead with its plans to offer national fintech charters, saying they could "provide a more efficient, and at least a more standardized, regulatory regime, than the current state-based regime in which they operate."
Lenders that want to operate nationwide now have two options: get licenses from individual state regulators and follow 50 different sets of state lending laws, as SoFi has, or make loans in partnership with a regulated bank, as LendingClub does. The new fintech charter would give companies a third option, allowing them to disregard state rules, such as interest rate caps, without having to work with banks.
State regulators have opposed granting fintech firms national charters. The Conference of State Bank Supervisors and New York State's Department of Financial Services both have filed lawsuits challenging the legality of the OCC allowing national charters. Judges threw out the suits because the OCC has not yet granted any national charters to fintech companies.
John W. Ryan, president of the bank supervisors group, said the new charter policy was "a regulatory train wreck in the making" and state regulators were "keeping all options open" to try to stop it.
The fintech charter was just one of several controversial recommendations in the 222-page report, including the development of national rules for data security and data breach notifications — and urging the Consumer Financial Protection Bureau to rescind tough new nationwide rules on payday and other short-term loans.
Treasury Secretary Steven T. Mnuchin said changes were needed to keep the U.S. competitive as the financial industry evolves.
"We must keep pace with industry changes and encourage financial ingenuity to foster the nation's vibrant financial services and technology sectors," Mnuchin said.
The Treasury report is the last of four ordered by President Trump in early 2017 to review the nation's financial regulations.
The other reports covered the traditional banking industry, capital markets and the asset management and insurance industries. Congress incorporated some of the Treasury's banking recommendations in bipartisan legislation enacted this spring that rolls back some Dodd-Frank financial rules, mainly for small and medium-sized banks.
The latest report makes 80 recommendations to help companies "more rapidly adopt competitive technologies, safeguard consumer data, and operate with greater regulatory efficiency," the Treasury Department said.
Among the proposed changes are:
Better enabling digital communications, data sharing and the use of cloud computing and machine learning while setting a national standard for data security and consumer notification of data breaches.
Streamlining the regulatory environment.
Modernizing regulations to advance new services such as further digitizing retail payments and the mortgage lending process.
Encouraging technological experimentation by allowing companies to develop innovative services while temporarily being exempted from some regulations.
The report shows that the Trump administration "is very receptive and open to fintech," Jaret Seiberg, an analyst with brokerage and investment bank Cowen & Co., wrote in a research note. But he urged caution in assuming all the recommendations made in the report will come to fruition.
Some changes, such as new data-security and data-breach notification rules, require congressional action. Still, many of the fintech recommendations can be done by regulators, as the OCC did with the national charters on Tuesday. The agency has been considering such a move since 2016.
The Marketplace Lending Assn., a trade group representing fintech companies such as SoFi, Avant and LendingClub, was pleased with the Treasury's recommendations and the OCC's move.
"The OCC just took a major step forward in favor of responsible innovation and greater access to capital for borrowers nationwide," said Nat Hoopes, the group's executive director.
But Lauren Saunders, associate director of the National Consumer Law Center, warned that allowing financial firms to avoid interest rate limits "could open the floodgates" to predatory lending.
The proposal to rescind the payday lending rules, which the Trump administration has previously sought, also elicited opposition. Consumer advocates have strongly supported the rules, which were adopted last year by the bureau when it was led by Obama-appointee Richard Cordray.
The regulations require lenders to determine the ability of potential borrowers to make repayments and limit to three the number of loans that could be made in quick succession to an individual borrower. There are no caps on interest rates.
Payday lenders and many Republicans oppose the rules, which don't take effect until August 2019, arguing they will hamper access to credit.
Mick Mulvaney, who took over as acting director of the CFPB last fall, initially expressed support for a congressional effort to repeal the rules. But that effort never gained momentum. The bureau said in January that it intended to start a new formal rule-making process to reconsider the regulations, although that has not yet begun.
"There's a huge amount of public support for the rule and no congressional action or appetite for repealing the rule," said Scott Astrada, director of federal advocacy for the Center for Responsible Lending.
He pointed to poll results released Tuesday by his group and Americans for Financial Reform that found 79% of respondents supported CFPB rules holding payday lenders accountable.
Twitter: @JimPuzzanghera
---
UPDATES:
1:25 p.m.: This article was updated with comments from Lauren Saunders of the National Consumer Law Center and John W. Ryan of the Conference of State Bank Supervisors.
11 a.m.: This article was updated with the Office of the Comptroller of the Currency's announcement about nationwide fintech charters, as well as comments by the Comptroller of the Currency Joseph M. Otting, analyst Jaret Seiberg, Nat Hoopes of the Marketplace Lending Assn. and Scott Astrada of the Center for Responsible Lending.
9:10 a.m. This article was updated with additional details about the proposed regulations.
This article was originally published at 7:10 a.m.
---
Must-read stories from the L.A. Times
Get the day's top news with our Today's Headlines newsletter, sent every weekday morning.
You may occasionally receive promotional content from the Los Angeles Times.