Trump signs bipartisan bill rolling back some Dodd-Frank bank regulations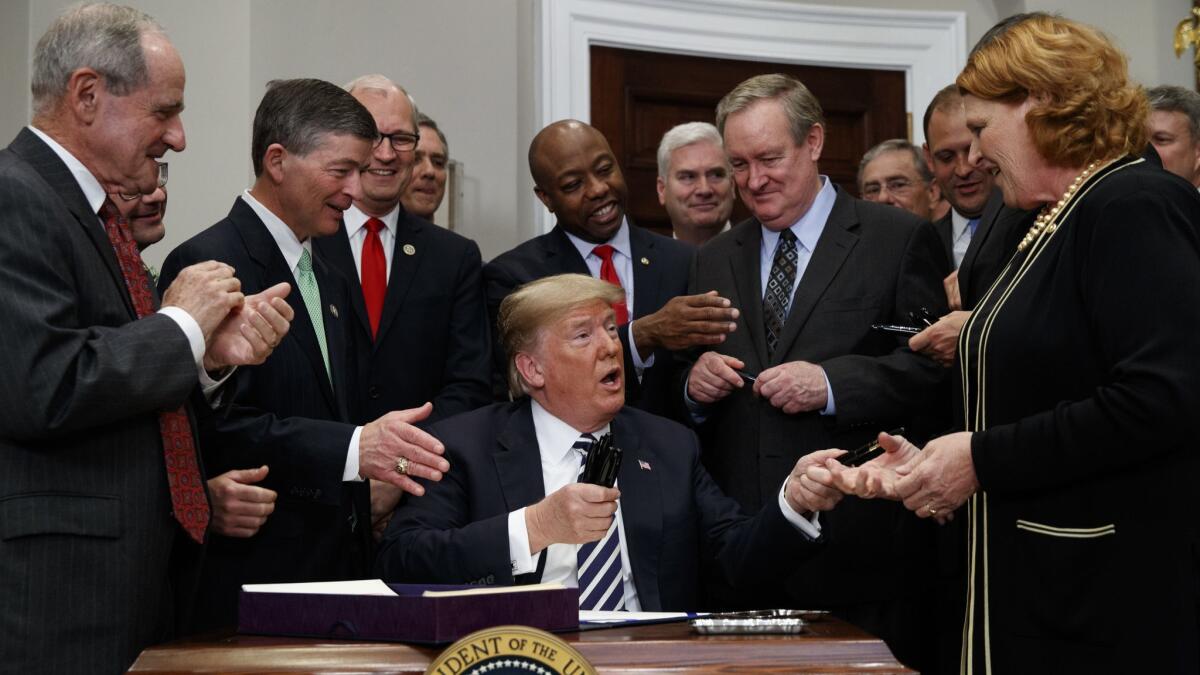 Reporting from Washington —
President Trump on Thursday signed bipartisan legislation rolling back some of the Dodd-Frank financial rules put in place after the 2008 financial crisis, touting another victory for his deregulatory agenda.
But the bill fell well short of his campaign call to dismantle the 2010 Dodd-Frank law, leaving key pillars unchanged, including the Consumer Financial Protection Bureau.
Instead, with the key support of some Senate Democrats, the legislation focuses relief on small and medium-sized banks that had complained they were unfairly burdened with regulations designed to prevent a future crisis.
"The legislation I'm signing today rolls back the crippling Dodd-Frank regulations that are crushing community banks and credit unions nationwide," Trump said after calling Dodd-Frank "a disaster."
"These community banks are vital for local lending and have a direct stake in the success of their neighborhoods and their states," he said.
The House passed the bill 258 to 159 on Tuesday, with 33 Democrats joining all but one Republican. The Senate approved the legislation 67 to 31 in March with the support of several moderate Democrats who seek reelection this fall in states that Trump won by large margins.
Only one of the Democrats who helped craft the Senate bill, Sen. Heidi Heitkamp (D-N.D.) attended Thursday's signing ceremony at the White House. She was invited, along with the main author, Senate Banking Committee Chairman Michael D. Crapo (R-Idaho) and several Senate and House Republicans.
"This is a great day for Main Street in rural America, and a big testament to what's possible when members of Congress put partisanship aside and work together to help our communities grow and thrive," Heitkamp said in a statement after the signing.
Three other Senate Democrats on the committee who played key roles in getting the legislation enacted — Joe Donnelly of Indiana, Jon Tester of Montana and Mark Warner of Virginia, were not invited, according to their staffs.
According to a Donnelly aide, the White House said there were space constraints. The ceremony was held in the White House's Roosevelt Room, which is about the size of the Oval Office, and attended by about two dozen lawmakers and administration officials.
Community banks, which enjoy broad support among Republicans and Democrats, will be freed from Dodd-Frank's mortgage rules if they make fewer than 500 mortgages a year. And banks with less than $10 billion in assets will be exempted from complying with the Volcker Rule, which prohibits institutions from trading for their own profit and limits ownership of risky investments.
Consumers also get new protections in the wake of Equifax Inc.'s massive data breach last year. Credit reporting companies now must let consumers freeze and unfreeze their files for free. Active-duty members of the military will receive free credit monitoring.
But the legislation also helps many larger banks, which led most Democrats to oppose it.
About two dozen banks with assets of as much as $250 billion will be freed from Dodd-Frank's mandatory stricter regulatory oversight. The legislation raised the threshold for that oversight, which includes rigorous annual stress tests, from $50 billion.
Federal Reserve regulators now will have more flexibility in how they supervise large banks and can extend the tougher oversight to banks with between $100 billion and $250 billion in assets if officials deem it necessary.
That means that only 13 of the nation's biggest banks, including JPMorgan Chase & Co., Bank of America Corp. and Wells Fargo & Co., now will be required to receive Dodd-Frank's tough oversight.
Twitter: @JimPuzzanghera