Dozens of LAX passengers try to sneak guns past security. Few face serious punishment
The 9-millimeter pistol was loaded when actor David Henrie tried to bring it onto a flight at Los Angeles International Airport.
A Transportation Security Administration officer operating an X-ray machine at Terminal 2 spotted the handgun in the carry-on bag of the former Disney Channel star of "Wizards of Waverly Place." Henrie was arrested Sept. 10 and charged with three misdemeanor violations, including carrying a concealed weapon and possession of a prohibited item in an airport.

For the record:
7:20 a.m. Jan. 3, 2019
A previous photo caption with this article misstated that David Henrie pleaded guilty to a misdemeanor after a gun was found in his luggage. The actor pleaded no contest.
In a Twitter message, the 29-year-old actor apologized for the trouble caused by what he described as his "legally owned gun."
"More than anything, I'm humiliated and embarrassed that this even happened," he said in the tweet.
Henrie pleaded no contest on Nov. 21 to one count of possession of a prohibited item in an airport and was sentenced to 20 days of community labor and attendance at a gun safety class. He also was put on two years of summary probation, which doesn't require regular check-ins with a probation officer.
TSA officers are finding significantly more weapons at airport checkpoints every year, according to data from the federal agency, which screens travelers at the nation's 440 airports.
To determine what happens to people arrested for bringing a gun to LAX, The Times analyzed court records for the 33 months from Jan. 1, 2016, through Sept. 30, 2018, and found that most air travelers caught with a firearm were, like Henrie, charged with misdemeanors and received sentences that were much lighter than the maximum six months in jail, $1,000 in fines and other punishments that could be imposed.
In addition, such offenders seldom face the maximum penalty that the TSA could dole out: up to $13,333 in civil fines and possible referral for criminal prosecution.
Some lawmakers and law enforcement representatives consider the potential punishment for such offenses to be too lenient and have pushed for more stringent penalties.
The Times' analysis of court records for the 50 weapons-toting travelers arrested at LAX and brought before the Los Angeles city attorney for prosecution during the sample period found:
In 70% of the cases, suspects were convicted or referred to a diversion program.
The remaining 30% of the cases were dismissed, are still pending or the city attorney declined to prosecute.
Of the travelers who were convicted, more than half were sentenced to 12 months or more of probation.
The most common fine imposed by the court for possession of a prohibited item at an airport was $500 — half the maximum. The lightest fine was $250.
The most severe punishment was imposed on a rock singer from Missouri, who spent 20 days in jail and was placed on three years of summary probation for trying to bring a pellet gun onto a plane.
Three of the 50 cases were directed to the city's Neighborhood Justice Program. Under that program, people accused of misdemeanor crimes appear before a community panel, which can order the offender to perform community service, write a letter of apology, pay restitution or take self-improvement classes.
"Sentences vary based on the individual facts and strength of the case, and the defendant's criminal history," said Rob Wilcox, a spokesman for the Los Angeles city attorney's office.
If a passenger is suspected of trying to bring a weapon through an airport checkpoint with the intention of committing a terrorist act, the case is turned over to the U.S. attorney's office for prosecution. The records analyzed by The Times showed no such instance during the 33-month period.
The TSA separately can impose fines for bringing a firearm or other forbidden items to a security checkpoint or onto an airplane. The fines vary based on the item and whether there are aggravating circumstances, such as repeat violations.
For the cases analyzed since the start of 2016, the TSA imposed an average fine of $1,109.
In 35% of the LAX cases, the TSA imposed no fine, with the agency explaining in a statement that gun-packing fliers who were members of law enforcement or the military often aren't fined. In those cases, the TSA said it usually notifies the traveler's employer or the Defense Department and lets it decide on punishment.
"Under the agency's civil enforcement guidance, TSA has the latitude to determine the amount of the penalty based on the specific circumstances of each incident, including considering the person's prior history, whether the firearm was loaded or had ammunition nearby, the amount of ammunition, et cetera," TSA spokeswoman Lorie Dankers said.
TSA penalties imposed on the LAX violators ranged from $125 to $3,000, with the fine rising if the firearms were loaded or were purposely hidden to try to get past screeners, the agency said.
The TSA may impose a lower penalty or none at all if the firearms are inoperable. The TSA will cut the fine in half if the violator agrees to pay it within 30 days.
Despite the potential punishment, the number of firearms uncovered at the nation's airports has grown sharply over the past five years.
In 2017, the most recent year for which data is available, a record 3,957 firearms — nearly 11 a day — were discovered in carry-on bags at airport checkpoints across the country, a 17% increase from the previous year, according to the TSA. Of the guns uncovered in 2017, 84% were loaded.
The total does not include the hundreds of other forbidden items found in carry-on luggage, including explosives, knives and replica weapons.
Several lawmakers and police unions say stiffer penalties might deter such behavior.
Marshall McClain, president of the Los Angeles Airport Peace Officers Assn., the union that represents officers who make arrests at LAX, said his group supports harsher punishment and would like for guns to be declared illegal in all airport terminals and gates.
"Our stance is: What do you need a gun at an airport for?" he said.
McClain noted that TSA Officer Gerardo Hernandez was killed on Nov. 1, 2013, at LAX by a gunman who had a fixation with TSA officers, accusing them of mistreating innocent travelers.
"A lot hasn't changed since then," he said.
J. David Cox Sr., president of the American Federation of Government Employees, whose members include TSA workers, also wants to see harsher penalties imposed on travelers who try to carry guns onto planes, but declined to say what those penalties should be.
"These dangerous weapons have no place in our airports, and their presence is a danger to our officers," he said. "We fully support increases in fines and penalties for bringing firearms into TSA checkpoints, and hope those penalties will deter future travelers from trying to sneak them through security."
The legislation to continue funding of the Federal Aviation Administration for five years included language calling for the TSA to review regulations and policies on the transportation of firearms, said Rep. Bennie G. Thompson (D-Miss.), soon to be chairman of the House Committee on Homeland Security. The bill was signed into law by President Trump on Oct. 5.
The TSA has started the policy review and plans to submit a report to Congress on the one-year anniversary of the FAA bill, as required by law.
Thompson said he hopes the review will include looking at raising penalties for people who try to carry firearms onto a plane.
"While mistakes happen, it is clear there's been a dramatic increase in firearms discovered at airport security checkpoints that should not be dismissed or go unaddressed," he said.
It was apparently a mistake when Kevin Patrick Cavanaugh, 60, was caught in April 2017 with a loaded .32-caliber handgun in his carry-on bag at LAX. An X-ray machine detected the gun and TSA screeners alerted Los Angeles Airport Police.
He was arrested on three misdemeanor charges, including possession of a prohibited item at an airport.
In court a month later, Cavanaugh pleaded no contest and was fined $720, put on probation for 12 months and ordered to perform three days of labor for the state. When reached by email, he described the incident as "an embarrassing mistake" but declined to comment further.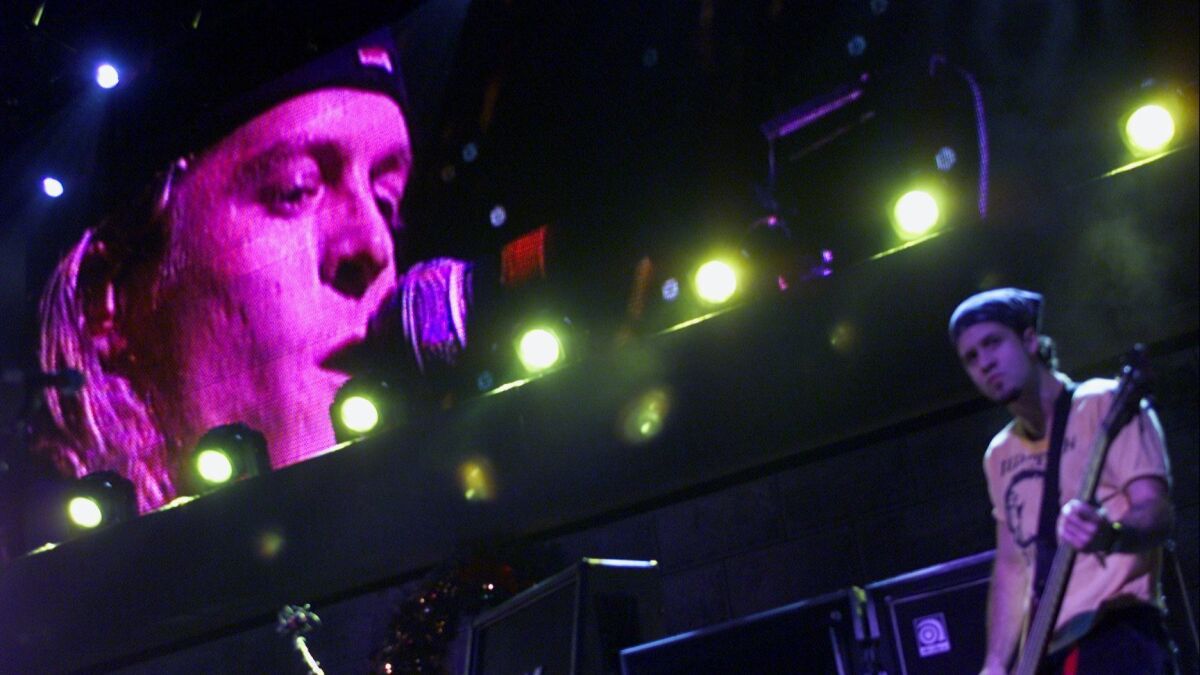 Wesley Reid Scantlin, the frontman for the post-grunge band Puddle of Mud, was arrested in September 2017 for trying to board a plane at LAX with a BB gun. His punishment was the most severe of all the cases analyzed in the 33-month period beginning Jan. 1, 2016.
When he was arrested at LAX, Scantlin, originally from Kansas City, Mo., was already on probation for allegedly vandalizing a Hollywood Hills house he lost to foreclosure in 2016. He pleaded no contest in that case and was sentenced to three years of formal probation.
After his arrest at LAX, Scantlin's bail was set at $36,000 — an amount that is common for such charges — though he did not post bond and remained in jail. At a pretrial hearing three weeks later, he withdrew his initial not guilty plea and pleaded no contest to one count of having a prohibited item in an airport, according to court records.
He was sentenced to 20 days in jail and three years' probation, fined $245 and ordered not to possess or use drugs, court records show. The judge credited Scantlin for the time he already had spent behind bars waiting for trial.
The TSA declined to disclose the civil fines imposed on Henrie, Cavanaugh and Scantlin in addition to the penalties ordered by the court, but a TSA official said fines are adjusted to reflect the severity of the crimes.
Scantlin never got his BB gun back.
As usually happens with firearms collected by TSA screeners, the court ordered that Scantlin's gun be destroyed by airport police.
To read more about the travel and tourism industries, follow @hugomartin on Twitter.
---
Sign up for the California Politics newsletter to get exclusive analysis from our reporters.
You may occasionally receive promotional content from the Los Angeles Times.