5 things we learned from Janet Yellen about Fed rate hikes and the U.S. economy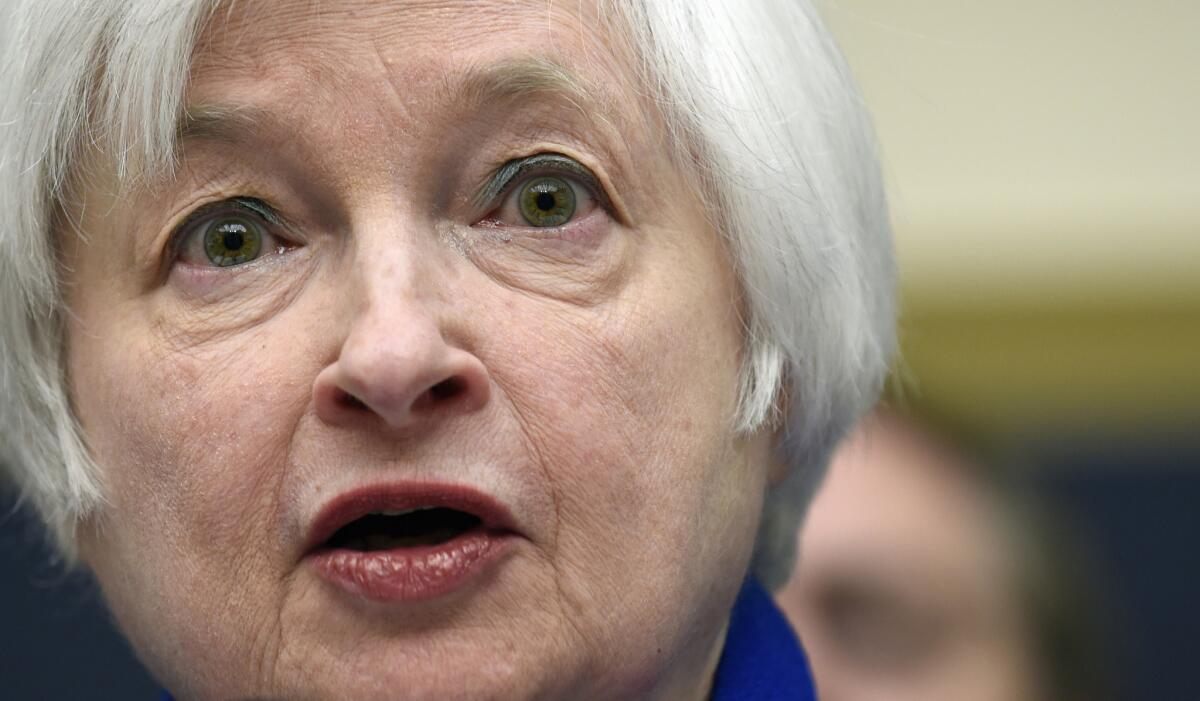 Reporting from Washington —
Federal Reserve policymakers said the U.S. economy is strong enough to handle increases in a key interest rate this year, but they have scaled back the number of anticipated hikes in the wake of slower growth caused by recent financial market volatility.
The decision Wednesday to hold the benchmark federal funds rate steady came as Fed officials slightly lowered their forecasts for U.S. economic performance this year and next.
They also signaled there would be no more than two small rate hikes this year — half what they had estimated in December.
"The U.S. economy has been very resilient in the face of shocks," Fed Chairwoman Janet L. Yellen told reporters.
Here are five things we learned about rate hikes and the economy from Yellen and the Fed on Wednesday.
Caution led to waiting on a rate hike this month
Members of the Federal Open Market Committee voted 9-1 at the end of a two-day policymaking meeting to keep the central bank's benchmark rate between 0.25% and 0.5%.
Esther George, president of the Federal Reserve Bank of Kansas City, dissented. She wanted to increase the rate by 0.25 percentage point, the Fed said.
The other Fed policymakers were hesitant to act given the difficulties the economy has faced since the start of the year.
"Proceeding cautiously ... at this time will allow us to verify that the labor market is continuing to strengthen, despite the risks from abroad," Yellen said.
In December, Fed policymakers nudged up the rate by 0.25 percentage point. The move ended seven years of holding the federal funds rate near zero in an unprecedented attempt to boost the economy and was seen as a validation of the recovery from the Great Recession.
But U.S. economic growth slowed at the end of last year, raising fears of another recession. And financial markets began tumbling in January amid concerns of slowing growth in China and elsewhere around the world.
The turmoil altered the Fed's plans. And instead of a hike this month, as many analysts had predicted in December, the Fed declined to act.
Despite the global turmoil, the U.S. economy has been "expanding at a moderate pace" because of increasing household spending, an improving housing sector and a strengthening jobs market, Fed officials said in their policy statement.
But overall inflation continues to run below the Fed's target, while exports and business investment "have been soft" in recent months, the Fed said.
IHS Global Insight economist Sara Johnson said the Fed's decision to delay the next rate hike made sense.
"It's prudent to hold back and wait for more evidence that the U.S. expansion is on track," she said.
Two hikes are coming this year, but it's unclear when
In new forecasts released Wednesday, a majority of the Fed's 17 policymakers — including non-voting committee members — expected that the median rate would not be above 0.9% at the end of the year.
Assuming 0.25 percentage point increases, that means there would be just two rate hikes this year.
In December, a majority of policymakers anticipated four such hikes.
But Yellen and the Fed offered no new hints of when the next rate increase would come.
"The committee continues to feel that we are on a course where the economy is improving and inflation is moving back up, and ... if events continue to unfold in that way, we are likely to gradually raise rates over time," she said.
But Yellen quickly noted "that's not fixed in stone."
"We'll watch how the economy behaves," she said. "We are prepared to respond if things transpire differently."
Yellen said a move was possible as early as the next meeting, in April.
But Ryan Sweet, director of real-time economics at Moody's Analytics, predicted the Fed would wait until June to hike the rate. That would coincide with Yellen's next quarterly news conference and enable her to explain the move.
"The odds of moving in April are low," he said. He's forecasting a hike in June and one more in the second half of the year.
The U.S. economy has weathered recent turmoil with minimal damage

Fed officials slightly lowered their projections for economic growth this year and next, indicating that tumultuous financial markets have had an effect.
The median forecast is for 2.2% growth this year, down from a 2.4% estimate in December. Growth would decline to 2.1% next year, down from a 2.2% forecast in December.
The labor market forecast for this year was unchanged, with the unemployment rate expected to drop to 4.7% by the end of the year. The rate was 4.9% in February.
Fed officials noted in their statement that "global economic and financial developments continue to pose risks."
But Yellen stressed no rate cut is on the horizon and policymakers are not considering moving to negative rates, as some other major central banks have done recently to try to boost growth.
The Fed remains wary on inflation
Many Fed policymakers are concerned that inflation remains too low, although it has shown signs of picking up in recent months.
So-called core consumer prices, which exclude volatile food and energy, had their biggest 12-month increase in nearly three years, the Labor Department said Wednesday.
For the 12 months ended Feb. 29, core prices increased 2.3%.
Low oil prices continued to keep overall inflation down last month. And Fed officials said Wednesday that they continued "to monitor inflation developments closely."
Central bank policymakers want to see prices rising 2% a year and are concerned that raising the interest rate too soon could squelch that progress.
The Fed uses a different inflation measure, based on personal consumption expenditures. That showed core prices were up 1.7% for the 12 months ended Jan. 31, the latest data available.
Yellen said she was hopeful underlying inflation was increasing, but described herself as "wary" that the increase in core inflation is long-lasting at this point.
Wage growth still lags
One way to boost inflation is for employers to increase workers' pay. But the recovery from the Great Recession has been plagued by weak wage growth.
The February job report showed a disappointing drop in average hourly earnings -- the largest since 2014. Economists had been hopeful a big increase in earnings in January signaled paychecks were finally starting to show gains to match the strong job creation.
"I'm somewhat surprised that we're not seeing more of a pickup in wage growth," Yellen conceded Wednesday.
She still expects to see wages rise as the job market tightens and employees must compete harder for workers.
But Johnson of IHS Global Insight said significant wage growth still is probably a year away.
Follow @JimPuzzanghera on Twitter.
MORE FROM BUSINESS
Southern California housing numbers improve in February
Lower gas prices drag down retail sales in February
Fed holds key interest rate steady, signals just two hikes this year