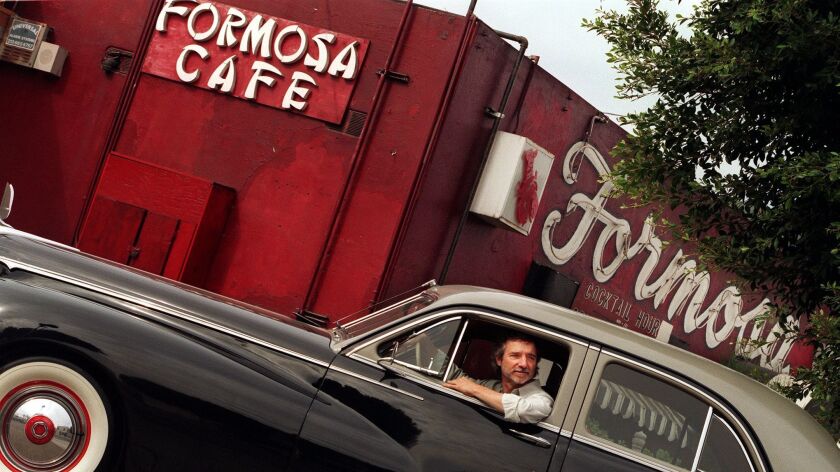 The Formosa Cafe, a legendary celebrity haunt dating to Hollywood's Golden Age, will reopen next year under management by local bar operators who specialize in reviving historic properties.
Humphrey Bogart enjoyed his scotch and Frank Sinatra reputedly pined over Ava Gardner at the Formosa in West Hollywood, which closed in December.
Los Angeles bar operator 1933 Group has leased the red-and-black, Asian-themed establishment and vow to revive its historic flair.
"We want to bring it back to its heydays of the 1920s, '30s and '40s," said Dmitry Liberman, co-owner of 1933 Group.
The restaurant on Santa Monica Boulevard at Formosa Avenue first opened in 1925 and was occupied by the Formosa Cafe from about 1945 to 2016. It is next door to the former Samuel Goldwyn Studio, later known as Warner Hollywood Studios and now called the Lot.
The location near major movie studios in nightlife-centric West Hollywood made the Formosa a favorite for generations of celebrities and night clubbers in search of food and drink.
It will probably cost more than $1 million to upgrade the Formosa to modern restaurant standards and renovate the place to restore its original sensibility, Liberman said. The process will take about a year.
Liberman and his partners Dimitri Komarov and Bobby Green already operate nine other Los Angeles-area bars, including the barrel-shaped Idle Hour in North Hollywood and Highland Park Bowl in Highland Park.
Both were painstaking renovations of historic structures. The Idle Hour was built in 1941 to resemble a cask, while Highland Park Bowl was a 1920s bowling alley that fell into disrepair and became a punk music club and hangout. It's now L.A.'s oldest operating bowling alley, 1933 Group said.
"Most of our renovations are as original as we can make them," Liberman said. "We save as much as we can."
At the Formosa Cafe, 1933 Group will bring back Chinese and Thai menu items and introduce craft cocktails, he said. Dim sum will also be served, perhaps into the wee hours.
The state Senate has approved a bill that would let bars stay open until 4 a.m. If the bill becomes law, "we plan to serve food as late as possible," Liberman said.
Terms of 1933 Group's 10-year lease for the 3,700-square-foot building with landlord Clarion Partners were not disclosed. Clarion owns the Formosa and the large West Hollywood Gateway shopping center next door.
Several bar operators wanted to rent the Formosa but Clarion chose 1933 Group for their experience with historic saloons, said real estate broker Gabe Kadosh of Colliers International, who represented the landlord.
"We wanted someone who could embrace the property and face the hurdles of preservation," Kadosh said.
Twitter: @rogervincent
---