Gap expands entry-level program to help make staff more diverse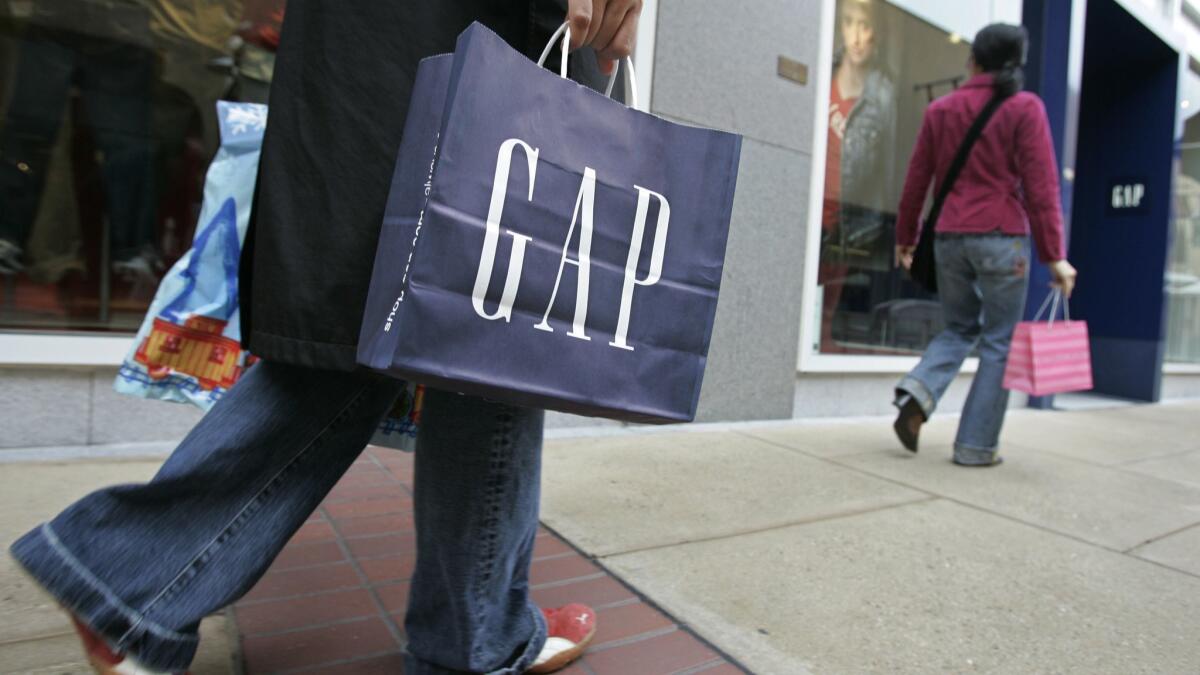 Gap Inc. is increasing its efforts to recruit workers from low-income neighborhoods, part of a push to improve diversity among the apparel retailer's staff.
The company is bolstering its program for these 16- to 24-year-old workers with no recent employment history. It expects this group, referred to as "opportunity youth," to make up at least 5% of its entry-level employees by 2025.

For the record:
2:45 p.m. Aug. 15, 2018An earlier version of this article said a partnership with Boys & Girls Clubs of America will help Gap connect young adults with positions at Gap-owned stores including Athleta. Athleta is not part of that partnership.
Called This Way Ahead, the 11-year-old program will expand to 53 cities globally from 15 cities — including Los Angeles — last year. A national partnership with Boys & Girls Clubs of America will help the chain connect young adults with positions at Gap-owned stores such as Banana Republic and Old Navy. The initiative also will roll out in Japan and more cities in the U.K.
"This is a perfect vehicle for us to drive our business," said Brent Hyder, the head of human resources at San Francisco-based Gap. "With a little extra training, a little extra initiative, we now have a talent pool that is predominantly diverse that may not have been there for us in the past."
Supporting workers
Perhaps more than any other industry, retail relies on teenage and young-adult labor. For the last decade, more than half of American working teenagers worked in retail, more than in any other industry, according to the Bureau of Labor Statistics. Those companies also greatly rely on teenagers to fill their entry-level jobs, according to a 2017 report from the National Retail Federation.
"I really believe that retail is one of the last few places where you can start from anywhere and get to just about anywhere that you want to go," said Hyder, who began his career as a part-time seasonal hire in retail. "You can start as a part-time hourly employee from the very first time, never had a job before, and it is possible to end up running the company."
In recruiting workers, Gap shifted its emphasis from candidates' credentials to their potential, asking questions about work ethic and time management. Once hired, participants get a job coach to help with their career trajectory. There's also a buddy system, which pairs them with a colleague in the store who can answer questions such as how to open their locker and how to properly record their lunch breaks.
Employees in this program earn $10 an hour or the minimum wage of the market where they work. Participants also receive the same benefits as other entry-level peers.
Year-round program
When it began a decade ago, the program was a summer internship. Now it will be year-round as a way to broaden participants' experience and give more options for people who want or need a part-time job now, Hyder said.
The largest percentage of participants in this program have a high school diploma. Hyder said that Gap's program isn't a complete substitute for higher education, but that young adults can learn many skills, such as risk-taking and conflict management. Many store leaders don't have college degrees, he added.
Participants who complete the program are more likely to have paid jobs than the general U.S. population. Although about a third of participants continue to work at Gap stores, far more work in entry-level jobs outside of retail, according to a 2018 company report.
Hyder says that's not a bad thing.
"When you invest in people as employees and you treat them well and they have a positive experience, they will shop and they will tell their friends and they'll continue to be loyal in a different way: with their wallet, which is really important," he said.