California gas prices expected to jump overnight, possibly 30 cents by weekend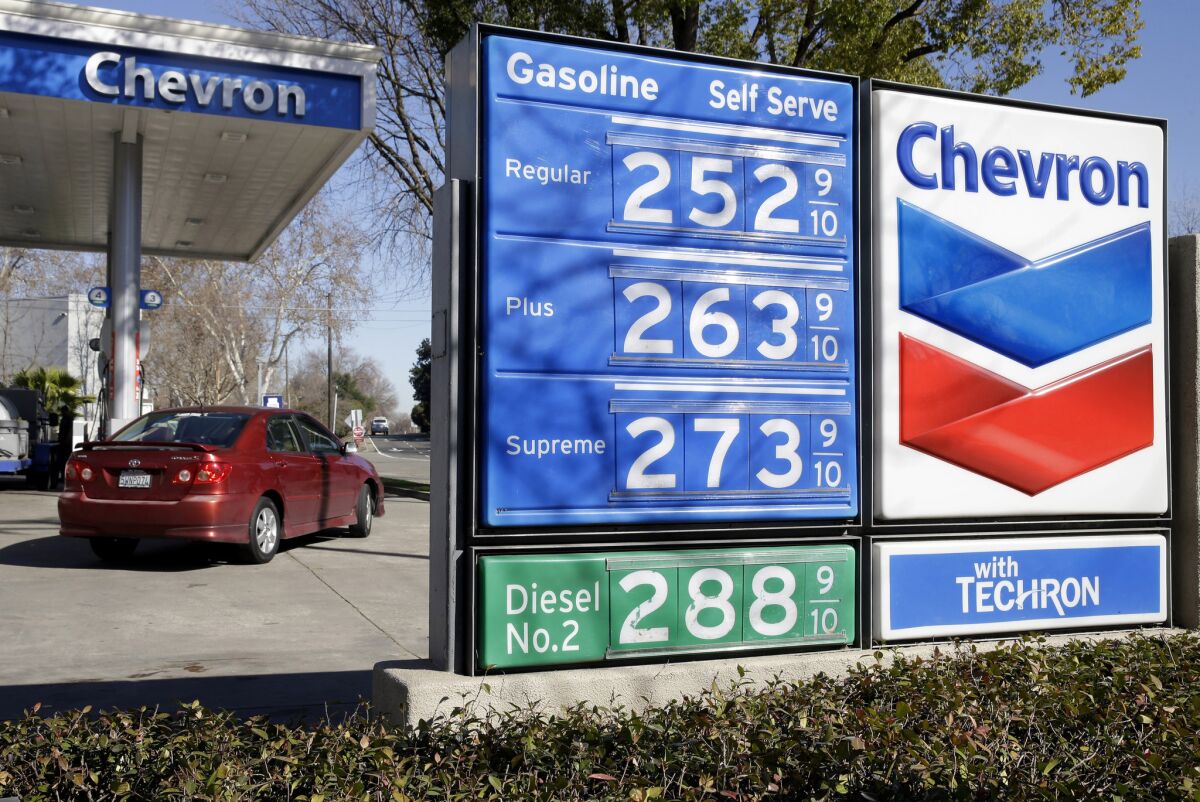 The slide in California's gasoline prices could abruptly end Friday, with prices possibly jumping 30 cents a gallon because of seasonal changes in the state's refinery operations, a consumer group predicted Thursday.
Prices often climb in California this time of year because refineries switch from the winter blend of fuel to the more expensive state-mandated summer blend, which evaporates less quickly during warm weather.
But this year's switch to summer gasoline has triggered a jump of 52 cents a gallon on the gasoline wholesale market in Los Angeles this week, which will lead to the higher pump prices predicted by advocacy group Consumer Watchdog.
"The summer blend should not be responsible for more than a few pennies, maybe a dime," Consumer Watchdog President Jamie Court said at a news conference.
Court said motorists should have experienced lower prices earlier but refiners held onto gasoline that should have been made available to the market. With California's move to the more environmentally friendly summer blend of gasoline ahead of the busy driving season, he said, refiners emptied their inventories of the winter blend they no longer needed, causing prices to fall.
California's gasoline prices typically run higher than the rest of the nation because of the costs related to producing the state's less-polluting gasoline.
In addition, taxes and fees contribute to the higher prices.
Read the latest Essential California newsletter >>
But over the last year, the gap between prices in California and the rest of the nation widened.
The primary cause was the loss of production at Exxon Mobil's Torrance refinery, which was damaged in an explosion in February 2015.
The explosion destroyed a pollution control system and forced the oil refinery to reduce production to less than 20% of normal levels.
Torrance provides 10% of the state's total refined capacity and 20% of Southern California's total capacity. The plant is expected back online in the second quarter of 2016 and then is set to be sold to PBF Energy in New Jersey.
Local gas prices fell precipitously over the last few weeks, reaching as low as $1.99 a gallon Thursday at a Burbank Costco, according to GasBuddy.com.
But most service stations in Southern California are charging more than $2 a gallon, which is substantially higher than the rest of the country.
Jeff Spring, spokesman for the Automobile Club of Southern California, said prices are poised to increase as refiners change formulas, "and it may settle down once the summer grade gets in place."
As for how much prices will jump, "it's kind of hard to read the tea leaves," Spring said.
California's average price of regular gasoline was about $2.31 a gallon Thursday, down 24% from $3.03 a year ago, according to AAA. In the Los Angeles area, the average was $2.36, while the nationwide average stood at $1.71.
Starting in July, though, a little bit of a price break will kick in: California drivers will pay 2.2 cents less for a gallon of gasoline, as the Board of Equalization decided to cut the state excise tax.
ALSO
SpaceX scrubs its rocket launch -- again
Apple: San Bernardino iPhone hack could take up to 4 weeks, 10 employees
SeaWorld workers posed as animal activists to spy on opponents, CEO acknowledges
Our six-week newsletter will help you make the right decision for you and your property.
You may occasionally receive promotional content from the Los Angeles Times.