U.S. economy grows at slowest pace in two years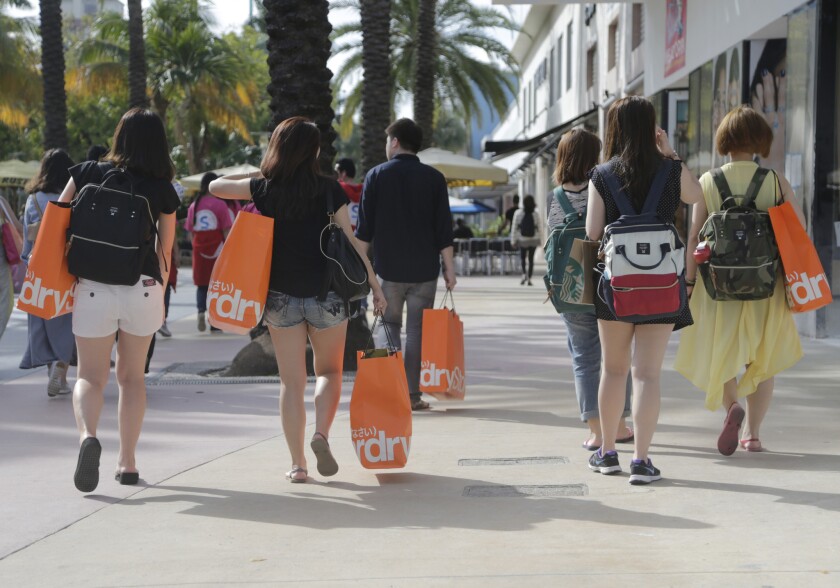 Growth by the U.S. economy fell off sharply in the first three months of 2016, posting its worst quarterly performance in two years amid a global slowdown, the Commerce Department said Thursday.
The broadest measure of the nation's economic output, known as gross domestic product, increased at an annual rate of 0.5% from January through March. That was down from a weak 1.4% reading in the fourth quarter and 0.2 percentage points below analysts' forecasts.
The last time the economy performed worse was in the first quarter of 2014, when severe winter weather in much of the nation caused GDP to contract at a 0.9% annual rate.
See more of our top stories on Facebook >>
This year's first-quarter slowdown was driven by declines in business investment, exports and federal government spending, the Commerce Department said.
Growth in consumer spending, a key driver of the economy, also declined as Americans became more cautious in the wake of a financial market downturn earlier this year.
The 1.9% increase in consumer spending was down from 2.4% in the fourth quarter of 2015 and the weakest in a year.
The Commerce Department stressed that Thursday's estimate was just the first of three for first-quarter growth and was based on data that were incomplete or subject to revision. A second estimate will be released May 27.
First-quarter growth "looks grim, but the second quarter will be much better," said Ian Shepherdson, chief economist at Pantheon Macroeconomics.
The stock market plunge in January was a key factor in the poor first-quarter performance, he said. But the market has recovered and Shepherdson expects growth to improve as well.
Still, the slowdown in U.S. economic growth will be a factor as Federal Reserve policymakers consider whether to continue raising a key interest rate. The central bank inched up its benchmark federal funds rate in December after keeping it near zero for seven years.
The Fed said Wednesday that "labor market conditions have improved further even as growth in economic activity appears to have slowed."
Initial jobless claims, a key labor market indicator, increased slightly to 257,000 last week, the Labor Department said Thursday. But claims remained historically low -- the 256,000 average over the previous four weeks was the fewest since 1973.
Economists expect that job growth was solid again in April, with forecasts calling for the creation of 200,000 net new positions and the unemployment rate holding steady at 5%.
Fed policymakers must balance the strengthening jobs market with weaker overall economic growth. After a two-day meeting this week, the Fed opted to hold the rate steady at between 0.25% and 0.5%.
The Fed next meets in June, and its most recent forecast indicated plans for two small 0.25 percentage point rate hikes this year.
"Today's anemic growth numbers fully justify the Federal Reserve's decision this week to not further increase short-term interest rates," said Josh Bivens, research and policy director for the Economic Policy Institute, a think tank focused on the needs of low- and middle-income workers.
Follow @JimPuzzanghera on Twitter
MORE BUSINESS NEWS
When Sports Authority closes, these retailers win
Why paid parental leave won't go national
SeaWorld is urged to send its marine animals to 'seaside sanctuaries'
---
For reporting and exclusive analysis from bureau chief John Myers, get our California Politics newsletter.
You may occasionally receive promotional content from the Los Angeles Times.