Google workers petition CEO, demand equal treatment for contractors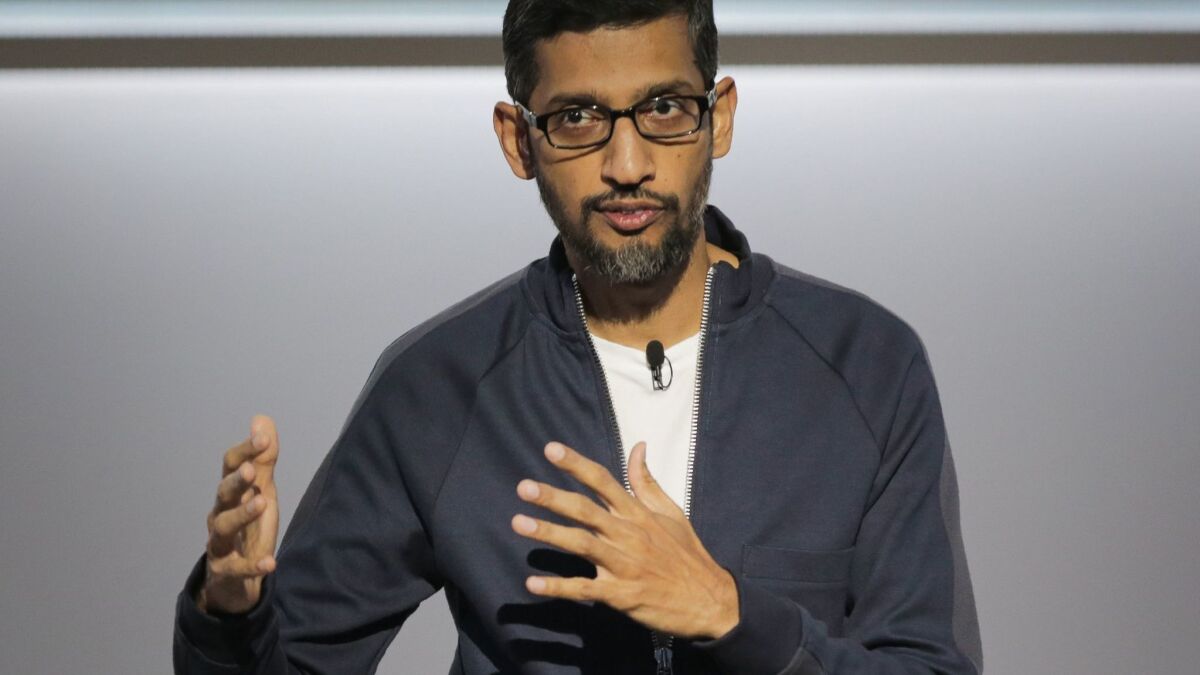 Bloomberg
A group of Google employees wrote to Chief Executive Sundar Pichai demanding better conditions for the thousands of contractors who make up more than half of the internet giant's workforce.
Last month, Alphabet Inc. overhauled the way it handles allegations of sexual harassment and assault, but the updated policies largely left out temporary, vendor and contract workers. On Wednesday, a group of full-time and contract workers sent a letter to Pichai asking for that to change. They also listed other requests, such as access to companywide emails and town hall staff meetings, better healthcare and benefits, and a more transparent process for applying for full-time jobs.
"We will continue to be mistreated and ignored if we stay silent," the workers wrote in the letter. "Google has the power — and the money — to ensure that we are treated equitably."
This is the latest example of Google employees speaking out, at a time when the company is being criticized for its handling of sexual misconduct, contracts with the U.S. military and a plan to build a censored search engine in China. A spokeswoman for Google declined to comment on the letter. The company has said it has strict rules for how vendors and suppliers respond to misconduct, and investigates when a contractor makes a complaint against a Google employee.
U.S. corporations often use contractors. But some Google employees and outside activists contend the company, which is on track to make more than $30 billion in profit this year, can easily afford to treat everyone who works in its offices the same.
In July, Bloomberg wrote about Google's "shadow workforce" and revealed that earlier this year, for the first time, temporary, vendor and contract workers made up more than half of the company's total staff.
The workers, known internally as "TVCs," do all sorts of jobs, including serving meals, piloting self-driving cars, writing code and managing teams. Unlike full-time workers, they aren't given stock, and many struggle with inadequate healthcare. They aren't allowed in some buildings or at certain company meetings. They are often employed by outside agencies, including Adecco Group AG, Cognizant Technology Solutions Corp. and Randstad NV.
Several TVCs interviewed recently by Bloomberg News described feeling like second-class citizens compared with full-time Google employees. They asked not to be identified for fear of losing their jobs.
When a shooting happened at YouTube's campus in San Bruno, Calif., in April, TVCs didn't get some communications updating workers on the situation, which left them feeling unsafe, the TVCs said.
The workers are often on teams with full-time employees and said their contributions are indistinguishable from the better-placed colleagues. One contractor, who works 50 to 60 hours a week in Google's marketing division, said TVCs are treated as "collateral damage" who can be hired and fired on short notice to help the company achieve business goals quickly and cheaply.
Another TVC described full-time staff asking her to move from an office desk or cutting ahead of her in line for coffee because she was a contractor and therefore not as important.
Another contract worker said when he took a job doing user research for Google, a manager told him he would be able to eventually convert the position into a full-time role. Two years later, that hasn't happened, and he's largely given up on that ever happening.
---
Sign up for the California Politics newsletter to get exclusive analysis from our reporters.
You may occasionally receive promotional content from the Los Angeles Times.