Retailers use gun controls to make policy statement and manage image, experts say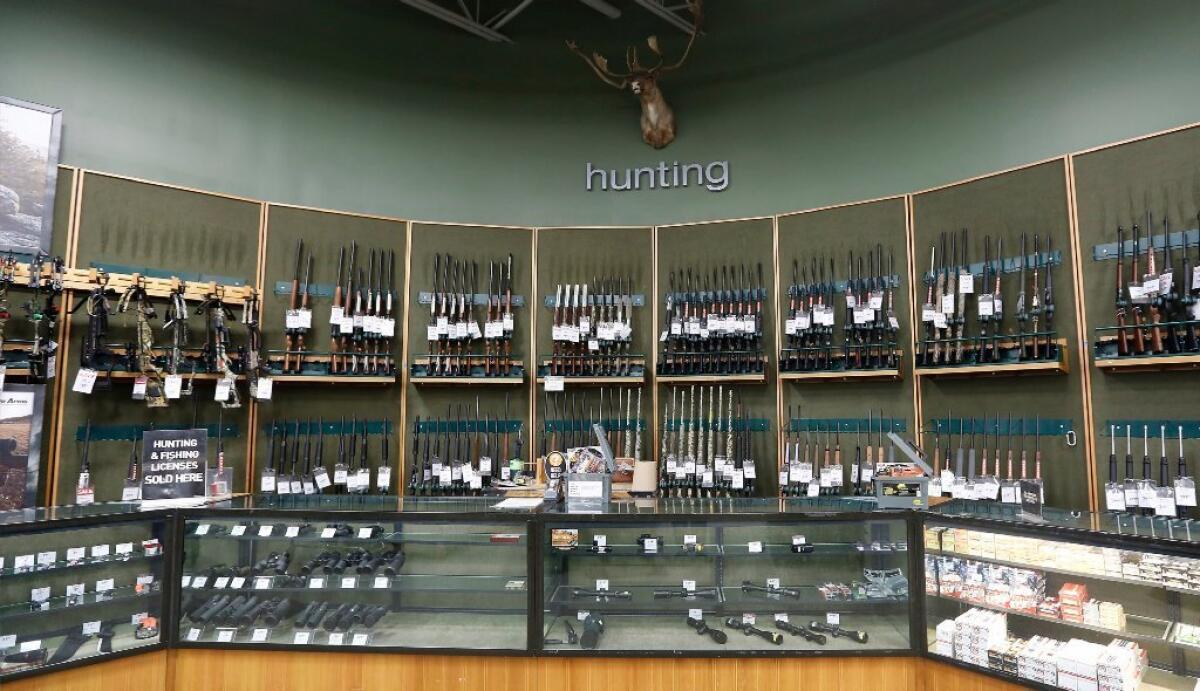 Three major U.S. retailers voluntarily restricted gun sales to make a policy statement and manage their image with consumers in the aftermath of the Florida school massacre, marketing experts said Thursday.
Walmart Inc., the nation's largest retailer, followed the lead of Dick's Sporting Goods Inc. and tightened restrictions on gun sales this week, including banning sales to customers under 21.
Kroger Co. followed suit Thursday, saying it was curbing firearm sales at its Fred Meyer general-merchandise stores. Kroger also is the parent of the Ralphs grocery chain.
The retailers are responding to the national uproar that followed the shooting in Parkland, Fla., that killed 17, especially the feverish debate on Facebook, Twitter and other social media platforms. They are not waiting for legislative action to improve matters, analysts said.
"Gun violence is an epidemic," Edward Stack, Dick's chief executive, said in a statement, adding that "we have to help solve the problem that's in front of us."
The retailers "want to position themselves in the minds of consumers by taking steps like this," even if it means alienating some consumers who object to further gun controls, said Roger Beahm, executive director of Wake Forest University's Center for Retail Innovation.
A number of companies, including Delta Air Lines Inc. and Hertz Corp., also have ended discount programs available to the 5 million members of the National Rifle Assn. The trade group called the moves "a shameful display of political and civic cowardice."
"Let's be honest, there is a publicity value that comes from taking a stand like this early, even if it's somewhat controversial," Beahm said of the retailers and other companies. "They're benefiting from the awareness that's going to be generated by having a position that gets highly publicized."
Walmart says it's one of the largest firearm retailers in the nation but does not break out what portion of its $308 billion in total fiscal 2017 U.S. sales was from firearms and accessories. Dick's did not immediately respond to questions about its annual firearm sales.
U.S. sales of firearms and ammunition to consumers totaled about $9.7 billion last year, according to the U.S. Bureau of Economic Analysis.
The retailers are "paying attention to what's going on in the lives of their customers, especially the ones who really understand social media and understand how to mobilize others into a cause," said Andrea Simon, founder of Simon Associates Management Consultants.
"I don't think that in the world of social media [the retail chains] can stay out of the discussion," she said.
In a broad sense, consumers usually dictate retailers' actions. If they don't like a store's products, services or even its corporate philosophy, they take their business elsewhere.
Publicly held retailers, in turn, seldom are altruistic in their actions. Instead, their strategies are designed mostly to reap the highest possible sales, profits and stock prices.
But the situation surrounding recent mass shootings is not unlike those after natural disasters when retailers respond with assistance, Beahm said.
"They want to be viewed as good community citizens," Beahm said. "Retailers are recognizing that society and consumer demands are changing."
Miro Copic, a marketing lecturer at San Diego State's business school and a principal at the consulting firm BottomLine Marketing, said the retailers were "making a rational and safe choice" by tightening sales restrictions partly because "most consumers now feel that some kind of responsible gun regulation is warranted."
"It's not going to incite people to picket Walmart or Dick's Sporting Goods," Copic said. "The reaction to Parkland has gotten a lot of leaders, whether in politics or business, to think about this differently."
Simon said Walmart, Dick's and others might even "see a surge in the top line," or in overall sales, by taking stances on certain gun controls that prompt consumers to shift business their way.
"Yes, you have a bottom line and stockholders," she said. "But perhaps there's something more important going on right now. Maybe we are on the brink of something's that transformative."
It's not often retailers make such abrupt, voluntary and broad changes to their major product lines in the face of shifting consumer demand or other external events, but there are other examples.
In 2014, CVS Health Corp., the nation's largest drugstore chain, stopped selling cigarettes and other tobacco products. CVS said that, although it would forgo more than $1.5 billion in tobacco-related sales, the move was necessary to support its commitment to healthcare.
"Of course, there were a number of smokers who reacted negatively" to CVS' move, Beahm said. "You will always have two sides to every issue. But that decision resonated extremely well with many consumers."
Grocery chains also have taken it upon themselves to increasingly stock organic and natural foods in recent years because of consumer demand for healthier foods.
And major automakers are starting to retreat from their decades-long habit of using female models to stand next to cars at major auto shows – a response to the growing #MeToo movement against sexual harassment, Bloomberg reported Wednesday.
Twitter: @PeltzLATimes