Shipping giant Hanjin, majority owner of biggest Long Beach terminal, files for bankruptcy protection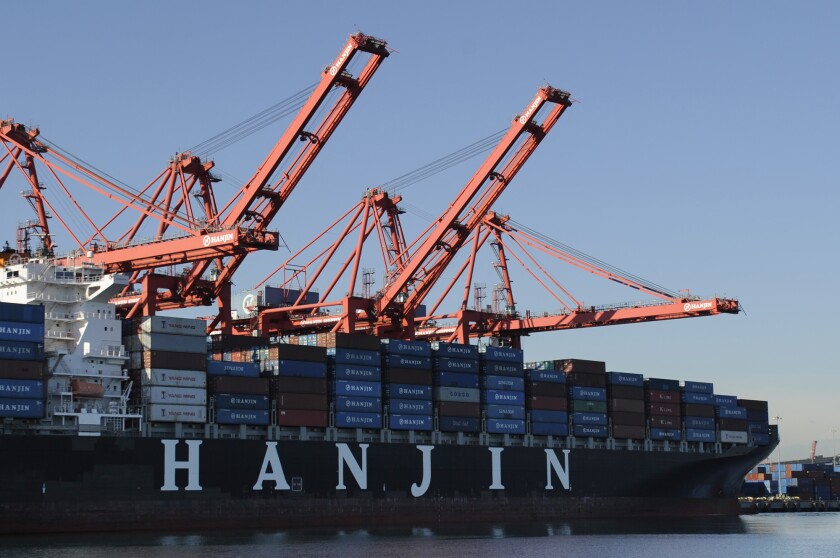 Hanjin Shipping Co., one of the world's largest shipping lines, filed for court receivership in South Korea on Wednesday.
The South Korean company, which has a majority stake in the Port of Long Beach's largest terminal, made the filing with the Seoul Central District Court after its banks withdrew their backing, viewing a plan to tackle Hanjin's debt as insufficient, Reuters reported.
In a statement, South Korea's Financial Services Commission said that the government will "promote sales of Hanjin Shipping's core assets to Hyundai Merchant Marine in a bid to maintain competitiveness of the shipping industry."
Hanjin, like other shipping giants, has struggled with overcapacity brought about in part from a massive ship-building boom.
The impact of the bankruptcy is expected to ripple around the globe.
"Hanjin's bankruptcy could very well spoil the holidays for anyone with goods on Hanjin vessels right now," said Jock O'Connell, a trade expert at Los Angeles consulting firm Beacon Economics. "Look for a financially ruinous game of musical chairs as cargo owners now hunt for space with other shipping lines."
Hanjin also owns a majority stake in Total Terminals International, the operator of Long Beach's largest terminal at Pier T. Port spokesman Michael Gold said he didn't know if Hanjin ships would continue to call at the port.
The Total Terminals website says that "until further notice" the terminal will "discontinue delivery of all Hanjin import containers." It also said it would no longer accept Hanjin containers for export.
The South Korean court must now decide whether the company should be dissolved. That is usually a one- or two-month process, but it will probably be sped up for Hanjin, a judge told Reuters.
Follow me @khouriandrew on Twitter
MORE BUSINESS NEWS
First U.S.-Cuba commercial flight in more than 50 years touches down
Inside the Apple tax bombshell: Why it's not good for anyone (especially Apple)
Simi Valley woman awarded $15.4 million after investing in Ponzi scheme pushed by insurance salesman
---
Must-read stories from the L.A. Times
Get the day's top news with our Today's Headlines newsletter, sent every weekday morning.
You may occasionally receive promotional content from the Los Angeles Times.