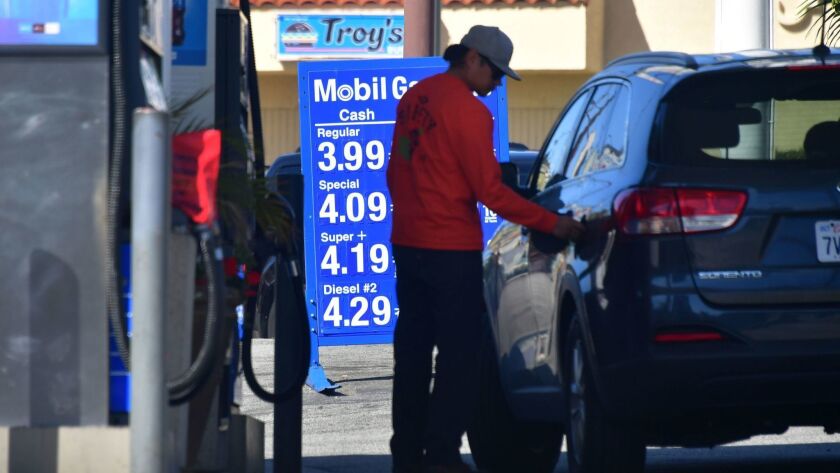 If you've been shocked by how much it costs to fill up lately, you have good reason: Gas prices in the Los Angeles region have reached an average of about $4 per gallon for the first time since 2015.
The average price of a gallon of regular gasoline in the Los Angeles and Long Beach area was $4.069 after rising about 18 cents, or 4.6%, in the past week — making it the highest price in four years, according to the American Automobile Assn.
Average prices in other Southern California metro areas also crept up to the $4 mark, including in Orange County ($4.037) and San Bernardino ($4.006).
"I don't think $4.15 a gallon by next week would be out of the extraordinary," said Dan McTeague, senior petroleum analyst at GasBuddy, a fuel-tracking website that has calculated a 70-cent increase in the past month alone. "This may be longer than expected and I wouldn't look for any short-term relief."
Analysts have said prices began to increase around mid- to late March, when six California refineries started to undergo both planned and unplanned maintenance. Those refineries — four of which are in Southern California — provide the bulk of refined gas for the state.
"When you have unplanned issues crop up on top, that creates a very tight supply situation, and so that's what we're dealing with right now," said Marie Montgomery, spokeswoman for AAA of Southern California. "The thing that's going to relieve this is when we see some of these planned maintenance issues start to resolve themselves and when things are going back online."
California can't necessarily count on overseas shipments of gasoline to ease supply woes. Earlier this month, California made its scheduled shift to a more eco-friendly blend of gasoline that's used during the summer months. This blend is a "boutique gasoline that has very few alternatives suppliers," meaning California refineries are the only ones that make this blend, McTeague said.
However, the "attractive" pricing may entice overseas refineries to make a special run of this California-specific gas, as they have previously, Montgomery said.
---