Gas prices soar in Southern California as refinery outages take their toll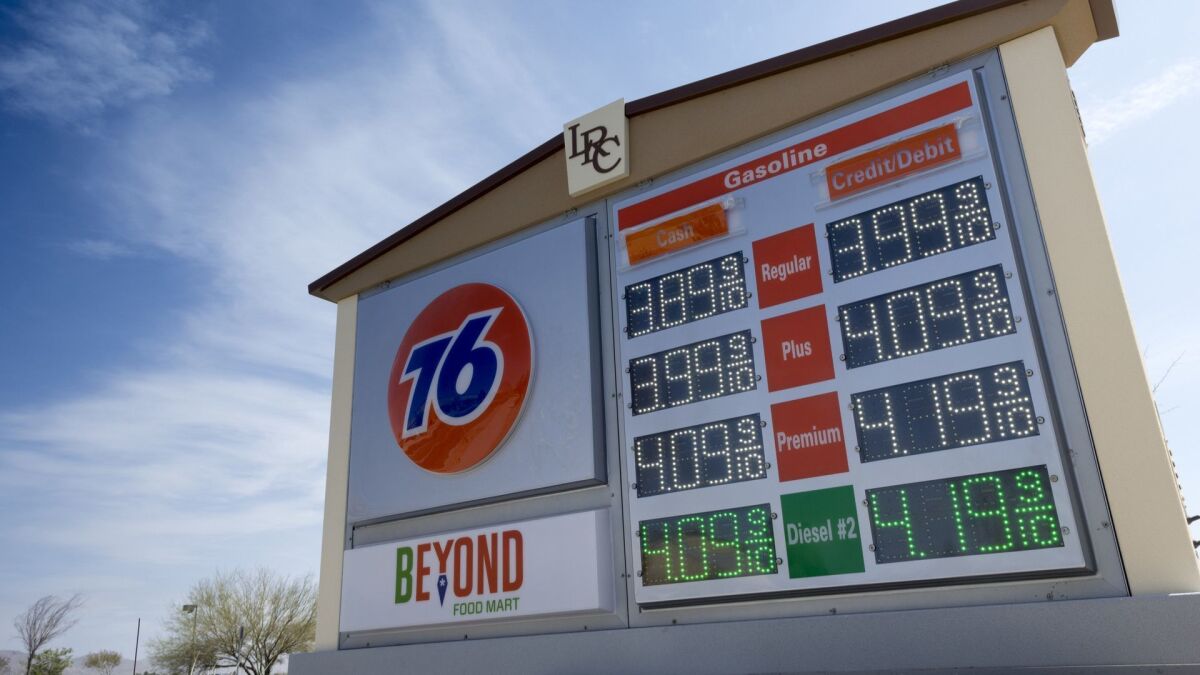 The price of gas in Southern California has climbed rapidly over the last few weeks as oil refineries across the state experience maintenance problems.
The average pump price for regular gas in the Los Angeles-Long Beach area stood at $3.946 on Wednesday, up about 22 cents from a week ago and 70 cents, or 17%, from a month ago, according to the American Automobile Assn.
Prices had been relatively stable the last few months — at $3.25 on Jan. 10 and $3.35 on March 19, said Patrick DeHaan, head of petroleum analysis at GasBuddy, which tracks fuel prices.
"Since then, prices have soared," DeHaan said.
The six sites undergoing both planned and unplanned maintenance supply the bulk of refined gas for the state, DeHaan said.
Four of the outages — including a fire at one refinery — are in Southern California, which is why the L.A. area is seeing a higher average price than San Francisco, he said.
The average price for regular gas across the state was $3.874 on Wednesday, up about 10% from $3.526 the same time last year, AAA said.
As of last week, operations had not yet recovered from a March 16 fire at a Phillips 66 refinery in Carson, according to AAA. The state's 10 major refineries produce at least 75,000 barrels of fuel a day on average.
California produces the majority of its own gasoline because it uses special blends to reduce smog that other states don't use, so when refineries have problems, the state has trouble replacing lost production, said Marie Montgomery, a spokeswoman for the Automobile Club of Southern California.
Usually, fuel shipped from other countries will bridge that gap, but that costs more. "We're bearing the brunt of this rapid increase in gas prices," Montgomery said.
Besides significant unplanned refinery maintenance, rising ethanol prices and California's switch to a more eco-friendly gas blend for the summer months, starting April 1, have contributed to a lower gas supply, DeHaan said.
Gas prices in general tend to climb in the spring until early May — due to both the switch and higher demand for gas in warmer seasons — and then start to taper off, Montgomery said.
Global factors have also driven prices. Crude oil prices are feeling the effect of a coordinated effort by OPEC to reduce supply, as Saudi Arabia presses to cut back output. Political unrest in Libya and turmoil in Venezuela resulting in power blackouts at refineries may also be contributing to a shortfall.
The price of West Texas intermediate, the benchmark for domestically produced oil, has risen dramatically to about $64 a barrel on Wednesday, from $43 in December.
DeHaan predicted that L.A. gas prices will probably rise to $4 sometime this week — the highest average price since 2015, when a key refinery experienced an explosion and went offline. He expects prices will continue to increase for one or two weeks until refineries are functioning normally or new shipments arrive.
"We've had several years now of relative stability in gas prices, so this is unusual for people who aren't remembering to 2015 and before that," Montgomery said.
Diesel prices have been more stable in the Los Angeles-Long Beach area, rising to $3.994 on Wednesday, from $3.808 a month ago, according to AAA.
U.S. consumer prices rose 0.4% in March, largely because of climbing prices for gasoline, electricity and shelter.
The Associated Press and Bloomberg were used in compiling this report.
Sign up for the California Politics newsletter to get exclusive analysis from our reporters.
You may occasionally receive promotional content from the Los Angeles Times.