Tronc and Gannett shares plunge amid merger doubts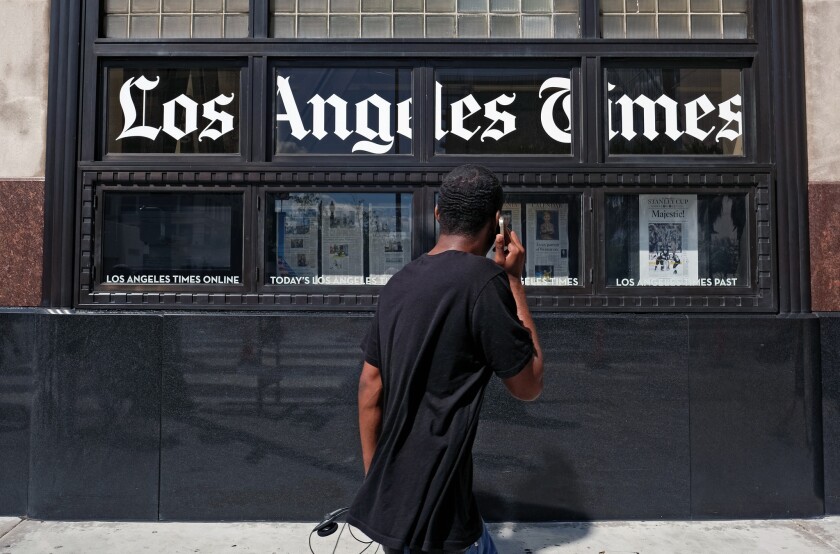 Shares of Tronc, the owner of the Los Angeles Times, and Gannett Co. fell sharply Thursday amid reports casting doubt on a merger between the two newspaper conglomerates.
Tronc, which was formerly known as Tribune Publishing and also owns the Chicago Tribune, Baltimore Sun and other regional newspapers, fell $4.73, or 27.8%, to close at $12.27. Trading was halted twice on the Nasdaq to quell excessive volatility in the shares, which had peaked at $17.50 on Oct. 3 in expectation that Gannett would acquire the company for $18.50 to $19 per share.
While Gannett's stock also fell sharply after it reported weak third-quarter results, much of the downdraft appeared to be related to reports that the Gannett-Tronc merger, which had been expected to be announced as early as this week, was in jeopardy. Bloomberg and CNBC reported during the trading day that bankers financing the merger were pulling out. Company sources told Reuters, however, that the two companies were still in active negotiations, with details of the structure of the merged corporation still being worked out.
Both companies declined comment on Thursday.
Gannett shares fell $1.69, or more than 17%, to close at $8.21 on the New York Stock Exchange. Its shares were weighed down by its third-quarter earnings report, released before the market opened. Gannett, the publisher of USA Today and scores of regional dailies, reported a loss of $22.4 million, or 21 cents per share, on revenue of $772 million for the quarter ended Sept. 25. That compares to a gain of $39.2 million on revenue of $384.2 million for the same period a year ago.
The company attributed the loss to $31.6 million in restructuring, severance and other costs related to its acquisitions of the parent companies of the Milwaukee Journal Sentinel, the Record of Bergen County, N.J., and ReachLocal, an online marketing firm.
A collapse of the deal would undermine Gannett's strategy to fight the decline in newspaper circulation by assembling a nationwide network for advertisers and saving money through consolidation and operational efficiencies.
Gannett has been formally pursuing Tronc since April, when it publicly launched a takeover bid at $12.25 a share. That was rejected as inadequate by the Tronc board, led by Chairman Michael W. Ferro Jr.
Gannett executives declined to address the Tronc merger specifically during their conference call with securities analysts following the earnings release. Gannett CEO Robert Dickey said, however, that in principle the company sought mergers that would be "accretive for our shareholders and add value," on financing terms that "make sense for the company."
"We're not going to add properties for the sake of adding properties," he said.
Keep up to date with Michael Hiltzik. Follow @hiltzikm on Twitter, see his Facebook page, or email michael.hiltzik@latimes.com.
Return to Michael Hiltzik's blog.
ALSO
Twitter to slash 9% of its workforce and kill Vine
Qualcomm buying NXP Semiconductors in $38-billion mega-deal
New rule: Internet providers must ask before sharing your sensitive personal data
---
Your guide to our new economic reality.
Get our free business newsletter for insights and tips for getting by.
You may occasionally receive promotional content from the Los Angeles Times.