How I Made It: Arlan Hamilton was homeless when she founded Backstage Capital for overlooked entrepreneurs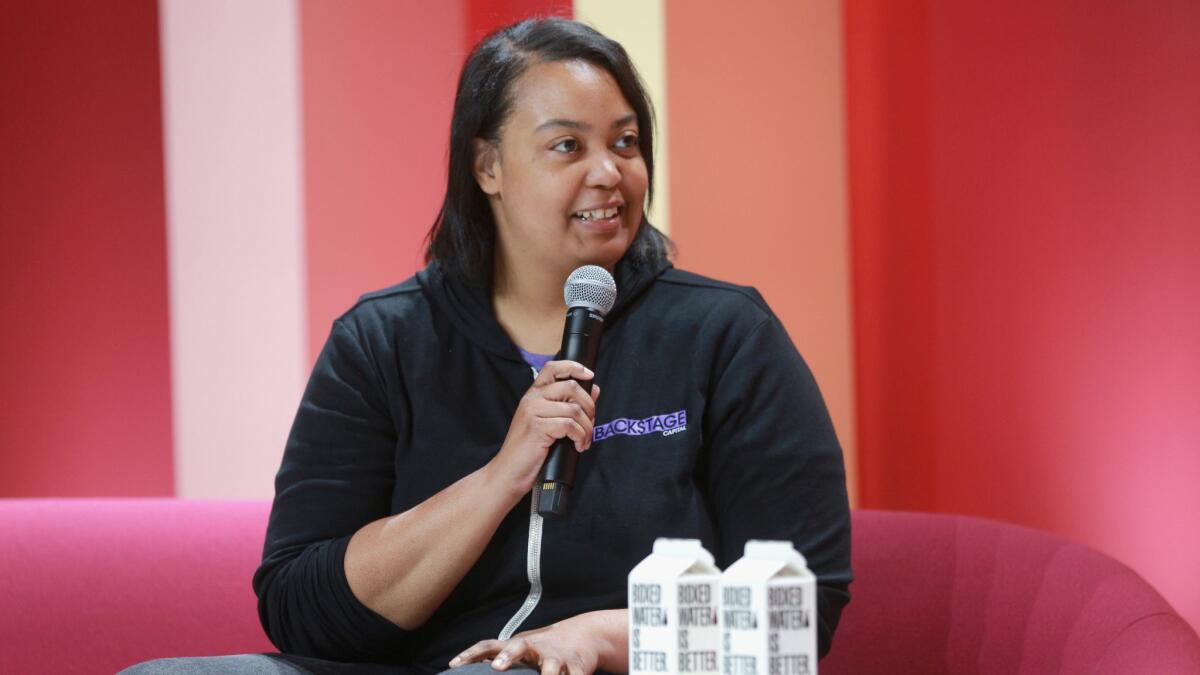 Arlan Hamilton wants the cake, not the crumbs. Hamilton, 38, founded Backstage Capital, a seed-stage investment fund, because she saw that start-up founders who are women, people of color and LGBTQ have long been on the crumb-receiving end. Since Hamilton, who is black and part of the LGBTQ community, founded Backstage Capital in 2015, the fund has invested $5 million in more than 100 start-ups headed by underrepresented founders. The firm, which is based in Los Angeles and manages accelerator programs in Detroit, Philadelphia and London, has about 30 employees.
Rocking the boat
Hamilton wanted to see a band she liked go on tour, so she reached out to the Norwegian pop-punk group when she was 21 and asked if she could arrange the tour herself. They agreed, and over time, she worked her way up to managing arena-level touring for musicians including Jason Derulo, Toni Braxton and Kirk Franklin as a production coordinator and tour manager.
In 2010, Hamilton noticed celebrities, including Ellen DeGeneres and Ashton Kutcher, were investing in start-ups. It piqued her interest at a time when she wanted to start her own company. The more she learned, the more she noticed that brown and black founders were underrepresented, overlooked and undervalued. That's when Hamilton knew she could continue to work on her own company, or she could raise money for other companies and have a bigger impact by unapologetically challenging diversity and equity gaps in start-up funding.
"There are definitely people who paved the way for what I do. But I think some of them were a little afraid to rock the boat, because it had been so difficult for them to get in. I was already dancing on the boat as I walked in," Hamilton said.
Breaking in
Similar to the way she taught herself to book music tours, Hamilton taught herself how to start a venture capital fund from completely different means. She didn't have a college degree or run in wealthy circles where VCs are typically born. During the time she started pitching Backstage Capital to investors, Hamilton was homeless.
"I was going toe-to-toe with people who had an unlimited amount of money, who could wine and dine their limited partners with lavish events and big productions," Hamilton said. "It was me and my backpack, going to conferences and meeting people, sleeping in cars — doing whatever I could to meet with them face to face because I had to play ball."
Hamilton said it took finesse to make it work during this time in her life.
"I would go home and my home would be the airport or a hotel or someone's couch, or an Airbnb that I scraped together the money for. And that is just not the story here with people starting funds," Hamilton said. "I don't recommend that you do that. But I feel like I was carving my way into a separate category, so I had to do it. There was no other way to break ground."
Building privilege
The grit it took to build her fund from scratch is one way Hamilton, who now serves as managing partner at the firm, connects with and supports founders of companies in Backstage Capital's portfolio. Hamilton said 80% of founders supported by Backstage Capital have bootstrapped — or self-funded — their businesses.
"I call it augmented privilege," Hamilton said. "I have on the Iron Man suit, and I'm walking around. But it's really everything that I built for myself. And so I try to give that same Iron Man suit and augmented privilege to others."
Needed investment
Less than 2% of start-up financing went to female founders and only 1% went to black and Latinx founders in 2016, according to the Ewing Marion Kauffman Foundation, which studies education and entrepreneurship. Backstage Capital reports that women, people of color and LGBTQ founders receive less than 10% of all venture capital deals.
"Every time I look at a TechCrunch or Axios article that says the ecosystem is flush with capital, with VC capital, there's a bubble, I'm like where?" Hamilton said. "Because we're not seeing it."
Building a network
"We know that these founders are going to be the leaders of tomorrow. But right now our circumstances are that we are playing catch-up from decades and centuries of being institutionally locked out," Hamilton said. "So we ask ourselves what is in our power to tip the scales a little bit more in our favor."
Part of tipping that scale included the March launch of Backstage Accelerator, a three-month program for 25 businesses that offers an investment of $100,000, mentorship and a workspace in exchange for 5% equity. "White men have had accelerators for 10 years. We have not had it. We've had some accelerators, for sure, but we haven't had a chance to have that same type of competition and different mission [centered around capital]," Hamilton said.
Hamilton sees progress in competition because if there are more funds with inclusive funding models in addition to Backstage Capital, that means there's more funding for underrepresented, underestimated founders.
"I'm competitive. I want to make millions and millions of dollars. But again, we are starting from scratch as underestimated people in this field. So if we're all siloed, we're going to lose. We're just going to lose because there are just too many powerful players in the mix," Hamilton said. "It doesn't have to be winner take all."
Thriving outside Silicon Valley
Hamilton, who is from Dallas, said this nuanced approach stands in contrast to some of the "fratty" deals made behind closed doors in Silicon Valley. She says being based outside Silicon Valley is freeing and sees L.A. as one of the "grandest" examples of how diversity in tech thrives.
"The talent here is super diverse. And I don't mean just black and just brown, I mean everyone working together. We're also one of the fastest-growing cities when it comes to the tech ecosystem," Hamilton said. "When we go out to other cities and we're asked, 'What's a good example of what you're saying is working?' We say L.A. — Look at what L.A. is doing."
Know what you're fighting for
"I talked to founders before I raised a penny because I needed to understand the needs of the founders. Those are your customers, and they're your most important piece to the puzzle," Hamilton said. "You're going to find all kinds of land mines, all kinds of people sticking their foot out, all kinds of challenges as you raise. So you need to be 100% committed with 100% conviction in what you're doing."
That commitment will help you swat away distractions, Hamilton said, and keep your mission at the forefront. "I have to keep doing this until we're no longer underestimated or underrepresented. That's the clear end goal," Hamilton said.