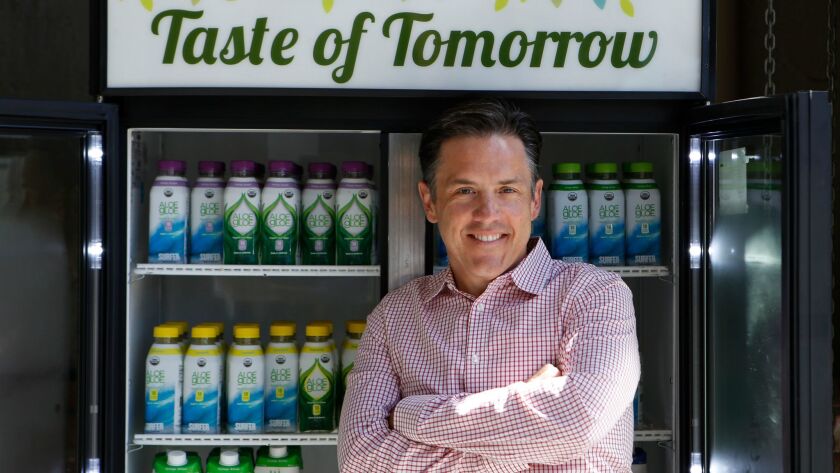 Dino Sarti is the founder and chief executive of Aloe Gloe, a wellness drink company based in Los Angeles. Aloe Gloe is available at retailers nationwide, including Walmart, 7-Eleven and Amazon.com. With 20 years of experience in the beverage industry, the 43-year-old manages 19 employees and works out of a converted warehouse in the Arts District.
---
A rocky start
Neither Sarti nor his family expected him to end up where he is today. Raised in La Crescenta, Sarti struggled after his parents divorced, failing classes in eighth grade and finding himself grouped with the "at-risk" students in high school.
"I got out of high school by the skin of my teeth," he said.
After two years of community college, Sarti was still unsure of his career aspirations, so his father, an ER doctor, suggested that he quit school and go to work. For a year, Sarti worked as an orderly moving people (both alive and deceased) around the hospital. Seeing the stratification of hospital employees helped him understand the value of a college education and encouraged him to apply to USC.
"It still blows me away that I got into USC and graduated from USC and have a master's degree," Sarti said. "Nobody saw that in the future for me when I was 17."
Finding a calling
He started off as a history major, then switched to accounting, but Sarti didn't find his calling until he transferred into the business school to study marketing. There, he met a mentor, Jim Ellis, now dean of USC's business school, who helped convince him to pursue a career in sales.
"I'm outgoing, empathetic, enjoy speaking, enjoy setting goals and achieving them," he said. "I've got the temperament for a sales profession, and I never looked back."
A chance internship
Armed with 20 resumes, Sarti attended a Friday job fair the summer before he graduated from college. Like most students, he offered his resume to any company he recognized.
"The one reason I'm in the beverage business right now is because Coke called me back first," he said.
Sarti was immediately put to work as a merchandiser, working to fill shelves with Coca-Cola beverages and build store displays in East L.A. The work was manual — Sarti dressed in steel toe boots, wore a work belt and carried a box cutter — and he often left work covered in soda.
"It was honest work, easy to understand and I felt like when I'd walked out of the store, I had done something to improve it."
If I have a blue-collar work ethic and a white-collar education, I thought I could go places.

— Dino Sarti
Blue collar/white collar
After his internship, Coca-Cola hired Sarti as a sales representative. With his own Coca-Cola van, Sarti was responsible for 200 accounts, mainly convenience and liquor stores in West L.A.
Every day he drove a route, aiming to stop at more than 20 stores to network with shop owners and build beverage displays that enticed consumers. Sarti says some of his college friends with jobs at consulting firms laughed at the nature of his work, but he moved quickly up the ladder.
His next route had only 20 grocery stores and he managed several employees. "I was making $32,000 but I felt like I was making more," he said. "If I have a blue-collar work ethic and a white-collar education, I thought I could go places."
On-the-job hazards
Working around stacks and stacks of heavy beverages comes with some risks. In an effort to get promoted, Sarti recalls trying to go above and beyond to spruce up a Coca-Cola display in a store that his supervisor planned to visit.
While attempting to move a huge stack of beverages, he took a spill — one that cost him four front teeth. He rushed to the emergency room before he could finish the display and to this day is unsure whether his supervisor even visited the store.
He also fondly recounts another mishap that left him covered head to toe in dirt and soda on the same day he bought an engagement ring for his high school sweetheart, and now wife of 18 years.
Moving on up
With more than eight years at Coca-Cola under his belt, Sarti was ready to move on. "I would've been happy there until I retired had I not felt this burning need to keep going, and I had ambition," he said.
He received an MBA from Pepperdine University and began working for beverage brands including Icelandic Glacial, Zico coconut water and Illy. Entrepreneurs including the creators of Honest Tea, Fuze and Vitamin Water inspired him to venture out on his own.
Why wellness
Sarti's own journey to health inspired the creation of Aloe Gloe. With a career in sales, Sarti began to look the part. "I was the guy who showed up with a few extra pounds, I knew my way around happy hour and a golf course," he said.
In 2009, Sarti made a life change, devoting himself to healthy eating and fitness, eventually losing 80 pounds. He has also completed several triathlons.
When it came time to build his own brand, Sarti knew wellness would play an important role in the product's creation. He was interested in aloe vera but noticed that many competitors loaded their product with sugar, essentially erasing many of the health benefits of the plant.
As someone who paid close attention to product labels, Sarti set out to make a low-calorie drink, which he branded as water-based instead of a juice beverage.
Distributing the product
Sarti began working on the Aloe Gloe concept in 2011 inside his Sierra Madre garage, where he and business partner Danny Stepper worked next to a dryer.
When he first started, Sarti had to stock shelves with Aloe Gloe. Now he's in awe of the nationwide distribution process and all of the people involved along the way — the drink is shipped to a warehouse in downtown L.A., then to a warehouse in Downey, and from there to numerous facilities from which it's delivered to stores.
"I get really excited when I walk into a store and I see it there," Sarti said. "It's got to be like hearing your own song on the radio."
Advice for others
Suddenly, Sarti says, cliches are starting to resonate. "The biggest thing I would say to other people is don't give up, keep showing up."
People make their own luck, he said. "If you don't show up, you'll never be able to have that lucky moment…. You have to work hard to make your own opportunities."
Already a subscriber? Thank you for your support. If you are not, please consider subscribing today. Get full access to our signature journalism for just 99 cents for the first four weeks.
---