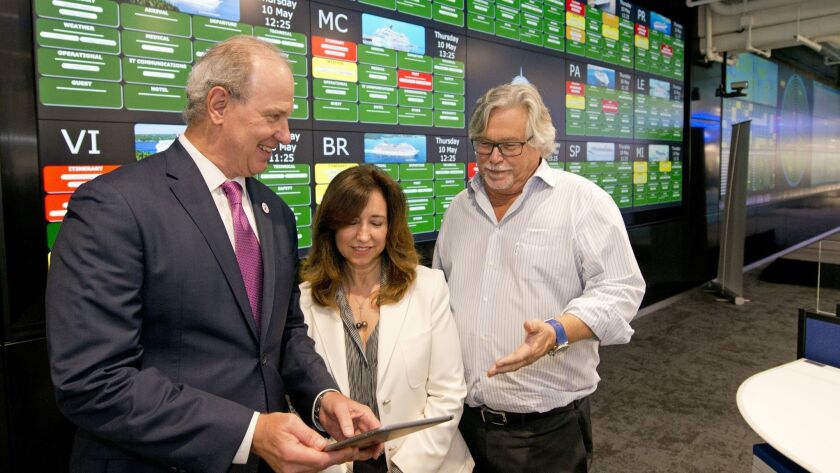 Christine Duffy, 56, is president of Carnival Cruise Line, the world's largest cruise company with 26 ships, more than 40,000 employees and 5 million passengers a year. She took the post shortly after several calamities at sea tarnished the image of the cruise industry at a time when the U.S. was rebounding from the recession and Americans were ready to travel again. Her goal has been to repair the industry's damaged image.
Too short to fly
Duffy grew up in Philadelphia, where her mother was a stay-at-home mom and seamstress and her father was a salesman, peddling sewing machines and car tires. With cousins living in France, Duffy often traveled with her family to Europe, which sparked her love of travel. Soon after high school, she applied to be a flight attendant at Pan American World Airways but was rejected at the end of the evaluation process because she was only 5 feet tall — short of the 5-foot-4-inch minimum height requirement. "I have to admit that I was pretty disappointed," she said.
Travel calls
Unwilling to give up on a career in travel, Duffy got a job as a travel agent at McGettigan Travel in Philadelphia, initially earning $200 a week plus commissions. During her 20 years at the company, she worked her way up to president and stayed on when the company was purchased by Maritz Travel Co., the world's largest corporate meeting, events and travel incentive company. After four years, Duffy was named Maritz's president and chief executive. She attributes her success in the industry to her "passion for the business."
One of her biggest challenges, Duffy said, was speaking out for the travel industry when then-President Obama made a comment in 2010, suggesting business leaders whose companies are in financial trouble shouldn't be visiting Las Vegas. "At the time, I don't think we had done a good job talking about the importance of face-to-face meetings," she said, referring to business meetings.
Choppy waters
Shortly after stepping into the spotlight for responding to Obama's comments, Duffy was offered the job of president and chief executive of Cruise Lines International Assn., the trade group for the world's cruise industry. It was a move that put her, again, in the hot seat. A year after she took the job, the industry was struck with one of the worst cruise disasters ever. The Costa Concordia, operated by a subsidiary of Carnival Corp., crashed into rocks on the Italian island of Giglio on Jan. 13, 2012, killing 32 passengers and crew members.
"It was not indicative of how the cruise industry operated," she said of the tragedy.
The following year the Carnival Triumph, operated by Carnival Cruise Line, another Carnival Corp. subsidiary, lost power and was adrift in the Gulf of Mexico for four days. Via smartphones, passengers sent relatives stories and photos of urine and feces in hallways, spoiled food and long lines for the few working toilets.
What she learned from the two accidents, Duffy said, is that the industry needed to do a better job of educating vacationers about the safety of the cruise industry. "It was a very difficult time but it also brought the industry together, which had not happened before," she said.
Carnival calls
In 2015, Duffy was named president of Carnival Cruise Line, which carries more passengers a year than any other cruise line. During her first year, she set out to visit every ship in the fleet, traveling as far as the Bahamas and Australia, she said.
"I believe in getting out and about and being where the action really is," she said. "You've got to get out and hear from your people and customers."
Management style
Duffy said she tries to get out of her office as often as possible to meet with employees to ensure that they are happy and doing their best to treat customers well. She has encouraged workers who deliver laundry and dry cleaning to include a note, wishing patrons a good cruise.
"Visiting our ships regularly and making these connections sets the tone and gives us a lot of insight into what's working well, areas we can improve and ideas for innovation," she said.
Safe and fun
The company is still working to repair its image. Before she took over the cruise line, the company invested about $300 million to improve the safety and reliability of its ships by adding an extra generator to each ship and improving the fire-suppression systems. The move came partly in response to the Carnival Triumph mishap. The company now plans to invest an additional $200 million to overhaul and rename the Triumph as the Carnival Sunrise. The upgrades will include new restaurants, bars and water park features.
Earlier this year, Duffy introduced NBA star Shaquille O'Neal as Carnival's new chief fun officer. Television ads highlight the 7-foot-2-inch Basketball Hall of Famer clowning with staff at the company's Miami headquarters and showing off the features of a cruise ship. "I just felt he embodied what our brand is all about," Duffy said of O'Neal.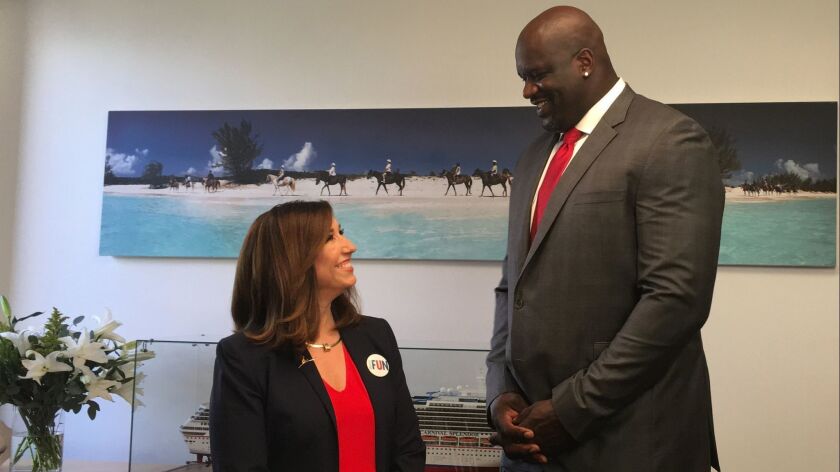 More ships
With consumer confidence strong and travel in high demand, Duffy said Carnival is hoping to attract new cruise passengers by putting to sea three new ships over the next four years. The Cruise Lines International Assn. estimates that 26.6 million people took cruises in 2017 compared with 24.7 million in 2016, a 7% increase.
The next new ship to be put to sea by Carnival Cruise Line will be the Carnival Panorama, which will be docked in Long Beach year-round to sail to the Mexican Riviera, starting in December 2019. "We are definitely making a bigger commitment to the West Coast," she said.
Message received
Carnival Corp., the parent company of Duffy's cruise line, reported a small increase — 2% — in total passengers to 2.97 million in the three months that ended May 31. The company said bookings are running slightly ahead of the prior year at prices that are in line with the previous year.
Duffy said she believes cruise travelers have gotten Carnival Cruise Line's message about its improved safety.
"We have been able to demonstrate, over a lot of work and communication, that this is an industry that puts safety above everything else," she said. "There is always more that we are looking to do. It's a continuous process."
---