How I Made It: Jim Michaelian steers the Long Beach Grand Prix with a steady hand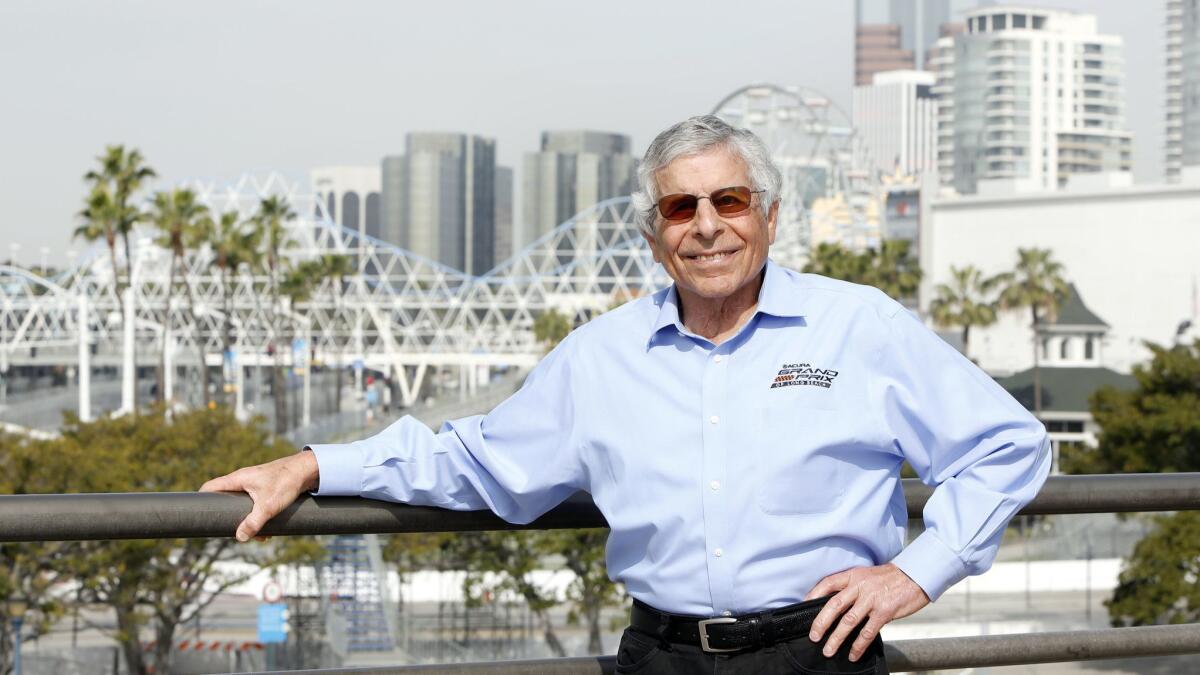 As president and chief executive of the Grand Prix Assn. of Long Beach, Jim Michaelian has become accustomed to twists and turns. The high-energy racing enthusiast, who has been part of the private organization since before the city's first grand prix in 1975, can remember when money was super tight — the late 1970s — and when the annual April event had no announced title sponsor edging into February — because that was this year. But Michaelian exhibited no nervousness about losing Toyota, whose sponsorship since 1980 helped solidify the race's finances. The 45th edition of what is now called the Acura Grand Prix of Long Beach takes place April 12-14 with an entire weekend of events surrounding the race.
The layout
Long Beach has grown to become an iconic stop in the world of motor racing. A variety of races are run during the three days on the city's seaside streets, culminating with a big-league IndyCar Series race Sunday. The races feature different types of cars, and one is for trucks, to appeal to a broad audience. There formerly was a celebrity race as well, but that was dropped.
But the Long Beach Grand Prix is more of a festival that's been built up around the racing. There are music concerts, a lifestyle expo, a kids' zone with go-karts and other activities, along with an array of food and drink spots, all centered on the Long Beach Convention Center and Shoreline Drive.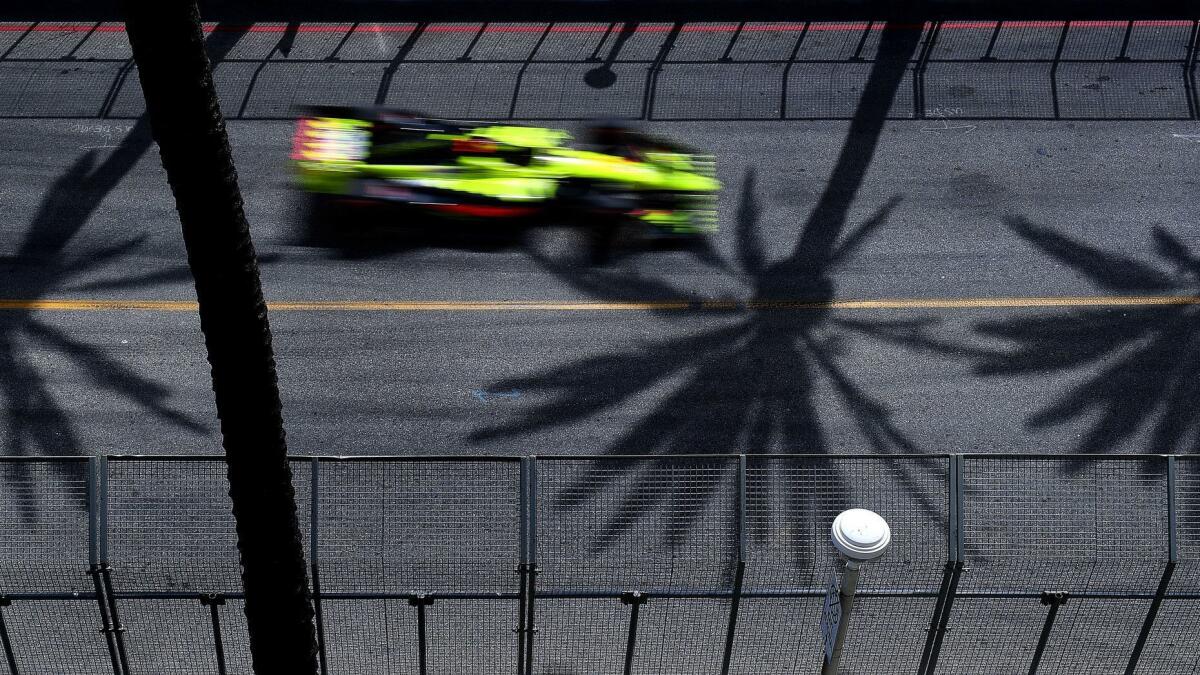 Hitting the gas
A native of Monterey Park, Michaelian (pronounced meh-KAY-lee-un) got a degree in physics at UCLA. But his attention turned to business, so he then obtained an MBA there and, driven by a love of motor racing, eventually talked his way onto the staff of the then-fledgling grand prix. Michaelian has held the top post at the Grand Prix Assn. of Long Beach since 2001, taking over from founder Chris Pook.
Michaelian now oversees a staff of 15 that swells to more than 2,000 on race weekend with volunteers, safety workers and others. Besides accommodating the event's spectators, he must tend to 35 commercial sponsors, the different racing series involved and the city of Long Beach.
That includes taking 53 days to set up the circuit on shut-down streets and build the grandstands. The payoff for Long Beach is that the weekend pumps nearly $34 million into the city's economy, the association says, citing figures from Beacon Economics.
Getting out
Throughout the year, Michaelian often travels to other entertainment venues because "we don't know all the answers and I'm always looking for new ideas," he said.
"What are they doing for entertainment?" he said. "What are they doing in terms of pricing their merchandise? Is there anything new in concessions that we ought to look at?"
Burning shoe leather
Michaelian, 76, runs the Acura Grand Prix by turning a few laps himself — walking the event's grounds, that is. The promoter must constantly monitor how the grand prix's fans are enjoying the activities, if problems need fixing or whether he should make changes for next year.
"What's the pulse and how have habits changed?" he said. "There's a constant pattern of trying to make sure that when people look around, they say, 'I didn't see that before.' " During the three-day event, he's walking around "to look at the crowd and see what their reaction is to what we're doing," Michaelian said. "If I'm sitting in an office or a trailer, I don't see what's going on and I don't feel it."
Case in point: "Many young people don't want to sit in the seats now," he said. "This is really significant. They're out taking selfies, they're chronicling their experience at Long Beach, and the only way to do that is for them to get around. So, if they're moving around, I'm moving around" by creating more places where they can gather, listen to music and have food options nearby, he said.
The challenges
Michaelian this year had to negotiate a deal to secure Acura, a unit of Honda, as the new title sponsor to replace Toyota, which left after 39 years as title sponsor. Honda's North American operations are based in nearby Torrance.
Weather also is an issue for any outdoor event, although the grand prix — which is always held the third weekend of April, unless it falls on Easter — often enjoys ideal conditions. And the "biggest challenge is safety," he said. "Your first concern is to make sure your event comes off safely in every respect, whether it's on track or off track."
Another major challenge is ensuring spectators return year after year. That's one reason why kids 12 and younger are free for a general-admission ticket with a paying adult. "Those are our potential customers going forward," he said. "If you're just trying to get by year to year, in this market, in Southern California, you'll be toast."
Spreading out
The grand prix association owns its grandstands, scaffolding, fencing and other equipment, so it deploys them at other events, such as the seating in front of the Academy Awards. That generates added revenue and brings Michaelian in contact with other potential sponsors of the grand prix.
Behind the wheel
Married with two sons, Michaelian has raced sports cars himself for the last 26 years. He's driven in races at Daytona Beach and Sebring in Florida and at Le Mans and Spa in Europe, among other venues. "As long as I can achieve some level of success, I'm going to continue doing it until they tell me I can't anymore," he said.