The boy with rock star dreams now heads Fender electric guitar company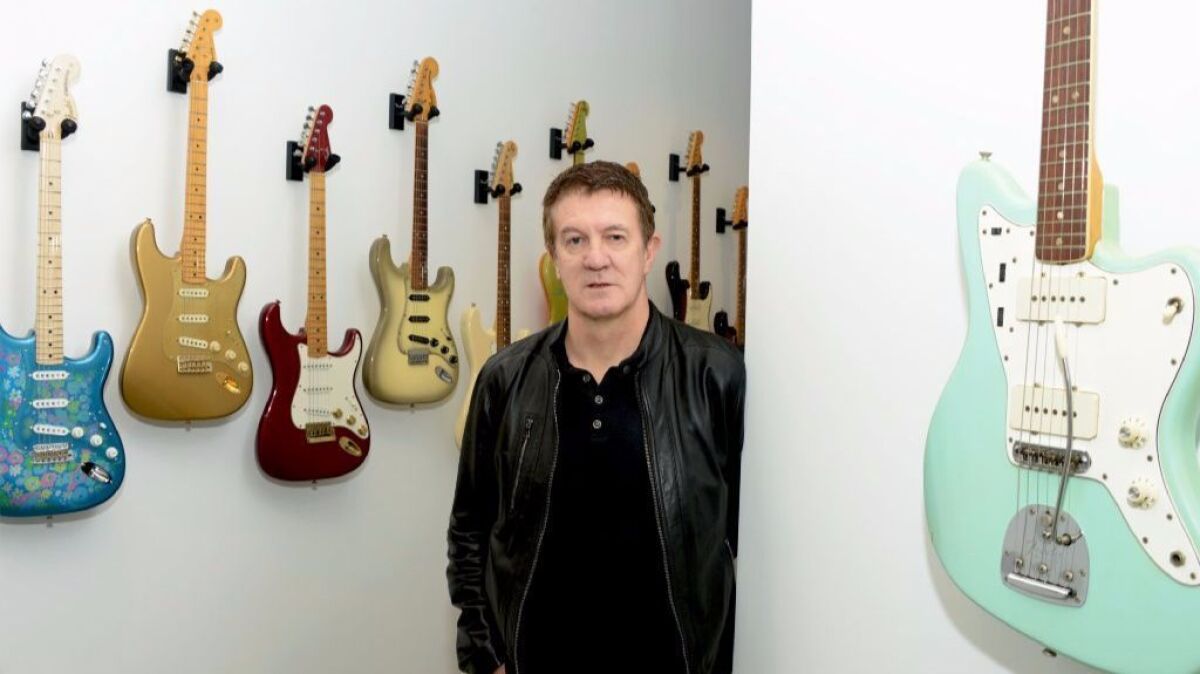 The gig: Andy Mooney, the son of a Scottish coal miner, couldn't afford the Fender guitar he longed for as a child. Now 61, Mooney is chief executive of Fender Musical Instruments Corp. The company, based in Arizona but run from Los Angeles, makes the iconic Stratocaster and Telecaster electric guitar brands and other stringed instruments and amplifiers.
Deep Purple: One of Mooney's earliest influences was Ritchie Blackmore, a founding member of the seminal British band Deep Purple. "He had the perfect blend," Mooney said. "Classically trained but could rock it out with the best of them and he was a showman to boot. He had the whole package."
Rock star dreams: When Mooney's father, Paul, wanted to suggest that his son would be better served working with his brain and not with his hands, "he never once ever said to me, 'Hey don't go down the mine.' He just took me there.'"
Hard reality: "You need money even to be a semipro musician," so Mooney took a job out of high school at Uniroyal Tyres UK and skipped college. Mooney found that most British companies are run by finance experts, and he set a goal of becoming a chief financial officer. "I took my accountancy exams by correspondence course," he said. "I did it at night when I got home. … By the time I turned 25, even though I hadn't gone to college, I was a qualified accountant."
Just do it: "The only company insane enough to give me that chance" of becoming a chief financial officer, Mooney said, was Nike UK. The duties in the 1980s were unusual. "Being CFO meant unloading 40-foot containers of shoes once a month and shipping them arm-to-arm with the guys in the warehouse to meet your sales goals," Mooney said.
Everyone's a teacher: When he reached upper management, Mooney continued the same foot-soldier intelligence gathering. "I would spend time literally on the road in the cars with the sales guys to figure out what dealers wanted," Mooney said. "I was going to marathons with the reps and the promo guys." Mooney's career would take him to Nike's U.S. operations as chief marketing officer. After 20 years at Nike, Mooney spent 11 years at Walt Disney Co., rising to the position of chairman of Disney Consumer Products.
Against the grain: At Nike, Mooney said he helped sign celebrities such as Britain's Sebastian Coe, an Olympic medal winner in track and field, and America's Bo Jackson, the rare athlete named to all-star teams in football and baseball. But not every idea was met with enthusiasm. Mooney said he would sometimes make a suggestion and then get tapped to develop it. "'We can't find anybody else to do this, because everybody else thinks this is a really bad idea. And you don't, so you're the only guy who can do this.' And I say 'OK!'" Mooney said.
No fear: "Fear is the big limiting factor, in my view, for people's ability to realize their potential," Mooney said. "I have no fear. I never had anything, so I have no fear of losing anything. It's had mixed results because it's controversial. I always took the position that I'm going to say exactly what I think is the right thing to do for the business, whether it's politically in my best interest or not."
Trend spotting: Mooney said he convinced his Nike bosses to make more basketball shoes well before the sport became popular in Europe. Later, he would build the lucrative Disney Princess line, an idea he got chatting up moms with daughters in homemade costumes as they waited for a "Disney on Ice" show. He recalled asking a woman, what if Disney made its own princess character costumes? "And I said, 'Would you buy this, if we made this available for sale?' She goes, 'Oh, absolutely.' … I literally run into the office the next morning," Mooney said. "Just give people what they want and don't make it any more difficult than that."
The setback: Mooney joined outdoor apparel retailer Quiksilver Inc. in 2013 in the position he had long coveted — chief executive. In hindsight, however, Mooney feels he should have been more careful in doing his due diligence. He was fired in 2015 amid growing competition and a plummeting stock price.
The comeback: Contacted about the Fender CEO opening, Mooney was prepared to turn down his dream job because he didn't want to relocate his family to Scottsdale, Ariz. Mooney was told he could run the company from its Burbank office. Fender recently relocated that office to Hollywood, to be closer to the heart of the music industry. "It's been good." Mooney said. He hinted at big plans, including building out what Fender calls its "digital approach to speak directly to the next generation of guitarists."
Personal: Mooney lives in Los Angeles with his wife, Vizhier, and his daughter, Rose. He still plays guitar, and has a collection of more than 50 Fenders. A current favorite is his John 5 Signature Telecaster. After work, he's been known to hit a few of the local live performance clubs, always listening for a new sound.
Twitter: @RonWLATimes

---
Sign up for the California Politics newsletter to get exclusive analysis from our reporters.
You may occasionally receive promotional content from the Los Angeles Times.