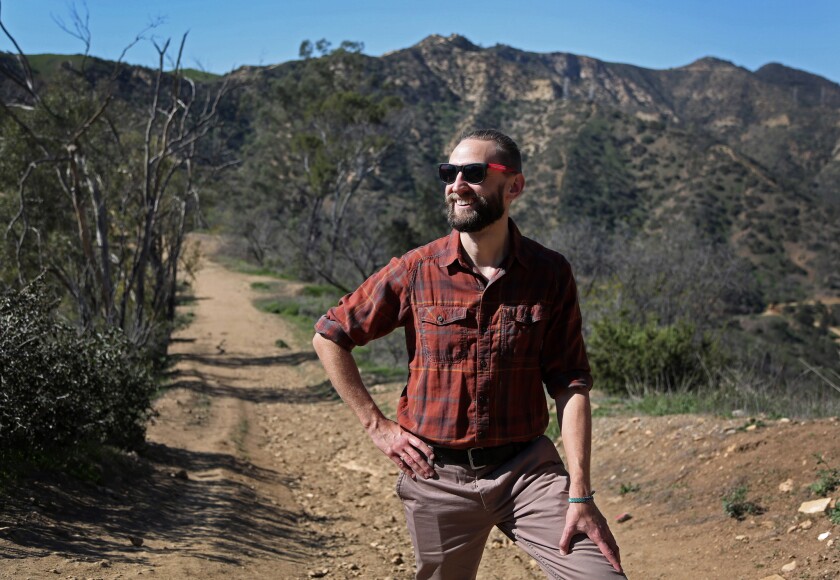 The gig: Casey Schreiner, 34, is editor and founder of Modern Hiker, the most-trafficked hiking blog in California. The site offers guides, maps and photos of hundreds of trails throughout Southern California and the West.
'An indoor kid': Growing up in Connecticut, Schreiner was the opposite of an outdoorsman. He enjoyed occasional visits to his grandparents' property on a lake in rural New England, but he much preferred reading and playing video games as a child. "You could not get me to go outside if you paid me," he recalled.
Inspiration on the 101: Schreiner studied TV writing at Boston University, which helped him land an internship in the writers' office for the Fox sitcom "Malcolm in the Middle" in 2002. While driving up the coast on Highway 101, he remembered being struck by the jagged peaks and scrubby scenery of the Santa Monica Mountains. "I remember being so enchanted by that landscape," he said. "It just looked so different from anything I had seen before."
On a clear day: After Schreiner graduated in 2003, he landed a writing job at G4, a cable channel focused on video games, technology and entertainment. Schreiner eventually became head writer for "Attack of the Show," the network's most popular program. One particularly clear day after a storm, Schreiner caught his first glimpse of the San Gabriel Mountains. He took a drive up the Angeles Crest Highway the next weekend and was sold. "It was such an amazing, tremendous resource that no one had told me about," Schreiner said. "Growing up on the East Coast, you never ever in a million years think of L.A. as an outdoors city."
Idea is born: Schreiner started crossing off trails every weekend, beginning with popular trails in the Santa Monica Mountains and progressing to more difficult ones in the San Gabriels. Along the way, he'd post photos and write-ups to his personal Blogspot page. Playing around with the site's analytic tools, he discovered that people often arrived at his blog after searching for specific trails in Los Angeles. Enough people were coming to the blog that he decided to separate the hiking content from personal commentary on politics or entertainment. In December 2006, he registered modernhiker.com.
Building a community: Writing about outdoor experiences was an escape from his G4 work, which focused on Internet culture, gaming and technology. "That was still indoor stuff," he said. "I wanted to do something that … utilized a totally different part of my brain and also gave me a sense of discovery as I was doing it." For the first two years he wrote for his own enjoyment, posting as he saw fit. But as a community built around the site, "I started to realize that I actually need to take this seriously," Schreiner said. "People are not going to tolerate it if I take three weeks off and don't post any content."
Covering more terrain: What started as a guide to trails within striking distance of the city has grown into one that aspires to cover much of the western U.S. Modern Hiker differs from other guides in its editorial control, Schreiner said. Rather than crowdsourcing content from users who may not be committed to quality, Modern Hiker has a dedicated writing staff. Schreiner has eight writers working along the West Coast — from San Diego to Seattle. The goal, he said, is to capture a range of trails, from urban hikes in Elysian Park to grueling 14-mile journeys in remote sections of the San Gabriels. Building a community also has helped the staff keep up with changing conditions along the trails after rainstorms or fires.
Too much information?: Schreiner has faced criticism from locals who don't want trails to become overrun. He often gets emails asking that trail guides be removed from the site. He said he understands the sentiment, but believes the best way to protect natural areas is by raising awareness. "It's hard to protect something when no one knows about it," Schreiner said. "If no one went to Griffith Park, yeah maybe it'd be great for the wildlife and plants there. But it would also be really easy for a developer to drop a stadium in there, because no one would care about it."
The road ahead: After a $30,000 crowdfunding campaign last year, Schreiner is in the midst of a site redesign that will include a customized trail search engine for features such as whether a trail has a waterfall or if there's camping nearby. Schreiner has been running the site off money from advertising and sponsored posts up until now — enough to support him and pay the other writers for their content. He's considering other revenue channels — perhaps a premium subscription that allows early access to trail guides or an audio podcast — to help fund the revamped site. But basic trail information will remain free, he said. "At its core, the site is designed to inspire people to get outside," he said. "Once you put up a paywall, that stops happening."
---