How I Made It: Aquarium of the Pacific CEO drives bold vision in climate change-focused expansion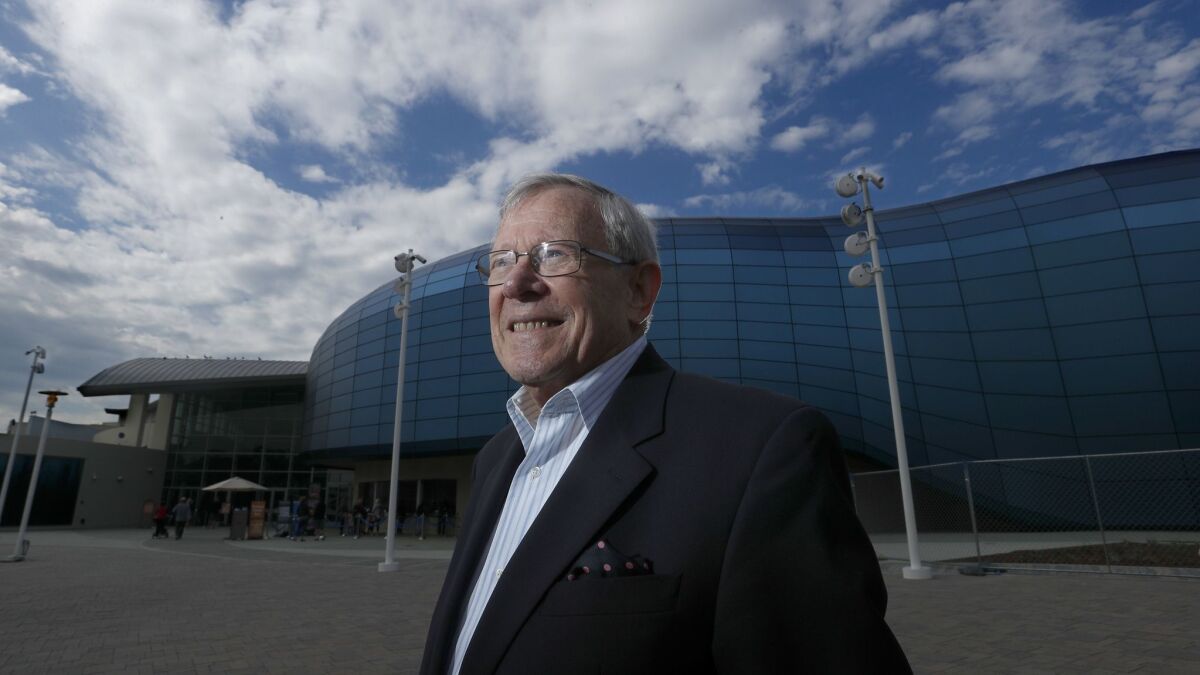 When Jerry Schubel joined the Aquarium of the Pacific as president and chief executive in 2002, he knew it was time to expand — not with bigger tanks or more creatures, but in scope. In May, the $53-million project spearheaded by Schubel will open with a focus on the one animal putting all others on the planet at risk: us. The new wing will be welcomed by 250 employees and more than 1,000 volunteers. It will be the Long Beach nonprofit's first major expansion since it was founded in 1998 and one of the biggest endeavors of Schubel's long career in academia, conservation and science.
Natural curiosity
Schubel, 83, says his interest in conservation can be traced to the concerns he developed observing the Great Lakes while growing up in a small Michigan town on Lake Huron. He saw firsthand how the freshwater lakes affected his community, including his family's clean drinking water supply. This curiosity paved Schubel's way into academia with an interest in making scientific advances accessible to the public. He earned a master's degree in physics from Harvard and a doctorate in oceanography from Johns Hopkins University, where he worked with the Chesapeake Bay Institute.
Going West
He moved on to lead Stony Brook University's Marine Sciences Research Center in 1974. After 20 years, including three spent as the university's provost, he was recruited to head the New England Aquarium in Boston. Long Beach called eight years later.
"I've always wanted to create an institution that focused on how humans are affecting the Earth and the world ocean. All the stars were aligned to do that in Long Beach," Schubel said.
Bold vision
In California, Schubel saw an opportunity to turn the energy, food and water issues facing the state into a sustainable model showing how people can live in harmony with the Earth and the ocean, and thrive. That model required deep collaboration, a commitment to educational resources for the public and an aquarium willing to take a risk.
"I came knowing that I wanted this to be an aquarium that would be operated at the interface of science and society and that would combine art and science and telling stories," Schubel said. "The most important things in nature and in society happen across interfaces."
New direction
In 2005, the aquarium weighed three options for an expansion: a traditional expansion with more exhibit space, one that would allow visitors to swim with marine life, and a Pacific Visions concept that would capture human impact on the planet and its oceans. After the board selected Pacific Visions, Schubel led efforts to translate the aquarium's concept into programs, raised money for the project and worked with scientists from around the globe to identify the most pressing environmental issues that would be featured.
"There's no other aquarium, science center or museum anywhere in the world that attempts to tell this really big story of people and the ocean," Schubel said. "So we've got our fingers crossed that people are going to like it."
Staying flexible
Schubel said the project has been one of the most challenging, but also most rewarding, of his career. Along the way, he embraced the unpredictability of the issues the aquarium has to tackle.
"One of the most challenging things always is being flexible enough to come at achieving your vision in a variety of ways," Schubel said. "You have to be adaptable and know where you want to end up, but realize sometimes you have to take a different route."
Leading the way
Schubel said that flexibility, an understanding of how to operate a growing nonprofit and a leadership background in education have been key elements in his career.
"I was the director of an institute. I was the provost, I was a vice president for research and the dean of the graduate school for a while. So I had experience in managing routes," Schubel said. "I think that's very important because leadership without management doesn't get you anywhere."
Empowering a team
In leading his team and working with the aquarium's board of directors to create an expansion with enduring value, Schubel has found success in avoiding micromanagement.
"I try to give [my team] as much freedom to pursue our vision in ways they think work best," Schubel said. "Our board has also understood the difference between governance and management. So while they largely left us alone to run the aquarium, they have been generous in their financial support and they've been willing to take risks."
Lifelong learning
Schubel settles into his office before 6 a.m. when things are quiet. Before his staff gets to work and after they go home, that's when Schubel can think about implementing the aquarium's vision — and write.
Schubel and his wife, Margaret, have co-written more than a dozen short films that are screened at the aquarium to help the public understand Earth and its changing climate. As with their latest work, "The Time Is Now, the Future Is Here," the couple are dedicated to making science and its findings accessible.
"I think we underestimate the ability to learn in the very young and in the elderly," Schubel said.
Supporting education
Schubel, who has taught adult classes for more than 40 years, created the Aquatic Forum, which connects scientists, decision makers and citizens to discuss important environmental issues facing California. He also founded the Aquatic Academy, which hosts a series of courses about the ocean and the environment.
"I find all the things I need in my work. I spend my free time reading, writing and thinking how we can make this aquarium better," Schubel said. "And that's not a chore. It's something I really enjoy doing."
An engaged society
Through his work — in the forums, the expansion and building a community — Schubel hopes to support an informed society for a stronger democracy.
"Right now, I think we're so polarized that we don't have the kinds of thoughtful discussions that we need to have to surround these issues and look at them from all perspectives and make the right decisions," Schubel said. "Most people aren't environmentalists, but they care about the environment."
---
Sign up for the California Politics newsletter to get exclusive analysis from our reporters.
You may occasionally receive promotional content from the Los Angeles Times.