How I Made It: Nadine Watt tried to avoid the family business. Now she helps run it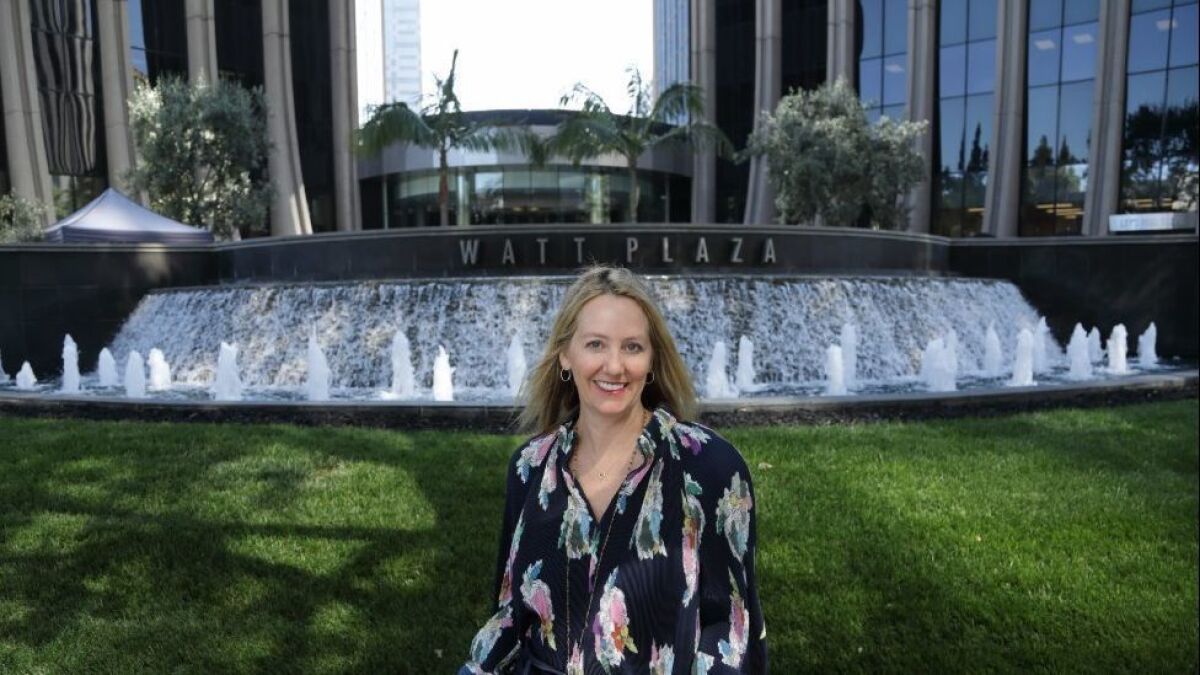 Nadine Watt is president of Watt Cos., a 70-year-old real estate firm in Santa Monica that was founded by her grandfather, Ray Watt. The 106-employee operation has developed homes for more than 100,000 families, built more than 8 million square feet of office space and developed more than 50 shopping centers. It's also developed three hotels and six master-planned communities. When she became president in 2011, Watt led a reorganization that expanded the company's range of business to acquisitions, real estate development and entrepreneurial joint ventures to lessen its exposure to the volatile retail market. Her company won Ernst & Young's Entrepreneur of the Year award for the Los Angeles area.
Planning ahead
Watt's company can be greatly affected by economic downturns, such as the 2008 housing industry meltdown. Diversifying and expanding limits exposure to retail turbulence at a time when malls are struggling to keep tenants. "I'm not always going to be able to find a 'We Work' to move into my abandoned department store space," she said.
Basic training
Several family members are still active in the company or on its board, but Watt never intended to be one of them. She learned French, Greek and Italian while attending Georgetown University's foreign service school. She also had an interest in acting, directing or producing. Watt earned a graduate degree in filmmaking from the USC School of Cinematic Arts and worked for MDP Worldwide, a foreign film sales company, until 1999.
"I was selling scripts with actors attached to get the film made. It was like going to business school without actually going to business school," Watt said.
Sly father
When MDP struggled financially, Watt left and felt the pull of family, especially her father, Scott, who still serves as chief executive. She jokingly referred to him during this period as Darth Vader, asking her to come back to the dark side.
Watt recalled her father telling her in 2000, "'I still want you to know what's going on at the company and be able to read a balance sheet and to know how our company works. So, you can send out resumes, you can make phone calls, you can go on interviews, but I want you around here,' and I'm thinking, 'Oh my God. I can't believe I'm doing this.'"
Earning it
There can be great resentment when a person who has shown no previous interest in a family business suddenly looks like he or she might rise up in the company without deserving it. Watt felt that immediately, from family members and colleagues. "My father and my grandfather made me earn it. The employees were skeptical. I had to come in very humble. I had to come in admitting that I didn't know anything, starting at the bottom. I had to earn the respect to become even assistant project manager, then project manager."
More success stories from How I Made It »
The mentor
Once Watt had surprised everyone by sticking to her initial two-year commitment to work for the family, there was even more to learn beyond her initial job as an assistant in leasing and property management at Century City's Watt Plaza office complex, one of the crown jewels in the company's portfolio. The company's then chief financial officer, Ryoko Takata, took Watt under her wing.
"I had to work in each division and learn how it worked," Watt said. "Takata set up a curriculum for me with a notebook and sent me to USC to learn what a profit-and-loss statement was and learn what a balance sheet was and how to read it. They really groomed me."
Grandfatherly advice
One of the ways in which Watt endeared herself to co-workers was to remember both a lesson and an example that was set by her grandfather, Ray Watt, a prolific and innovative developer who helped define the look of modern Southern California. Watt, who died in 2009 at age 90, was considered the first in the Western U.S. to popularize condominiums, strip shopping centers, time-share vacation homes and residential communities that share features such as golf courses, tennis courts, swimming pools and lakes. "He always taught me to treat everyone with respect. He always looked everyone in the eye and said hello, and he asked them questions. He knew a little bit about everyone from his janitors to presidents. The last thing he ever said to me was, 'Do your homework.'"
Making her mark
Nadine Watt helped develop more than 300 apartment units and two shopping centers. While overseeing the 920,000-square-foot Watt Plaza, she steered a major renovation that in 2009 led to a Gold Leadership in Energy and Environmental Design certification for the twin 23-story office tower complex.
The buildings were "dark and gloomy," Watt said, "and needed a refresh. People didn't believe we would put any money into it. I wanted to make sure we included a lot of sustainability in that. My grandfather felt 'unless there's ROI (return on investment) why do it?' And I thought, because we need ROI for the earth, for the world, for humanity."
Booster
Watt is dismayed when her company offers summer internships and women seldom apply. "I have an obligation to give back and to continue to open doors for other women in business. I work very hard to serve as a mentor and bring other women to the table. I'm not the person who says, 'Well, I'm here and now I just need to fight to stay here.' I embrace the opportunity to bring people up."
By example
"The preponderance of my executives are women. Our board is predominantly women," Watt said. "I think the industry as a whole needs to make a more concerted effort to make women more visible as keynote speakers and board members."
Leadership style
Watt said she believes in hiring smart people who are willing to challenge her. "I do want to hire the best people." she said. "I want to hire people who know more than I do. I'm always looking for passionate people, innovators, problem solvers, people who are willing to speak up and ask questions."
Giving back
Watt is particularly proud of the L.A. Homelessness Challenge announced in May. It's a partnership between United Way of Greater Los Angeles, the Home for Good Funders Collaborative, and the Watt family. The Watt family is donating $350,000 in a competition to encourage teams to come up with innovative solutions to homelessness.
"My sort of personal motto is 'Do well by doing good,'" Watt said. "Why go through all this if you can't give back? Why work so hard? For me, that is part of my joy, to be able to be philanthropic and to be able to give back."
Personal
Watt, 49, and her husband, Andrew Jameson, have two daughters, Keira, 14, and Reese, 11. As a family they love traveling and discovering new restaurants. Watt and Jameson also have taken up karaoke as a hobby. Neither chooses anything that's even remotely easy to sing. "My husband likes Sinatra and Elvis," Watt said. "I like to sing "Black Velvet." We don't mess around."
---
Sign up for the California Politics newsletter to get exclusive analysis from our reporters.
You may occasionally receive promotional content from the Los Angeles Times.