Southern California home prices hit another record high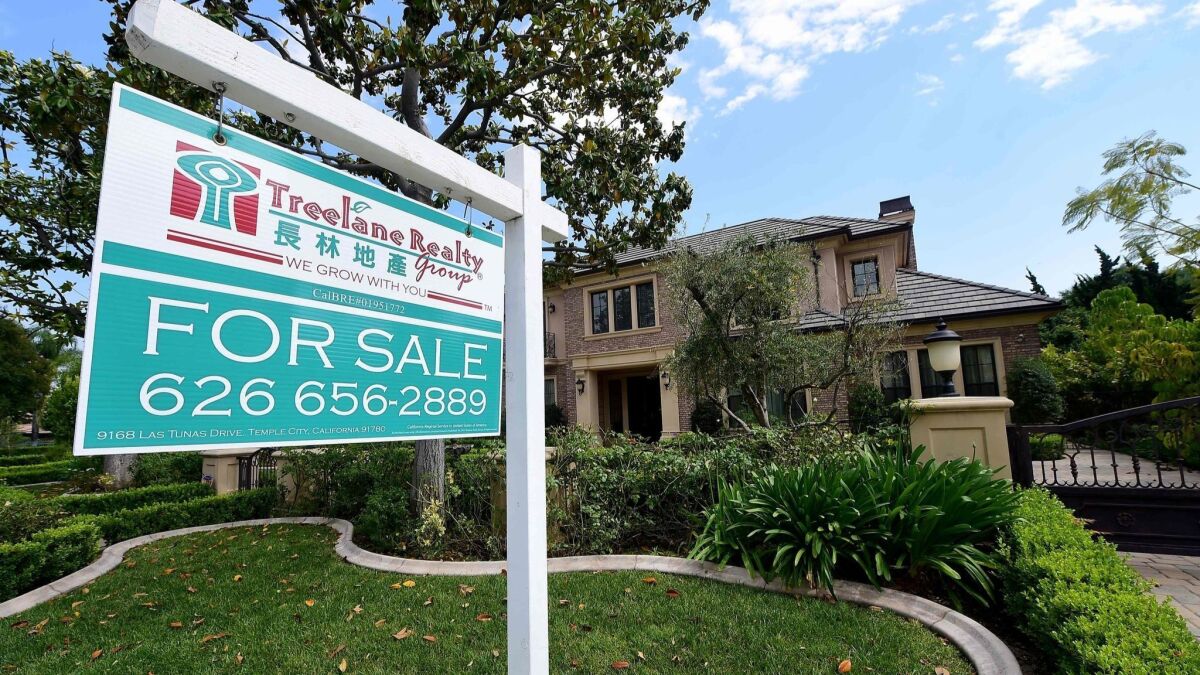 The Southern California median home price surged 8.2% in May from a year earlier, hitting a new all-time high of $530,000, according to a report Thursday from CoreLogic.
The sharp gain in the median sales price was partly driven by a lack of supply: the number of sales across the six-county region fell 3.4% from a year earlier. Along with historically low mortgage rates and an improving economy, the shortage of homes for sale has sent prices up for more than six straight years.
In April, when many of the May sales went into escrow, there were 5.7% fewer homes for sale in Southern California than a year earlier, according to online brokerage Redfin.
The supply shortage has been blamed on a variety of factors, including baby boomers who are not downsizing. But many economists say the largest factor is developers can't build enough housing to meet demand because of strict zoning laws and opposition from existing residents.
"This is the natural consequence of a strong economy that is generating high incomes and refuses to build enough housing to meet demand," said Christopher Thornberg, founding partner with Beacon Economics.
The six-year run-up in home prices have some potential buyers wondering how long the current boom can last. But housing experts note that lending standards are tighter now than during last decade's bubble, which gives them less concern of a coming crash. Also, many people buying homes today have hefty paychecks in California's tech, healthcare and finance industries and can afford sizable mortgage payments.
Even with prices hitting new highs each month, housing is still cheaper than during the early-2000s bubble when taking into account borrowing costs or adjustment for inflation. The Southern California median is 11% below the bubble-era peak on an inflation-adjusted basis, CoreLogic said.
At the start of the year, 28% of L.A. County households could afford to purchase a median-priced house, compared with just 9% through much of 2006 when mortgage rates were in the mid-6% range, two percentage points higher than today.
"It's a completely different type of pattern," Thornberg said of today's market. "It's not driven by mortgage credit, it's driven by demand."
That's not much comfort though for people increasingly priced out of owning a home.
Prices have far outpaced income growth in recent years, with studies indicating high home prices and rents play a major role in pushing people into homelessness.
Mortgage rates, while still historically low, have been rising as well. The average this week clocked in at 4.57% for a 30-year fixed mortgage, up from 3.95% at the start of the year, according to mortgage giant Freddie Mac.
Dale Jervis, a real estate agent who specializes in Downey and the surrounding areas, still sees plenty of demand. But he said the higher cost of borrowing has made some would-be buyers less aggressive. Instead of nine or 10 offers at "a huge amount" over the asking price, there are maybe three or four offers at list price or slightly above.
"They are not able to qualify for as much," Jervis said.
High costs are also affecting businesses, which say they find it increasingly harder to recruit employees from outside the Golden State.
This year, in an annual L.A. County Business Federation poll, business owners and executives ranked housing as their third-highest concern, below taxes and regulation. A year earlier, housing ranked 10th.
Still, the economy continues to grow and home prices continue to climb.
The median — the point where half the homes sold for more and half for less — rose in all six Southern California counties.
In Los Angeles County, the median rose 8.4% to a record $609,000; Orange County's median climbed 6.3% to a record $738,500; San Diego County, up 7.6% to tie a record $570,000; Riverside County, up 7% to $380,000; San Bernardino County saw an 8.7% increase to $337,000 and Ventura County's median rose 6.9% to $590,500.
Thornberg said he expects such increases will continue unless there is a recession. "It's totally sustainable," he said.
Others are less sure. Richard Green, director of the USC Lusk Center for Real Estate, doesn't foresee a crash, but he noted that while home-price gains are accelerating, there are signs that rent growth is slowing. Rent, he said, can be a better gauge of how much housing cost incomes can support; buyers see their home as a financial investment that will increase in value, making them more prone to throw caution to the wind.
"I don't think prices can increase at this rate for very long," Green said.
Follow me @khouriandrew on Twitter
---
UPDATES:
4:20 p.m.: This article was updated with additional analysis and comment from economists.
This article was originally published at 11 a.m.
---
Sign up for the California Politics newsletter to get exclusive analysis from our reporters.
You may occasionally receive promotional content from the Los Angeles Times.