$1.2-billion convention center-hotel project would require nearly $100-million public subsidy, report says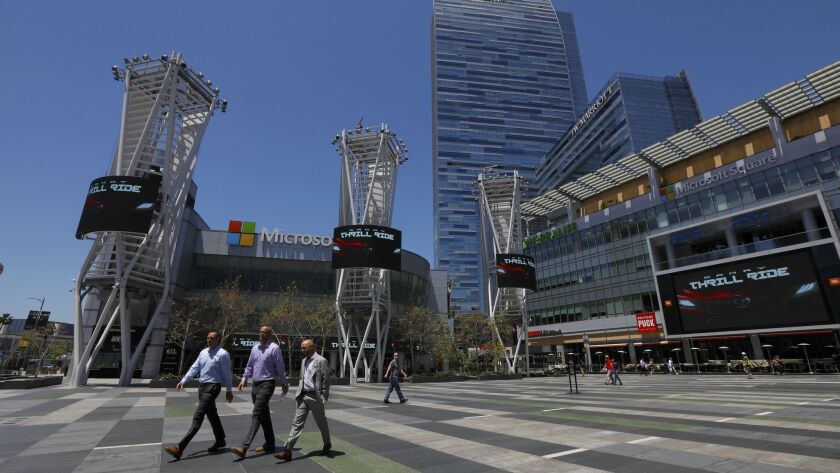 Downtown Los Angeles' next proposed mega real estate development — a $1.2-billion project to add hundreds of hotel rooms at L.A. Live and substantially enlarge the Los Angeles Convention Center — would require nearly $100 million in public subsidies, according to a report to be considered Tuesday by a City Council committee.
Anschutz Entertainment Group — the owner of Staples Center, L.A. Live and a hotel complex anchored by JW Marriott — wants the assistance to help close a $119.4-million "feasibility gap" calculated in the report, specifically stemming from the company's addition to its existing hotel consisting of a new tower with 850 luxury rooms and the city's largest ballroom.

For the record:
12:15 PM, Nov. 13, 2018An earlier version of this article stated that the $97.7 million in subsidies the hotel project is eligible to receive comes from the city's transient occupancy tax. The tax accounts for the vast majority of the subsidy but not its entirety.
The $700-million project and a $500-million expansion of the city-owned convention center are intended to drive more convention and meeting business to Los Angeles, which has long lagged behind other cities in attracting some of the largest events attended by thousands of visitors. AEG officials say the separate projects must proceed together for the development to make sense.
Under L.A.'s existing development incentive program, AEG would receive as much as half the new revenues generated for the city during the hotel's construction and 25 years of operation.
That would total $97.7 million, the vast majority coming from the transient occupancy tax, a 14% levy that visitors pay for booking a hotel room, according to a preliminary analysis by real estate advisory firm Keyser Marston Associates included in a report by the chief legislative analyst.
The Keyser Marston analysis notes that the $97.7 million is in today's dollars and can total far more when paid over time. For example, if the city agrees to that subsidy and pays it over 11 years from the general fund, it would pay about $167 million in actual dollars.
Ted Fikre, AEG's vice chairman, said luxury hotels that can serve big conventions with ballrooms, meeting space and other amenities are hard to make profitable.
"The combination of expensive development and operating costs makes it very challenging," he said.
Even with city support, AEG would have to make up a roughly $21-million gap by such means as enlisting financial support from hotel operator Marriott — known as key money — and the possible addition of a $25-a-night "destination fee" to guests' bills for use of services at L.A. Live.
The "feasibility gap" calculated by Keyser Marston assumes the hotel expansion will make an 8% return on cost, which the report characterizes as at the "low end" for a full-service luxury lodging.
The city has a long-standing practice of letting real estate developers retain a portion of the tax revenue that their projects generate — money that would otherwise flow to the city's budget. But the request for a public subsidy could well be controversial.
City Controller Ron Galperin has expressed concern over whether taxpayers' interests are being properly served as the city subsidizes new real estate development assuming it will bring widespread economic gains.
Los Angeles officials have signed off on about $1 billion in taxpayer assistance for hotels and other development since 2005, yet they lack a rigorous process for determining whether the money was well spent, Galperin said in an August report.
He recommended that city leaders improve their negotiating advantage by hiring people with "robust experience" in real estate transactions to examine subsidy requests.
Backers of the taxpayer subsidies have long argued that the projects that received city help — most of them hotels near the Los Angeles Convention Center — would not have been built without public assistance. Letting developers keep a share of their projects' tax revenue, they argue, will still result in more funds for the city budget and more jobs.
The report, which the City Council's Economic Development Committee is expected to advance to the full council, sets the stage for a year or more of negotiations between the city and the developers. Fikre noted that the project design is not complete and that the final cost and its required subsidies need to be refined.
The project would help the city meet a long-standing goal to have 8,000 hotel rooms within walking distance of the Convention Center. Los Angeles has a shortage of downtown hotel rooms compared with other big convention cities.
The $500-million convention center expansion plan calls for adding as much as 350,000 square feet to the South Figueroa Street facility, giving it more than 1.2 million square feet of space, including 250,000 square feet of meeting rooms. The addition also would result in about 800,000 square feet of contiguous exhibition space, a key measure that would make it more competitive with other big convention venues in the country.
Melding the expanded convention center with the new hotel tower, Staples Center and L.A. Live would create a 100-acre campus with multiple meeting spaces, lodgings, theaters and restaurants, AEG said.
Civic leaders have complained for decades that the existing convention center facilities, some dating from the 1970s, are too small to attract major events and poorly laid out with a shortage of contiguous space. That has led sponsors of large-scale events such as pharmaceutical and medical industry conventions to steer clear of Los Angeles, according to convention officials.
The funding proposal for the convention center expansion relies on a separate public-private partnership model that has been used for other big public developments.
AEG's partner, Plenary Group, a Los Angeles infrastructure development and investment business, specializes in public-private partnerships. It participated in a $1-billion convention project with a luxury hotel in Melbourne, Australia, funded that way.
The cost to design and construct the L.A. project would be privately financed by AEG — owned by Denver billionaire Philip Anschutz's holding company — and Plenary through a mix of the companies' funds and privately placed taxable debt sold to large institutional investors, said Stuart Marks, senior vice president of Plenary.
The city would not have to raise public debt to pay for the development but would make annual payments to the AEG-Plenary partnership after the convention center improvements were completed. The amount of the payments would be based on the final scope of the project, Marks said.
Helping offset the city's costs would be a share of net operating revenue from the convention center as well as sales of signage rights, food concessions and parking fees.
The negotiations expected to begin over the hotel and convention center expansion "should be a signal to the meeting industry that the city is finally getting serious about moving ahead with the expansion of the convention center," said Doane Liu, executive director of the city's Department of Convention & Tourism Development.
Mayor Eric Garcetti has already voiced preliminary support for AEG's latest proposal.
"We want it completed by 2022 at the latest," Garcetti said in May.
"Tourism is one of our huge success stories, but we have been playing with one hand tied behind our back," the mayor said.
Twitter: @rogervincent
---
Your guide to our new economic reality.
Get our free business newsletter for insights and tips for getting by.
You may occasionally receive promotional content from the Los Angeles Times.