L.A. has OKd $1 billion in tax incentives to developers since 2005. That assistance needs more scrutiny, controller says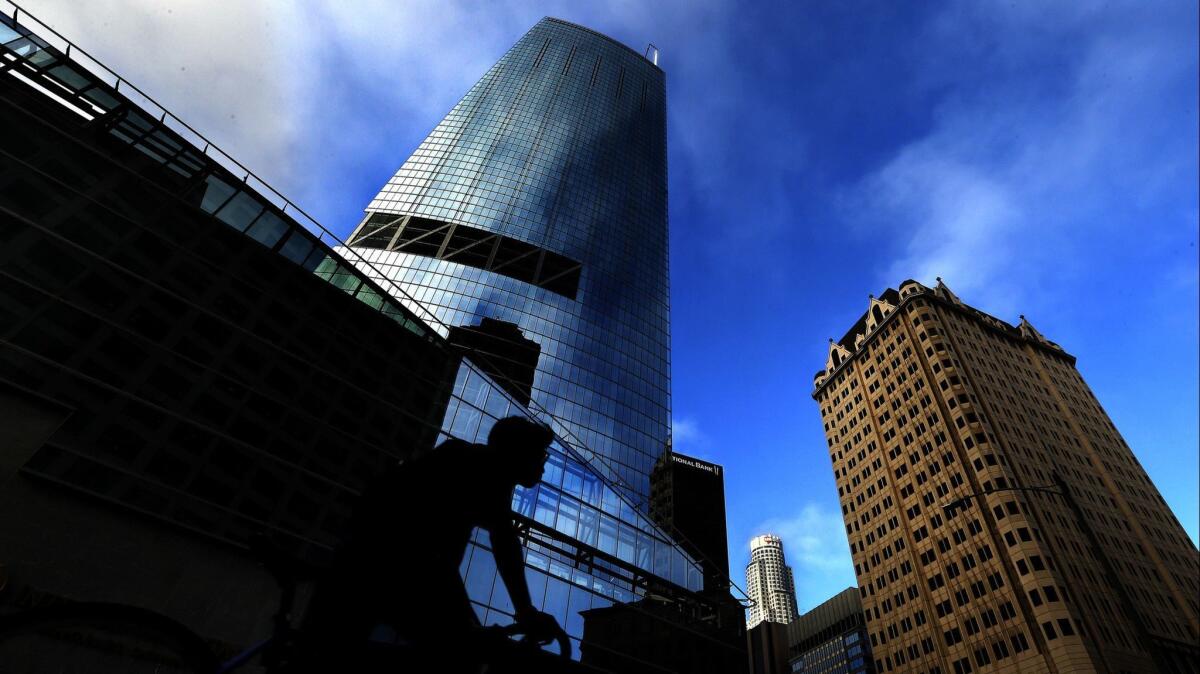 Los Angeles officials have signed off on about $1 billion in taxpayer assistance for hotels and other development since 2005, yet they lack a rigorous process for finding out whether the money was well spent, City Controller Ron Galperin said Friday.
Mayor Eric Garcetti and the City Council should receive yearly reports that examine whether the city's multimillion-dollar financial aid packages — deals that can last 25 years — are providing benefits for the public, Galperin said.
City leaders should, for example, determine whether a subsidy given to a newly opened hotel in downtown is followed by a reduction in business at an older hotel nearby, Galperin said. Policymakers also need to know whether the numbers used to determine a real estate project's "financial gap," a figure used to justify taxpayer aid, turned out to be accurate, he said.
Galperin's findings were part of a 29-page report issued Friday on the city's long-standing practice of letting real estate developers retain a portion of the tax revenue that their projects generate — money that would otherwise flow to the city's budget.
Friday's report said city officials have been offering tax incentives without having a comprehensive citywide economic development strategy. It also recommended that city leaders improve their negotiating advantage by hiring people with "robust experience" in real estate transactions to examine subsidy requests.
"I am not convinced at this time that the city has the kind of expertise that would put us in the best negotiating position," Galperin said in an interview.
Backers of the taxpayer subsidies have long argued that the projects that received city help — most of them hotels near the Los Angeles Convention Center — would not have been built without public assistance. Letting developers keep a share of their projects' tax revenue, they argue, will still result in more funds for the city budget and more jobs for the economy.
Doane Liu, executive director of the city's Department of Convention and Tourism Development, views the subsidies for the downtown hotels as a huge success. Tax incentives have helped city leaders attract several hotel brands to the area near the convention center, he said, making it easier to book large events.
"They have allowed us to attract these large conventions, and these large conventions bring an amazing amount of economic impact and bed tax to the general fund," Liu said.
Galperin's report comes as council members are weighing whether to provide taxpayer help to at least four other planned hotel projects. Councilman Jose Huizar, who represents part of downtown, asked Wednesday for the city to consider help for a fifth — a 300-room hotel planned for Venice Boulevard near the convention center.
According to Galperin's report, the council has signed off on so-called subvention agreements for eight projects since 2005, including:
Galperin would not say whether he thinks projects built with city financial help deserved to receive the money. "Part of why I believe there absolutely have to be annual reports is so that we can better answer those questions," he said.
Council President Herb Wesson had no comment on the report. A spokesman for Garcetti said in a statement that his boss has been "consistently focused on incorporating performance measures into everything we do."
"The mayor appreciates controller Galperin's recommendations, and looks forward to continuing our work across departments to keep city government accountable to Angelenos," mayoral aide Alex Comisar said.
Meanwhile, one longtime critic of the council's spending decisions voiced strong doubts that downtown hotel builders need so much taxpayer help.
Jack Humphreville, who serves on the Neighborhood Council Budget Advocates, said he understands why the city approved a financial aid package for the L.A. Live complex, which included a 1,001-room hotel tower.
Anschutz Entertainment Group, the developer of L.A. Live, was a pioneer in the neighborhood surrounding the convention center, helping to revitalize the area, he said. Hotel builders that asked for help later on benefited from that initial investment, Humphreville said.
"They're not taking the same kinds of risks that Anschutz did," he added.
Council members typically rely on the office of the chief legislative analyst, which provides lawmakers with policy expertise, for guidance on requests for tax incentives. In his report, Galperin said city lawmakers contemplated a citywide policy for subsidizing hotels in 2015 but never acted, letting the council file on that topic expire last year.
Galperin recommended that the council rework its review process so city officials can also examine alternatives, such as whether a proposed development project can be redesigned so that it no longer needs public financial help.
The government officials who review those projects often find themselves up against "some of the finest minds" in the real estate industry, he added.
"They're great negotiators. They're great lobbyists," Galperin said. "And they do a great job on behalf of their clients."
Twitter: @DavidZahniser
Sign up for Essential California for news, features and recommendations from the L.A. Times and beyond in your inbox six days a week.
You may occasionally receive promotional content from the Los Angeles Times.