Why a federal regulator is warning about shipping hoverboards (in a DeLorean or not)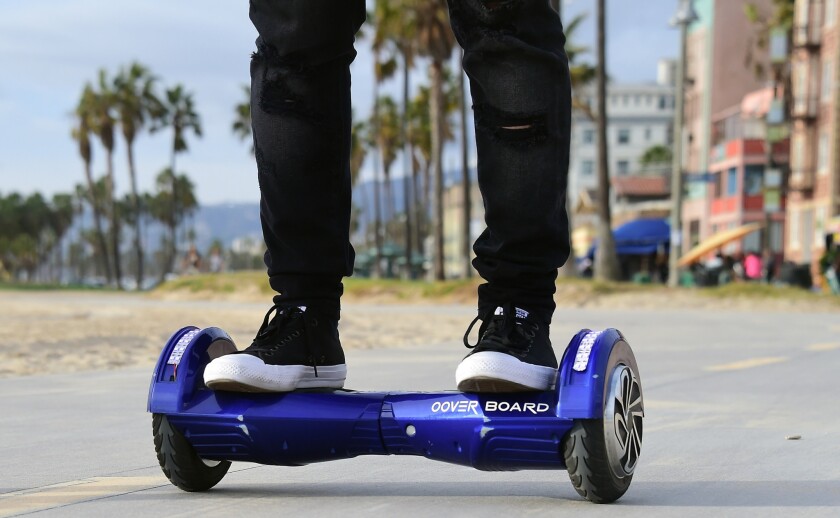 Reporting from Washington —
A federal regulator on Thursday issued a safety warning on shipping hoverboards after hundreds of the self-balancing scooters were found improperly labeled and packaged in cargo containers.
The toys — based on the floating scooter in "Back to the Future II" — are popular gifts this holiday season. But they also can be dangerous.
The scooters are powered by lithium batteries, which can spontaneously overheat and explode.
Reports of hoverboards catching fire have led to an investigation by the Consumer Product Safety Commission and have caused some airlines to ban passengers from packing them.
Recently, investigators with the federal Pipeline and Hazardous Materials Safety Administration intercepted 32 cargo containers filled with hoverboards that were "improperly prepared for shipment of a hazardous material," the agency said.
The majority of the shipments entered the U.S. through the ports of Los Angeles and Long Beach, agency spokeswoman Artealia Gilliard said.
The discovery led to a formal safety alert Thursday.
Join the conversation on Facebook >>
"Safety is our top priority. So, while we know that hoverboards are among this year's most-requested gifts, the potential for danger cannot be ignored," Marie Therese Dominguez, the agency's administrator, said in a blog post.
Cargo shipments of hoverboards should note on shipping papers that the items contain lithium batteries and that they have been properly manufactured, tested and prepared for shipment, the agency said.
The batteries need to be properly handled so they don't get damaged and cause a fire or are shipped with other items that could cause the batteries to overheat, Gilliard said.
More than 80% of the shippers of the hoverboards in the containers could not produce valid test reports proving the batteries were properly manufactured and packaged to avoid problems while being transported, the agency said.
The safety alert is targeted mainly at manufacturers and shipping firms, but it also applies to consumers sending them as gifts, Gilliard said.
Before shipping a hoverboard, consumers should let the shipper know it contains lithium batteries to ensure it is handled safely, she said.
Follow @JimPuzzanghera on Twitter
MORE FROM BUSINESS
How cable and broadcast TV news fared in 2015
Toy unboxing phenomenon is creating new YouTube stars
---
Your guide to our new economic reality.
Get our free business newsletter for insights and tips for getting by.
You may occasionally receive promotional content from the Los Angeles Times.