White House rejects carmakers' plea for a deal with California on emissions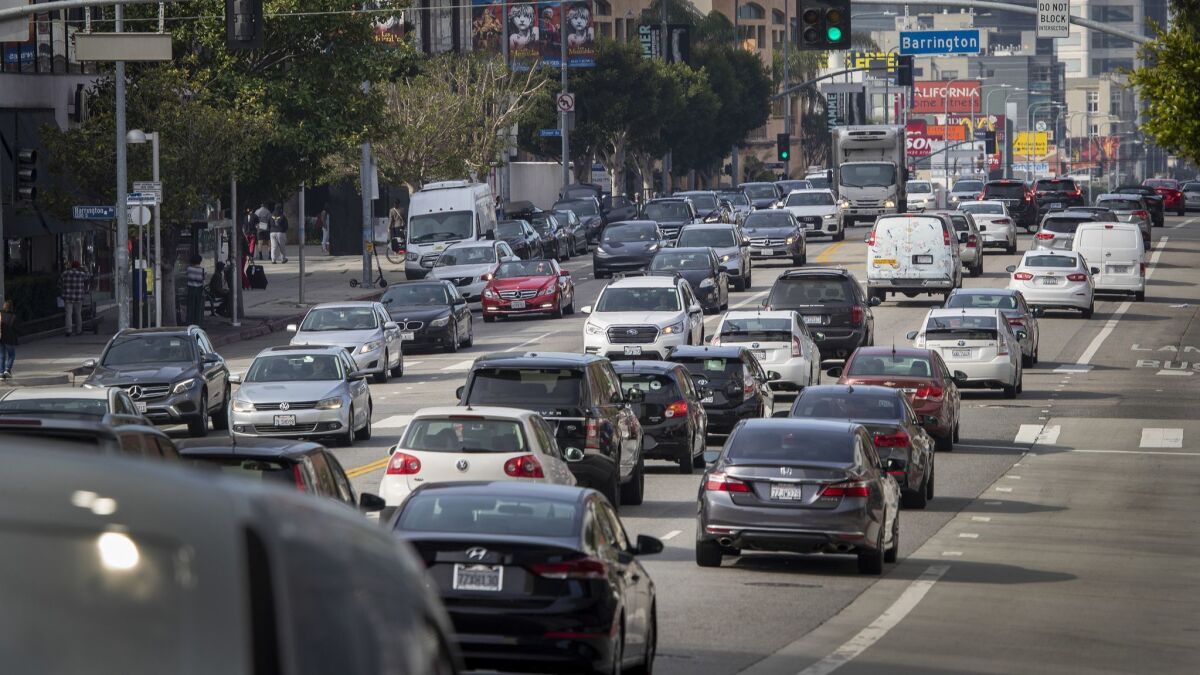 The White House is moving forward with plans to significantly weaken vehicle pollution standards, rejecting a last-minute appeal to President Trump by some of the world's largest car manufacturers to restart negotiations with California.
White House Deputy Press Secretary Judd Deere said Friday that California's top air quality regulator had failed to propose a "productive alternative" to the administration's plan to ease requirements for tailpipe emissions and fuel economy standards.
"We are moving forward to finalize a rule with the goal of promoting safer, cleaner, and more affordable vehicles," he said in a statement.
The administration's proposal would undo one of the most significant environmental regulations put in place under President Obama — rules that sought to cut down on vehicle emissions, improve fuel efficiency and forestall the worst effects of climate change.
The regulations require car manufacturers to build increasingly efficient vehicles so that by 2025 the nation's cars and trucks would average more than 50 miles per gallon.
After automakers complained that the Obama standards were too strict, the Trump administration decided to rewrite the regulations. But the results were too extreme even for the car manufacturers.
On Thursday, 17 major automakers including General Motors, Ford, Nissan and Toyota, asked Trump in a letter to reopen talks with California, which has authority under the Clean Air Act to set its own tailpipe emission regulations.
They warned the president that his administration's plan to weaken car pollution regulations and fuel efficiency standards would hurt car companies' bottom lines and could produce "untenable" instability.
The car manufacturers also wrote to California Gov. Gavin Newsom, asking the state to reach a compromise with the Trump administration that would lower the annual vehicle fuel economy targets without completely gutting the current regulations.
Talks between the Trump administration and California air quality regulators broke down in February, with both sides accusing the other of being unwilling to negotiate.
It took less than 24 hours for the White House to reject the automakers' request. Analysts were not surprised at the quick dismissal.
"This seems like a bit of theater — automakers likely never expected 11th-hour negotiations to resume anyway, but can now try to claim credit for trying," said Shannon Baker-Branstetter, a transportation policy advocate for Consumer Reports.
"It was the automakers themselves who asked for a rollback in the first place, and whether it's their own proposal to weaken standards or the administration's complete rollback, American consumers lose out and will be spending more on fuel for decades to come," she added.
Under Trump, the agencies have proposed freezing mileage targets at about 37 miles per gallon for cars after 2020. In addition to ending California's unique authority to set its own, tougher greenhouse gas emissions standards, the plan would nullify the state mandate that automakers sell a certain number of electric vehicles.
Official projections show the administration's plan would increase daily gas consumption across the United States by about 500,000 barrels a day, worsening greenhouse gas emissions and contributing to the rise in global temperatures.
The car industry isn't the only one that has lobbied for weaker tailpipe regulations.
The New York Times found that oil industry groups — in particular, Marathon Petroleum, the country's largest refiner — joined forces with conservative policy organizations to push the administration to roll back vehicle emission standards.
The final version of the administration's plan is expected to be released this summer. California officials have said they are prepared to sue the federal government if it moves forward with weakening the regulations.
"I remember the days of intense smog and vehicle pollution in California, when you couldn't see beyond two blocks in parts of Los Angeles," said Sen. Dianne Feinstein (D-Calif.). "California is now in the vanguard of fighting climate change, and reducing auto emissions is critical to that effort. We're not going to backtrack."
As the possibility of a drawn-out legal battle becomes more likely, advocates on both sides of the dispute have said it could wind up at the Supreme Court, potentially reopening an argument over a previous ruling that found that the Environmental Protection Agency had authority to regulate greenhouse gases.
Times staff writer Noah Bierman contributed to this report.
Our six-week newsletter will help you make the right decision for you and your property.
You may occasionally receive promotional content from the Los Angeles Times.