Automakers say Trump's plan to weaken pollution standards would hurt their bottom line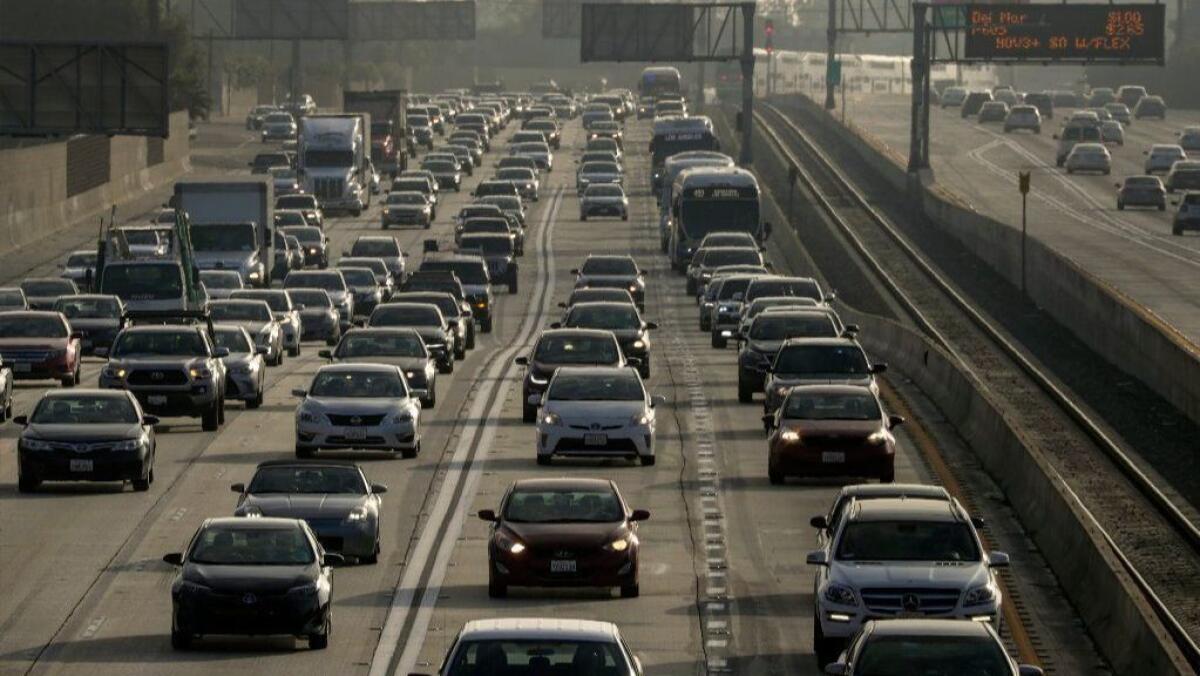 Reporting from Washington —
Some of the world's largest car manufacturers have delivered a unified message to President Trump: go back to the negotiating table on vehicle emission standards or risk crippling their industry.
Seventeen major automakers, including General Motors, Ford, BMW and Toyota, wrote in a letter released Thursday that the administration's plans to weaken car pollution and fuel efficiency standards would hurt their bottom lines and could produce "untenable" instability.
"We encourage both the federal government and California to resume discussions and to remain open to regulatory adjustments that provide the flexibility needed to meet future environmental goals and respond to consumer needs," the companies wrote.
The current regulations, put in place under President Obama, were designed to cut down on production of planet-warming greenhouse gases. They require car manufacturers to produce increasingly fuel-efficient vehicles so that by 2025 the nation's cars and trucks would average more than 50 miles per gallon.
U.S. automakers are already under pressure because of Trump's threat to impose 5% import tariffs on Mexican products starting Monday. Car manufacturers rely on extended supply chains in Mexico, and the tariffs will likely lead to higher prices for consumers.
The Obama-era emissions regulations are widely considered one of the country's most effective steps to fight global warming, an issue that Trump has derided as a hoax.
Unhappy with the requirements, automakers had petitioned the Trump administration shortly after it took office in 2017 to loosen the rules. But even they were surprised when the Environmental Protection Agency and the National Highway Traffic Safety Administration proposed a complete rewrite of the regulations.
Under Trump, the agencies proposed freezing mileage targets at about 37 miles per gallon for cars after 2020. In addition to ending California's unique authority to set its own, tougher greenhouse gas emissions standards, the plan would nullify the state mandate that automakers sell a certain number of electric vehicles.
Official projections show the administration's plan would increase daily gas consumption across the United States by about 500,000 barrels a day, worsening greenhouse gas emissions and contributing to the rise in global temperatures.
The final version of the plan is expected to be released this summer. Xavier Becerra, California's attorney general, has said the state will sue the federal government if it moves forward with weakening the rule.
That could lead to a nightmare scenario for car companies, where they would have to produce different vehicles for a divided U.S. market — one class of smoke-belching cars that would meet the Trump administration's scaled-back standard, and cleaner vehicles for California and the states that follow its regulations.
Many states have adopted California's strict emission rules. Together, they make up about one-third of the U.S. auto market.
The auto companies seek to avoid an "an extended period of litigation and instability," they wrote in their letter to Trump.
The car manufacturers also wrote to California Gov. Gavin Newsom, asking the state to reach a compromise with the Trump administration that would lower the annual vehicle fuel economy targets without completely gutting the current regulations.
"It is our view that the best way to ensure continued success is a final rule supported by all parties — including California — that includes annual reductions in greenhouse gas emissions midway between the existing standards and the preferred path" outlined by the EPA, they wrote to Newsom.
But reaching such an agreement will not be easy.
Talks between the Trump administration and California air quality regulators broke down in February, with both sides accusing the other of being unwilling to negotiate.
"We know that reaching an agreement has been challenging, but the stakes are too high and the benefits too important to accept the status quo," the automakers wrote in their letter to Newsom.
Other automakers who signed the letter include Honda, Hyundai, Volkswagen, Volvo, Mercedes-Benz and Nissan. One notable exception was Fiat Chrysler, an Italian-American company that has been more supportive of the administration's regulatory rollback efforts.
The two letters echo complaints that car manufacturers have made previously as the possibility of drawn-out litigation has become more likely. Their efforts have failed to persuade the administration to change its plans.
Dan Becker, director of the Safe Climate Campaign of the Center for Auto Safety, said the letters amounted to little more than political posturing.
"The reality was if they had sent these letters months ago, there might have been a possibility of doing something," Becker said in a telephone interview. "But doing it at the last minute when they know the administration is poised to issue this rule any week now … it's just so they can say to people who object: 'Oh, we were opposed, we weren't in Trump's pocket.'"
The National Highway Traffic Safety Administration and the EPA have continued to support locking car pollution targets in place. The agencies claim that doing so would save lives because, without the higher standards, more Americans would be able to afford new cars with better safety records.
Environmental advocates and many outside scientists dispute that reasoning, pointing to extensive studies done during the Obama years that found that higher fuel standards could be achieved without compromising safety.
The EPA's own scientists also have questioned the administration's position.
Andrew Wheeler, who took over the EPA after Scott Pruitt resigned amid multiple scandals last year, warned during recent internal administration debates that the evidence behind the proposal was questionable and might not stand up in court, administration officials have said.
Get our Essential Politics newsletter
The latest news, analysis and insights from our politics team.
You may occasionally receive promotional content from the Los Angeles Times.