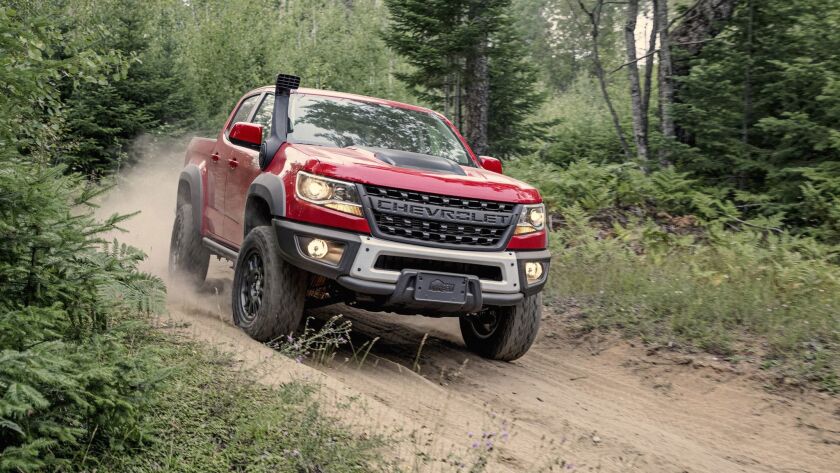 Chevrolet is aiming at serious off-road enthusiasts with the ZR2 Bison, an all-new variant on its Colorado midsize off-road pickup truck.
The Bison, which goes on sale in January, was developed in collaboration with American Expedition Vehicles, a maker of aftermarket off-road products.
AEV designed five Boron steel undercarriage skid plates that cover the Bison's engine-oil pan, fuel tank, transfer case and front and rear locking differentials.
The firm also designed the Bison's steel front and rear bumpers, and an optional AEV "snorkel" device that sits mostly outside the vehicle to provide air filtration on dusty roads.
Under the fenders are 17-inch aluminum wheels designed for the Bison and 31-inch Goodyear Wrangler DuraTrac tires.
The Bison has the full equipment list of the Colorado ZR2, which includes a modified rear axle and a suspension that's lifted two inches compared with Chevy's Colorado Z71 pickup.
Crew-cab or extended-cab configurations are available along with a 3.6-liter V6 engine or an optional turbo-diesel engine.
The Bison competes with the Toyota's Tundra TRD Pro and Tacoma TRD Pro models, among others. Prices for the Bison have not yet been announced, but Car and Driver said "expect to pay a few grand more than the 2019 ZR2's $41,895 base price, likely closer to the $44,430 that Toyota charges for a 2019 Tacoma TRD Pro."
Twitter: @PeltzLATimes
---