Elon Musk keeps slamming the SEC on Twitter. He has 2 weeks to respond in court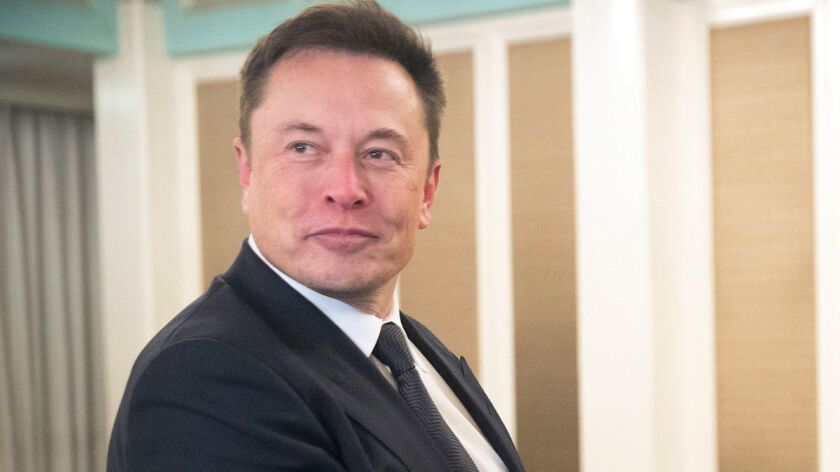 Tesla Inc. Chief Executive Elon Musk has until March 11 to defend himself against contempt charges filed by the U.S. Securities and Exchange Commission, a federal District Court judge decided Tuesday.
In question is a settlement agreement reached last September requiring Musk to get Tesla's approval before communicating material information to investors on social media and elsewhere — and tweets by Musk earlier this month that appear to run afoul of that process.

For the record:
9:05 PM, Feb. 26, 2019A previous version of this article gave the wrong year for Elon Musk's Tesla production estimate. It was for 2019, not 2018.
The latest round of legal trouble raises fresh concerns about the chief executive's ability to keep his impulses in check and responsibly run a public company.
The regulatory scrutiny was sparked by a Feb. 19 tweet from Musk's personal account that said Tesla would make about 500,000 cars this year.
Later, after a Tesla lawyer intervened, Musk changed his story. By the end the year, he said, the company would be making "probably around" 10,000 cars a week, a rate that would total 500,000 cars if extended over 12 months.
His actual estimate for 2019, he said, is 400,000 cars.
The difference between the two forecasts adds up to billions of dollars in revenue, depending on average selling price of the cars, with huge implications for profits and the company's stock price.
The SEC highlighted the seriousness of the issue in a Monday filing: "Musk's violation of the Final Judgment is not merely a technical one … he once again published inaccurate and material information about Tesla to his over 24 million Twitter followers, including members of the press, and made this inaccurate information available to anyone with Internet access."
Musk contends the SEC is misreading his tweet, and that similar prognostications were made in earlier financial reports. But those numbers differ from the numbers in Musk's tweets. Whether Musk or the SEC is closer to the truth on that matter is an issue the court may have to resolve.
Musk has made no secret of his disrespect for the government regulator. He persisted with his Twitter attacks on the SEC early Tuesday morning, posting that "Something is broken with SEC oversight," in response to another Twitter user's tweet sympathizing with his position.
Tesla stock fell about 2.5% shortly after the start of regular trading Tuesday, but by market close it had regained almost all of that lost ground. Tesla shares were already down 10% this year through the close of regular trading Monday.
The SEC's late-Monday move puts Musk in fresh legal peril less than five months after he settled claims he misled investors with tweets about taking the electric-car maker private. He could face a variety of penalties, including a prohibition against running Tesla or any other public company for a period of time, said Charles Elson, a finance professor at the University of Delaware.
"Having your CEO in contempt of an SEC action is a pretty bad thing," Elson said.
The SEC "has to view the conduct as akin to another violation of securities laws to take this step," said Brad Bennett, a former SEC enforcement attorney. "It's a very novel situation where someone is running an enterprise with this kind of market cap and gives the SEC cause for concern that the person is not capable of following the securities laws."
Calls to Tesla and emails to Musk and his representatives weren't returned. In tweets after Monday's filing, Musk criticized the SEC and said it had overlooked comments he made on the company's Jan. 30 earnings call that Tesla may make as many as 500,000 of its Model 3 sedans this year.
Musk was subject to regulatory scrutiny in August soon after posting on Twitter that he was considering taking the company private at $420 a share and had funding secured.
In its September filing, the SEC said Musk hadn't discussed any specific deal terms with any funding partners and knew the potential transaction was uncertain. The accord required Musk and the company to each pay a $20-million penalty and barred Musk from serving as Tesla's chairman for three years.
Statements related to the Model 3, Tesla's lower-priced electric sedan, have also caught the SEC's attention. The agency and the Justice Department have both sought information from Tesla over forecasts made about Model 3 production in 2017, when the carmaker started making the sedan but fell well short of Musk's projections.
Musk must file a brief in his defense by March 11. U.S. District Judge Alison Nathan, who is handling the case, has not yet scheduled a hearing.
While Musk openly criticizes the SEC, his approach to the judiciary appears more conciliatory. "I have great respect for judges," he tweeted Monday night. "It's not perfect, but, in general, we should be very glad of the US justice system."
Bloomberg contributed to this report.
---
Your guide to our new economic reality.
Get our free business newsletter for insights and tips for getting by.
You may occasionally receive promotional content from the Los Angeles Times.