Motorcycle show presents new bikes and goes after new riders
Stuck in a sales rut, motorcycle manufacturers rolling into Long Beach this weekend for the 37th Progressive International Motorcycle Show are trying their best to pick up newbie riders.
In addition to rolling out a something-for-everyone array of bike choices in almost every weight and displacement class, the PIMS event for the first time will give unlicensed non-riders the opportunity to get astride a tuned-down electric motorcycle, for a safe taste of two-wheeling thrill.
Fifteen major bike makers will present new machines at the show, which begins Friday afternoon and runs through Sunday night. New to the show, or returning in strength after a minimized presence, are Royal Enfield, Benelli, Triumph, Energica and Piaggio Group brands Moto Guzzi, Aprilia, MV Agusta and Vespa brands.
They will be joined by more than 150 exhibitors presenting displays of aftermarket parts, apparel, safety gear, tools and support merchandise to an expected crowd of about 50,000 fans.
The Long Beach event is the first of nine shows scheduled for the 2019 PIMS circuit, which will include stops in New York, Chicago, Cleveland and other cities.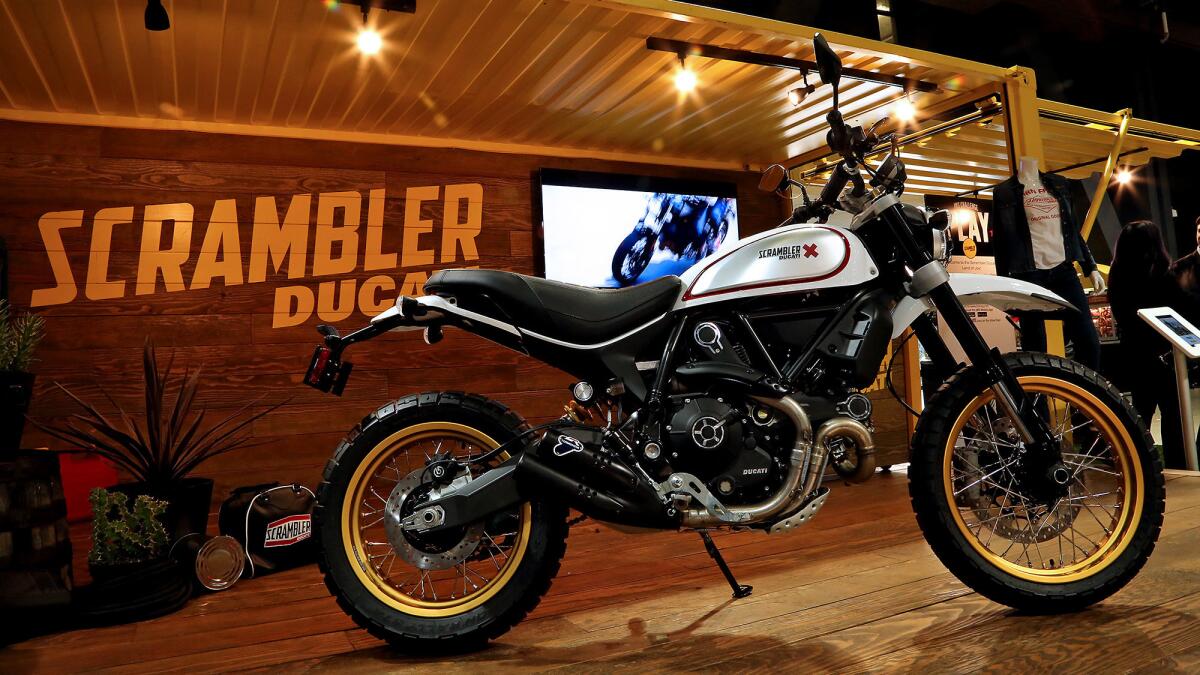 The collective effort occurs during a stubbornly flat sales market, which, despite a stable economy and ample new product, has been stuck at under 500,000 new units sold annually for the last several years. At its 2006-07 peak, U.S. new motorcycle sales were more than twice that figure.
Even behemoth Harley-Davidson reported in July that second-quarter 2018 sales were down almost 4% domestically.
As has traditionally been the case, many manufacturers at the Long Beach Convention Center event will be offering free test rides to licensed attendees. Among brands participating are BMW, Harley-Davidson, Honda, Indian, Kawasaki, Yamaha and the three-wheeled Slingshot.
New this year is a non-rider New Rider Course introduction program, part of an industrywide campaign known as Discover the Ride. This will allow adults to ride speed-controlled electric Zero motorcycles and children to take a spin on Stacyc battery-powered bicycles on supervised, indoor courses.
"We will introduce riding to individuals who are interested in riding, but have no experience," said Tracy Harris, senior vice president of the PIMS. "Using proper gear, with proper training, in a closed safety course, we will be able to give them the experience of riding without some of the challenges."
This could be the gateway, the first smell of the flower, the first epiphany of, 'Hey, I can do this.'
— Robert Pandya, on a test-ride program
Riders interested in a safe but visceral motorcycle "ride" will be able to try the "Dyno Experience," in which they can sit atop an actual Harley, Ducati or Yamaha while the engine spins the wheels on a platform — giving riders all the noise and rumble of a big motorcycle without actually hitting the road.
Visitors, who often include prospective new bike owners, will also get a first view of new machinery, as many of the motorcycles appearing at the show have not been shown before in North America.
Yamaha will unveil its dramatic three-wheeled Niken. Vespa will be showing its first all-electric scooter, as will Ural Motorcycles its first all-electric sidecar bike. Suzuki will debut its Katana, an homage to the famed GSX1100S. Ducati will present reimagined versions of its Panigale, Diavel and Hypermotard bikes, along with its new Multistrada 1260 adventure bike. BMW will show off a fleet of new R1250 machines. Moto Guzzi will bring its new V85 TT.
Honda will be revealing its CRF450L dual sport bike, and celebrating the return of its 1960s-era Monkey minibike. Triumph will also be displaying some of its 1960s DNA with the all-new Scrambler 1200 XC and Scrambler 1200 XE dual-purpose motorcycles.
Royal Enfield, making a concerted effort to push North American sales, will also have a newly significant presence. The motorcycle company, now under Indian ownership, will present its new Himalayan adventure bike and its retro-styled Interceptor and Continental GT 650cc twins.
The Discover the Ride program is partly the brainchild of industry veteran Robert Pandya, who before last year's Long Beach show convened a panel of motorcycle experts to sound the alarm on stagnant sales and to propose solutions.
Pandya and PIMS executive Harris said the show's new test-ride program for non-riders came directly from that 2017 panel. Its main purpose is to turn interested riders into actual consumers.
"We should be facilitating complete neophytes in a way that makes them comfortable," said Pandya, now a consultant for the PIMS circuit. "We sometimes forget that what we do, as riders, is very intimidating for people who don't ride. This could be the gateway, the first smell of the flower, the first epiphany of, 'Hey, I can do this.'"
As in years past, the Long Beach event will also feature collections of custom and vintage motorcycles. Starting Friday, attendees will be able to view 55 historic bikes, from collections curated by Moto Doffo, the Antique Motorcycle Club of America, the All Japanese Motorcycle Club and the American Historic Racing Motorcycle Assn.
Tickets for the event are $17 for adults. Children under 11 are free. Attendees arriving on motorcycles are offered free parking and a free gear check.
The show is open to the public Friday from 3 p.m. to 8 p.m., Saturday from 9:30 a.m. to 8 p.m. and Sunday from 10 a.m. to 5 p.m.