Elon Musk says money to take Tesla private would come from Saudi Arabia, but he hasn't struck a deal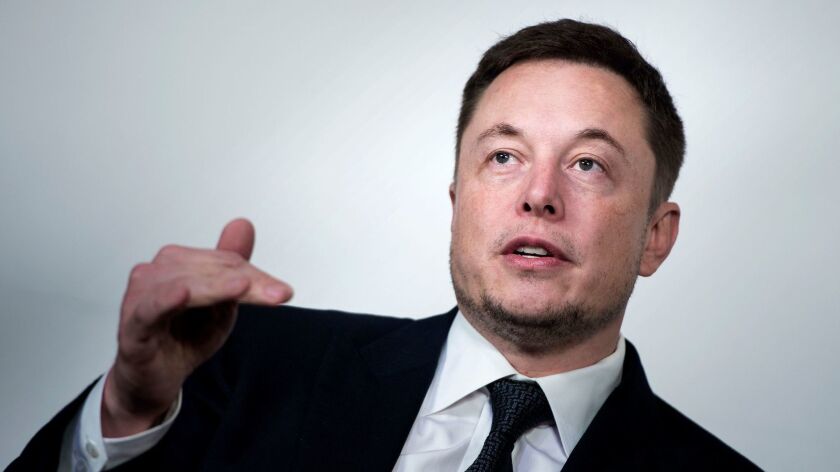 Tesla Chief Executive Elon Musk said Monday that his tweet about having "secured" funding to take the electric-car maker private was based on meetings with Saudi Arabia's sovereign fund that left him "with no question" that they could strike a deal.
But others remained unconvinced that the billionaire has yet secured the tens of billions of dollars likely needed to buy Tesla and turn it into a private company, or that he has eased the concerns of the market regulators scrutinizing his comments.
In a blog post Monday, Musk said he met July 31 with a fund representative who "expressed regret" that Musk had not taken steps to take the company private. Little more than a week later, Musk tweeted that he was considering taking the company private at a price of $420 a share and that he had "funding secured."
"I left the July 31st meeting with no question that a deal with the Saudi sovereign fund could be closed, and that it was just a matter of getting the process moving," Musk said in Monday's post. "This is why I referred to 'funding secured' in the August 7th announcement."
But Wall Street signaled that there's still pervasive doubt among investors as to whether the funding is indeed secure and whether the going-private transaction at that price will materialize. Despite Musk's assurances, Tesla's stock closed little changed Monday at $356.41 a share, up 0.3% and well below $400 a share.
Musk said the Saudi fund first expressed interest in a go-private transaction with Tesla early last year and that the fund has more than enough assets to put up the tens of billions of dollars such a transaction could require. The Saudi fund — the Public Investment Fund, or PIF — has assets of about $230 billion, according to Bloomberg.
Fund representatives did not immediately respond to a request for comment Monday.
Musk's blog post runs counter to a story posted by Reuters over the weekend suggesting that the fund was not interested in a go-private transaction with Tesla, at least for now. However, the Saudi fund did recently buy nearly 5% of Tesla's stock on the open market, Musk confirmed Monday.
Musk said he will present a more complete financing plan later but that doing so now would be premature. "I continue to have discussions with the Saudi fund, and I also am having discussions with a number of other investors," he said. "It is appropriate to complete those discussions before presenting a detailed proposal to an independent board committee."
Musk sent Tesla stock on a wild ride last week by tweeting about a go-private deal, which he said could be beneficial for the company. Shares jumped 10% the day of his tweet but lost ground over the course of the week amid questions about the likelihood of such a deal and concerns that Musk may have run afoul of securities regulators with his tweets.
A day after Musk's initial tweet, the Wall Street Journal reported that officials at the Securities and Exchange Commission were asking Tesla about the tweet, and suggested that there were questions about the factual basis for the communication. The SEC declined to comment.
On Monday, Musk said the tweet was sent in his capacity as an individual investor, not as chief executive and chairman of the company. Musk — with a net worth that Forbes estimates at $21.3 billion — owns about 20% of the company's stock. Any takeover would require overall shareholder approval; he can't push any deal through on his own.
Ross Gerber, president of the investment-management firm Gerber Kawasaki Inc. in Santa Monica, which is a Tesla investor, acknowledged that there is a "huge gap in perception" among investors about the outlook for Palo Alto-based Tesla going private. He said he remained bullish on a forthcoming deal.
"I'm buying the stock right now," Gerber said Monday. "The fact that people don't believe that Saudi Arabia would love to buy the crown jewel of clean energy is foolish. Of course they'd love to buy Tesla."
He also speculated that Saudi Arabia would not purchase Tesla by itself but might be a major shareholder along with a consortium of other investors that Musk recruits.
However, analyst Gordon Johnson of the investment firm Vertical Group did not interpret Musk's blog post as confirming that the Saudis are set to take Tesla private.
Noting that Musk said the Saudi support remains "subject to financial and other due diligence and their internal review process for obtaining approvals," among other conditions, Johnson told Bloomberg Television that Musk "is specifically stating that funding is not secured, and I think that's a big deal."
Musk also said in his Monday blog post, as he did on Twitter last week, that current Tesla shareholders would be able to continue to hold stakes in the company if it goes private — though Monday's post did little to build on his tweets in that regard.
The same day he tweeted about the possibility of taking the company private, he said he was "super appreciative of Tesla shareholders" and would "ensure their prosperity in any scenario." He said he hoped to create a special fund that would enable Tesla shareholders to maintain ownership in the company. It's not clear how that would work.
Musk said in Monday's post that he has hired advisors to determine, among other things, "how many of Tesla's existing public shareholders would remain shareholders if we became private."
Tesla overall would be worth nearly $72 billion if its stock was priced at $420 a share. But Musk has said he hopes many current Tesla investors would retain their shares in the private firm.
"Therefore, reports that more than $70B [billion] would be needed to take Tesla private dramatically overstate the actual capital raise needed," he wrote. "My best estimate right now is that approximately two-thirds of shares owned by all current investors would roll over into a private Tesla."
Despite Tesla's meteoric stock-market performance over the last few years — shares are up from $35 in early 2013 — Musk has said the company might be better off as a private concern.
Being publicly traded, he said in a blog post last week, means the company must report quarterly on its financial results, which "puts enormous pressure on Tesla to make decisions that may be right for a given quarter, but not necessarily right for the long-term."
That's a common criticism of public companies, but one that may be more acute for Tesla, which has repeatedly fallen behind on performance targets, including production targets for its Model 3 sedan.
In addition, investors have fretted about whether Tesla, which so far has amassed huge losses, will have the necessary cash to maintain the Model 3's rollout and its other operations.
Tesla burned through more than $1.5 billion in cash in the first half of this year and had $2.2 billion in cash remaining. Musk said recently that Tesla's cash flow would be enough to fund the company going forward and that he didn't plan to raise new funds through stock or debt issues. Tesla also said it plans to be profitable starting in the latter half of this year.
Tesla is a frequently shorted stock, meaning many investors are betting that the company's shares will tumble. That, Musk said, "means that there are large numbers of people who have the incentive to attack the company."
Musk has been slamming and mocking short sellers; just days before his take-private tweet, he posted a parody video depicting Hitler as betting against the automaker's stock. Over the weekend, he tweeted that Tesla would soon introduce a novelty side product: short shorts.
---
UPDATES:
3:15 p.m.: This article was updated with Tesla shares' closing price, the size of Elon Musk's Tesla stake, an analyst's bearish comments on a potential deal and information about Tesla's cash-flow problems.
12:40 p.m.: This article was updated with an investor's comments, Tesla's updated stock price, more comments from Musk's blog post and details about Saudi Arabia's initial purchase of Tesla stock.
10:05 a.m.: This article was updated with information about Tesla's stock performance, rationale for taking a company private, and Musk's reaction to short sellers.
8:50 a.m.: This article was updated with information about Musk's assertions that Tesla shareholders could continue to hold stakes in the company if it goes private, and with Tesla's stock movement.
7:25 a.m.: This article was updated with additional background information.
This article was originally published at 7 a.m.
---
Must-read stories from the L.A. Times
Get the day's top news with our Today's Headlines newsletter, sent every weekday morning.
You may occasionally receive promotional content from the Los Angeles Times.