Years go by and a self-sustaining Tesla eludes Elon Musk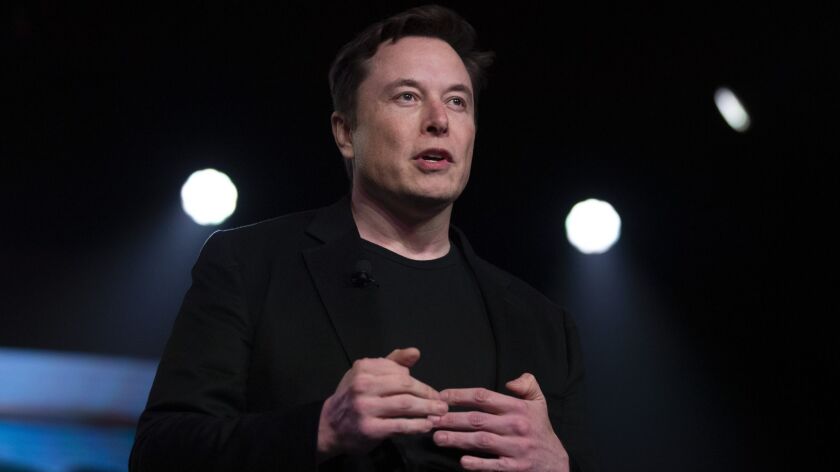 In a clear signal that Tesla remains far from a self-sustaining vision CEO Elon Musk laid out in 2006, the company said Thursday that it will hit the debt and equity markets to raise as much as $2.3 billion.
It was yet the latest example of Musk claiming Tesla needs no new investment cash — until it does.
In 2006, Musk unveiled a "master plan" that called for self-funding. High-priced electric cars would throw off enough cash to fund new generations of more affordable vehicles, he predicted.
In 2012, the year the Model S luxury sedan was introduced, Musk told stock analysts that "Tesla does not need to ever raise another funding round. We may want to do so, but we are in a strong cash position, and we don't need to."
Throughout 2018, Musk repeatedly said the company neither needed nor wanted to tap the capital markets for new cash.
Then came the first quarter of 2019. Demand for Tesla cars plummeted. Two rare profitable quarters in a row gave way to a $702-million loss. Cash flow turned negative. The company's cash on hand fell to $2.2 billion, from $3.69 billion at the end of the previous quarter, after paying off $920 million in convertible bonds.
The news of a new financing round buoyed Tesla bulls at a time when some short sellers and other critics were predicting a restructuring filing under Chapter 11 of federal bankruptcy codes. Tesla's stock price closed up 4% Thursday at $244.10.
"The shorts must be bummed today," said Ross Gerber, hedge fund manager at Gerber Kawasaki in Santa Monica. "This capital raise destroys their whole thesis."
The crowd-sourced, social media swarm that is betting Tesla will crash and burn »
In a news release, Tesla said it would use the money "to further strengthen its balance sheet, as well as for general corporate purposes." Tesla must pay convertible debt holders $566 million in November. Musk, 47, will participate in the offering by purchasing as much as $10 million in stock.
The company plans to continue building a new factory in China, and begin manufacturing a Model Y crossover and a semi truck, although plans remain sketchy and it's unclear how those projects will be paid for.
A return to strong demand for Tesla cars would help a lot. Wall Street analyst consensus is that Tesla will deliver 360,000 vehicles in 2019. Given that first-quarter deliveries totaled 63,000 vehicles, the company will have to bump up sales to an average of 100,000 for each of the next three quarters to meet that projection.
Tesla's newest model, the Model 3, is by far the most popular electric vehicle in the U.S. The added cash will buy Musk more time to prove that he can make those cars at a profit. Since its founding, Tesla has raised $10.6 billion equity and reported losses of $5.9 billion. Long-term debt now sits at $9.8 billion.
Wall Street analysts have been souring on Tesla's prospects. Even investment bank Goldman Sachs, which will earn fees as lead manager for Tesla's new equity and debt offer, has a "sell" recommendation on Tesla stock with a $200-per-share target price.
Some big mutual funds are fleeing Tesla as well. Fidelity Investments said its mutual funds sold 1.4 million shares — more than 20% of the financial giant's stake — in March, according to Bloomberg. At the same time, Fidelity is offering to broker new shares and notes in Tesla's latest offering to its retail customers.
On a conference call with underwriters Thursday, Musk spent most of his time talking up plans to begin building fully autonomous Teslas, according to a participant who asked not to be named for fear of retribution from the chief executive. Musk has laid out plans to deploy fleets of driverless robo-taxis next year, and give Tesla owners a chance to hire out their own vehicles part time and earn extra income. The timeline has drawn deep skepticism from driverless car experts.
"This is how Tesla becomes a $500-billion market cap company," Musk said, according to the attendee. Tesla's market value is currently $42 billion.
The new offering calls for $650 million in new equity and $1.35 billion in convertible debt, for a total of $2 billion. Buyers will be given the chance to buy more, up to $2.3 billion total.
The forms filed with the U.S. Securities and Exchange Commission for the new equity and debt offerings, however, say nothing about robo-taxis or driverless cars.
---
Must-read stories from the L.A. Times
Get the day's top news with our Today's Headlines newsletter, sent every weekday morning.
You may occasionally receive promotional content from the Los Angeles Times.