Could Iger's latest move pull Disney back into professional sports?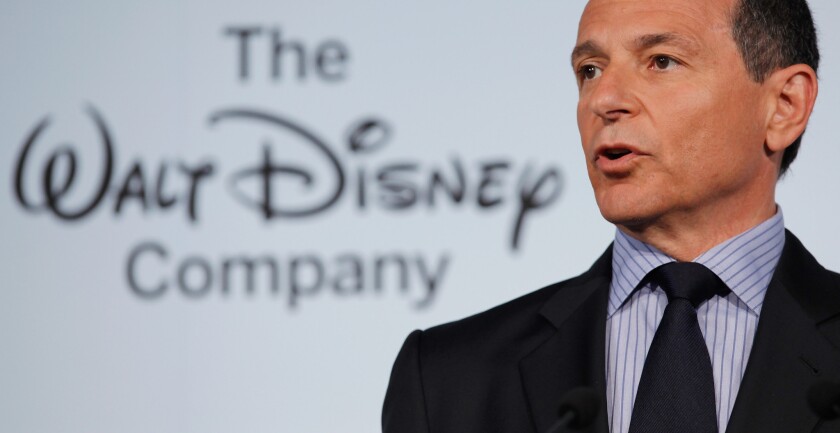 Is Walt Disney Co. trying to jump back into professional sports?
The company's chief shot caller, Robert Iger, is now leading the push to develop a professional football stadium in Carson, creating speculation that Disney — the former owner of the Anaheim Angels and Mighty Ducks — might want back into the game.
Iger, whose contract as chairman and chief executive with Disney ends in 2018, was appointed to head the proposed stadium project to house the San Diego Chargers and the Oakland Raiders in Carson.
As nonexecutive chairman of Carson Holdings, the two NFL teams' joint venture, Iger will function as strategic leader on the project, hire a president and work with Carson officials. He will also provide the vision for the fan experience, including stadium design.
Iger's involvement in the project is in his personal capacity and doesn't involve Disney, sources said.
But the Burbank media giant's record in developing blockbuster family entertainment prompted experts to speculate how Disney could benefit.
Because Disney owns ESPN, it's possible the all-sports channel would develop new content with the NFL teams.
Disney could also reach out to football fans with package deals to visit Disneyland and Disney California Adventure Park.
Disney's history with professional sports has not been stellar.
The company paid $50million in 1993 to launch the Anaheim Ducks hockey team, after the success of the movie "The Mighty Ducks." But the NHL team became a big money drain for Disney, losing about $28 million in 2004 and $12 million in 2002-03, when the team reached the Stanley Cup final.
Disney sold the franchise in 2005 for $75 million. Forbes valued the franchise at $365 million in 2014.
The company also got involved in professional baseball, taking control of the Anaheim Angels in 1996.
Although the team won its first pennant and World Series championship in 2002 under the control of Disney, the company reported losses of more than $100 million during its management. Disney sold the team in 2003 for $183 million.
Because of Disney's past missteps with professional sports, some industry analysts say it is unlikely that Disney will take a major role in the stadium project or the NFL teams.
Instead, they suggest that Iger's new position means he is setting the stage for a new career path once he leaves Disney.
"I'm not hearing that there is a great appetite to get into sports at Disney," said Robert Niles, a Disney expert and founder of Themeparkinsider.com.
Eric Rose, a partner at the Los Angeles public relations firm Englander, Knabe & Allen, whose past clients include a professional sports franchise, agrees.
"My gut tells me this is Iger on his own," he said.
Rose said Disney has learned from its experience with the Ducks and the Angels to stay clear of professional sports.
"They found that they do better when they stick to their niche: entertainment, movies and theme parks — not sports franchises," he said.
Still, David Koenig, the author of several books on Disney, said Iger's involvement with the two football teams could lead to a deal to develop television shows and content for ESPN.
"I don't think it's completely out of the realm," he said.
Laura Martin, a senior analyst at Needham & Co., said Disney could have cross-selling opportunities with the stadium, perhaps selling Disneyland hotel and park packages to out-of-town fans visiting for a game.
"They could take you to a Disney hotel, take you to the game, then take you to the Disney park," she said. "They could put you in the Disney parks around the time you're in town for the game."
Disney might even become involved in a retail development near the Carson stadium, similar to the Downtown Disney retail-restaurant operation adjacent to Disneyland.
Carson Councilman Jawane Hilton said the city is envisioning a stadium with shopping and entertainment developments included, and Iger can help with that vision.
"If they want to build a Universal Studios style walk, we'd love to see it," he said.
To read more about travel, tourism and the airline industry, follow me on Twitter at @hugomartin.
Times staff writers James Rufus Koren and Richard Winton contributed to this report.
MORE BUSINESS NEWS
Q&A: DraftKings co-founder bets on strong growth
Beer merger will not bring Budweiser, Miller under same roof
With help from 007's Daniel Craig, how Alibaba turned 11-11 into China's biggest shopping day
---
Must-read stories from the L.A. Times
Get the day's top news with our Today's Headlines newsletter, sent every weekday morning.
You may occasionally receive promotional content from the Los Angeles Times.