Rams heat up Inglewood's real estate market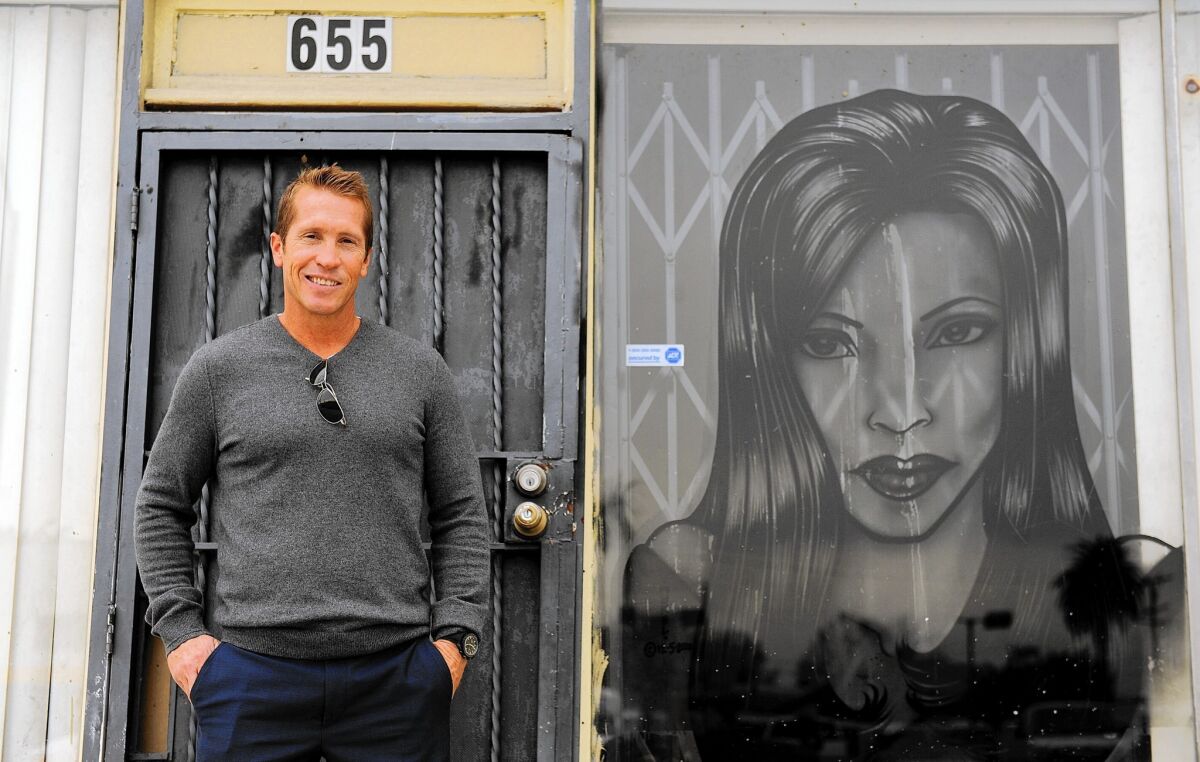 For months, commercial real estate agent Matt Crabbs had seen almost no interest in his listing for a vacant retail building on La Brea Avenue in Inglewood.
Then suddenly everything changed. In just the last week, he said about six parties have expressed a desire to buy the roughly 17,000-square-foot building, which is listed at nearly $4 million.
"People are sharpening their pencils and seeing what they can do there," he said. "It's incredible."
Join the conversation on Facebook >>
Crabbs, with Re/Max Estate Properties, is pretty sure he knows where to send thanks: the L.A. Rams.
The announcement last week that the St. Louis football team would relocate to Inglewood has sparked investor interest in commercial real estate surrounding its future home at the old Hollywood Park racetrack, according to Crabbs and other agents.
Located off Century Boulevard and Prairie Avenue, the project is roughly two miles from the city's downtown and four miles from Los Angeles International Airport.
The nearby streets, lined with strip malls and gritty auto body shops, are attracting interest from real estate investors who hope rents and property values will rise, as well as business owners who believe the stadium will bring a flood of new visitors.
Agents have not been shy to say they are near the stadium site — a nearly 300-acre multibillion-dollar project that also will feature office space, shops, restaurants and entertainment offerings. They are describing properties on the market in terms that take full advantage of the NFL's return.
"It is now official the Rams are coming back," one ad for a redevelopment opportunity boasts.
"Within blocks of the new stadium development," another online listing reads for a 5,500 retail building on Century Boulevard.
Agents say such appeals are working.
Mike Talbot, an agent with Re/Max, said an investor went into escrow on the Century Boulevard listing just before the Rams announcement.
Since the team's move became official, the agent said additional offers have come through and interest has surged for a nearby listing on Arbor Vitae.
So far, those who have shown interest on Arbor Vitae, the site of an auto repair shop, include multiple investors, a restaurant operator and a limousine service.
"The stadium is going to bring traffic flow and a lot of people from out of town," Talbot said. "This is a chain reaction."
Leo Nordine, an independent real estate agent and part-time investor, wants in on the action too.
After hearing the news that the Rams were coming, he scoured the Internet for commercial properties to buy — anticipating values would eventually rise.
He hasn't found anything worthwhile yet since inventory is low.
"If people are smart they are not going to sell right now," he said.
Interested in the stories shaping California? Sign up for the free Essential California newsletter >>
Although it was the Rams that sparked the recent rise in interest, agents said other factors are driving demand as well.
Just to the north of the stadium site, a renovated Forum opened in 2014 and quickly became a desired concert venue, hosting such acts as the Eagles, Madonna and the Wu-Tang Clan. The Crenshaw light rail line that will run through the city is now under construction.
And even if the Rams never came, developer Hollywood Park Land Co. — a joint venture between Stockbridge Capital Group and the development firm of Rams' owner Stan Kroenke — still planned to build a massive mixed-use project with a hotel, housing and hundreds of thousands of square feet of retail and office space, which is now part of the stadium development.
"I already liked Inglewood investment-wise, but this makes it a no brainer," Nordine said of the NFL stadium, which is expected to be ready for the 2019 season.
All the interest could help a city that is underperforming compared with nearby areas.
The city's retail space has a vacancy rate of 5.9% and an average lease rate of $1.43 per square foot a month. That compares with 4.7% and $2.31 for the L.A. metro area, according to CoStar Group.
The office market is doing even worse, with a 27.4% vacancy rate and an average lease rate of $1.61 a square foot a month, compared with 11.2% and $2.71 for the L.A. metro area.
But how much impact the stadium complex will have on Inglewood is unclear.
Economists generally agree that sports stadium projects do little, if anything, to boost a region's economy. That's largely because the money people spend on game day simply would have been spent elsewhere.
Victor Matheson, an economist at the College of the Holy Cross, said that property values tend to increase directly near a stadium — but beyond a half mile there's usually no discernible effect.
Still, the structure and size of the Inglewood project gives the city a better shot at benefiting than other municipalities, according to Matheson and other economists.
In addition to the stadium, the mixed-use project is adding 2,500 residential units, 890,000 square feet of retail, 780,000 square feet of offices, a hotel, casino and a 6,000 seat entertainment venue. One league owner has called the overall package an "NFL Disney World."
Then there's the influx of jobs. The Hollywood Park project is projected to bring 22,000 construction jobs over the six or seven years it is expected to complete the development, and create 12,000 full- and part-time jobs at completion.
And unlike typical NFL stadium deals, the city is putting up no upfront money, though the developer will be able to recoup costs for the roads, sewers and other infrastructure by keeping a portion of the additional tax revenue generated by the project.
Chris Meany, development manager for Hollywood Park Land, said the idea is to build a project on par with the high-end Grove outdoor shopping mall in the Fairfax district — making it a regional draw every day of the year.
"This whole district, the 300 acres, is intended to be a centerpiece of the region," he said.
Raphael Bostic, a professor of governance and public policy at USC, said the ability of the developer to make the project a year-round draw is a key.
"There is a potential to succeed," he said. "Time will tell."
Crabbs and his partner Bill Ruane are optimistic. They are looking forward to Friday when they will show the property to another interested buyer.
The investor, Ruane said, wants to open a sports bar.
Twitter: @khouriandrew
MORE ON INGLEWOOD
Stan Kroenke seeks to borrow about $1 billion for proposed stadium in Inglewood
Rams' return to the Coliseum will be extra special for Jeff Fisher
Inglewood residents have high hopes attached to the arrival of the NFL