Inglewood football stadium developers run a hurry-up offense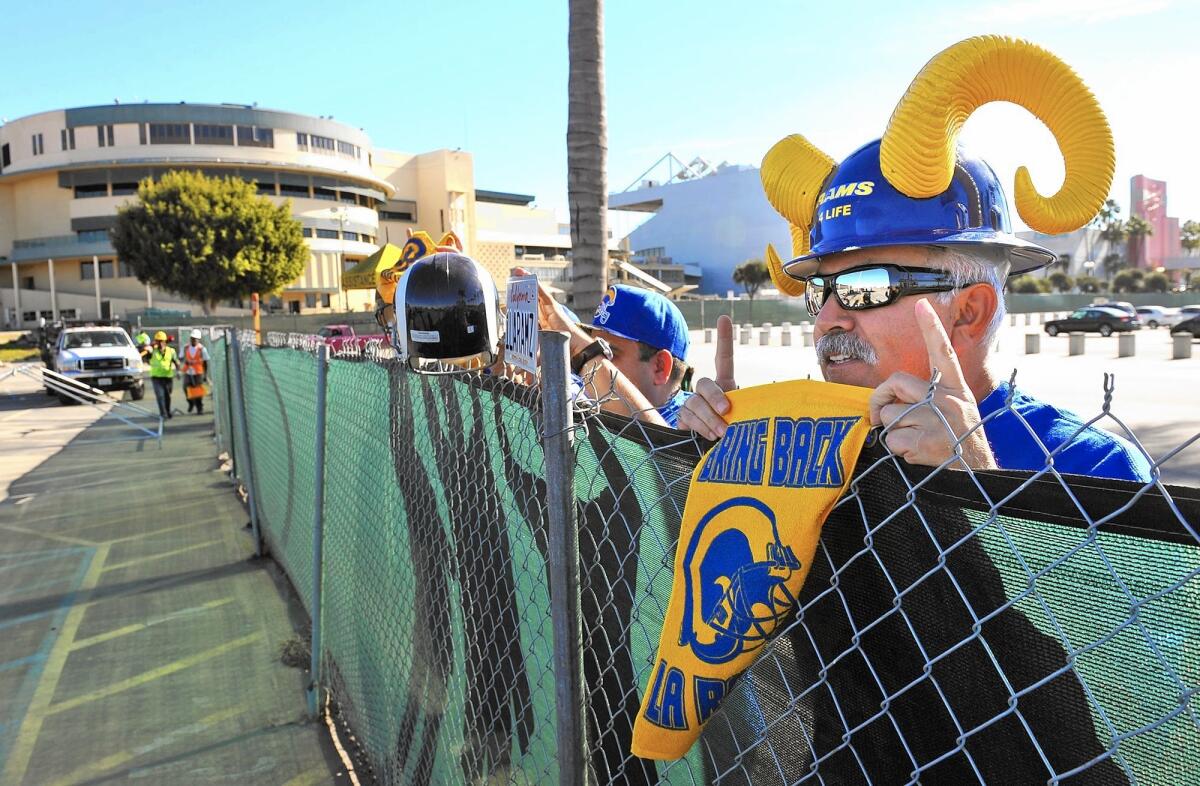 By the plodding standards of big development in Southern California, the plan to build a football stadium in Inglewood is moving at a brisk pace.
The developers aim to slice through red tape that normally entangles major projects — often for years — by using a quirk in the way the state election and environmental laws work together.
They have proposed zoning changes for the stadium through a ballot initiative, which would allow them to skip lengthy reviews that civic and environmental activists say protect surrounding neighborhoods.
It's unclear how soon full-scale construction could begin, but developers want to break ground on the 80,000-seat, billion-dollar-plus stadium at the former Hollywood Park racetrack by year's end. That would give St. Louis Rams owner Stan Kroenke, a partner in the project, a big head start in the race to bring an NFL team to Los Angeles, though neither he nor the league has committed to moving a team here.
"It's moving forward pretty fast," said Inglewood resident Katrina Anderson, who attended a recent neighborhood meeting on the project. "I'm still not sure what we're signing or voting on."
In just 18 days, the developers collected 22,000 signatures, more than twice what was needed to put the measure on the ballot. The county is expected to finish certification by the end of the month, and city officials say an election could be held as soon as June.
There is one potentially even quicker option.
The Inglewood City Council, under initiative law, could bypass an election entirely and simply adopt the measure itself. City Council members would not discuss their intentions. They either did not return calls seeking comment or referred questions to Mayor James T. Butts Jr., a strong supporter of the stadium.
"I'm not prepared to make a commitment as to what way we are going to go," he said.
The city is ordering its own studies of economic and environmental impacts, due by early March. Those reports will be released, and public comment taken before any vote, he said.
The ballot initiative has become a popular strategy to fast-track major projects, especially in small municipalities where signatures can be gathered quickly, said land-use attorney Kristina Lawson, a former councilwoman in Walnut Creek, Calif.
"It's really in large part a CEQA-avoidance strategy," she said, referring to the California Environmental Quality Act, which mandates a lengthy investigation of potential environmental impacts and can trigger litigation that's even more time-consuming.
Whether to hold an election is a political calculation, Lawson said. Neighbors can organize against the project. Rival developers could finance a "no" campaign. But skipping one can anger residents who want a say.
"It's always a strategic consideration," Lawson said.
The Inglewood council would be on solid legal ground if it decides not to call an election. The California Supreme Court in August ruled that the City Council in Sonora could bypass the environmental review for a planned Wal-Mart store without a vote of the public.
Now developers and city councils have a clear path around CEQA reviews, said Juliet Cho, an environmental lawyer in San Francisco. But, she said, they still have to deal with public opinion.
Sentiment at town-hall meetings on the Hollywood Park project has been mixed.
At a recent gathering of the Around the Block Club, a neighborhood group near the Forum, people asked about parking, signage and public use of parks on the 298-acre site, but generally expressed support. Several signed the petition at the meeting.
"The stadium will change my neighborhood and my income," said James Burt, the group's president and a retired electrician who now works security at the Forum. "I wouldn't say 100% of people around here support it, but 98% or 99% do."
At another meeting, opponents voiced concerns about the hasty environmental-review process.
"It seems like you guys are not doing enough research before you're committing to do this to our city," one man shouted from his seat.
As a project spokesman tried to respond, the man cut him off.
"This idea about building a stadium has only been out there a month or so," he said. "No way you have done proper environmental studies on this thing."
Butts pointed out that the original Hollywood Park plan — for 3,000 houses and office and retail buildings on the former racetrack site — had an environmental review before the council approved it in 2009. And experience with the racetrack and the Forum across the street suggest that the area should be able to handle game-day traffic, he said.
The developers have plans to clear federal regulatory hurdles too. The Federal Aviation Administration requires in-depth reviews of tall buildings near airports; Los Angeles International Airport is three miles west of the stadium site. The developers plan to sink the stadium 100 feet into the ground, making it low enough to avoid the FAA study.
The goal, project spokesman Gerard McCallum said, is to work quickly so that when an NFL team officially declares its desire to move to Los Angeles — which could happen as early as January 2016 — it'll have a new home already under construction in Inglewood.
"We want to be playing football there," he said, "in September of 2018."
Twitter: @bytimlogan