No kitchen gadget is more buzzworthy than the Instant Pot right now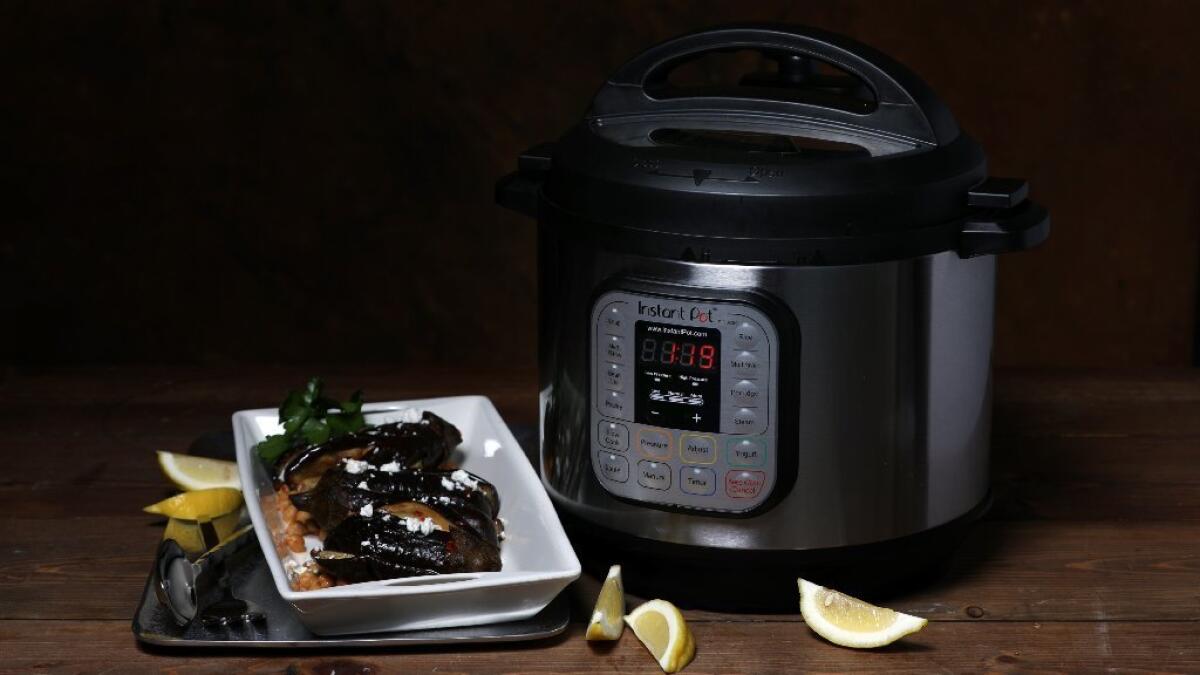 High-end juicers. Home seltzer machines. Sous vide. Every year there's a new fad culinary gadget that wins a coveted spot on countertops across the country, only to be relegated to distant cupboards or the garage once the novelty wears off.
This holiday season, nothing in the kitchen is more buzzworthy than the Instant Pot — a multipurpose electric cooker that slow cooks, pressure cooks, sautes, steams and even makes yogurt from scratch.
The gadget has attained cult-like status among its devotees for its ability to reduce cooking times, dirty dishes and waistlines (since it's averse to fried foods). Those reasons, experts say, give the Instant Pot something kitchen gifts of Christmases past have lacked: staying power.
"They are a great example of product innovation meeting consumer needs," said Joe Derochowski, executive director and home industry analyst at research firm NPD Group. "Multi-cookers are not a fad."
The device's inventor, Robert Wang, insists the appliance is every bit as indispensable as a microwave. But even he saw his company's motto — "An Instant Pot in every kitchen" — as a far-fetched goal.
Five years and millions of unit sales later, the phrase doesn't sound all that laughable to him anymore.
"I think it's attainable now," Wang said from his company headquarters in Ottawa.
Over 800,000 fans now belong to the Instant Pot's Facebook group, sharing recipes and photos. Food writers and chefs have embraced the appliance. And a cottage industry of accessories and cookbooks have spawned out of the Instant Pot's success, which has been buoyed by word-of-mouth buzz since Wang eschews traditional advertising and marketing.
"The people who love their Instant Pots are evangelical about it and tell their friends," said Laurel Randolph, a food writer who has sold over 350,000 copies of her cookbook, "The Instant Pot Electric Pressure Cooker Cookbook: Easy Recipes for Fast & Healthy Meals."
"I understand the skepticism with so many kitchen gadgets out there, but this just keeps getting more popular," said Randolph, who is working on a second Instant Pot cookbook that includes more recipes from around the world.
The runaway success of the Instant Pot, which typically sells for less than $100, has propelled sales of multi-cookers 79% to over $300 million in the 12 months ending in November, according to NPD.
In addition to Instant Pot, brands such as Black + Decker, Breville and Cuisinart also make multi-cookers (NPD does not track sales data by brands and Wang declined to share company revenue and sales figures). None of those rivals, however, have enjoyed the kind of sales Instant Pot has had on Amazon, where it's regularly a best seller during promotional events such as Cyber Monday.
Growth in the appliance has been bolstered by the fact that more Americans are eating at home, and looking for ways to cook more conveniently and faster, NPD said.
With an electric pressure cooker — which is far less intimidating for many people than a stovetop pressure cooker — soups and stews that used to take hours to prepare can be served in less than 60 minutes.
"Multi-cookers are hitting all of the hot buttons for today's consumers — speed and convenience in healthy at-home meal-prep, multi-functionality, and ease of use," said Derochowski of NPD.
Wang said the Instant Pot's technological ancestor is the humble electric rice cooker. Wang figured he could add pressure sensors to the device to make it more versatile for different methods of cooking. He initially invested about $50,000 developing the Instant Pot, a process that took 18 months.
It's not perfect, Wang admits. The buttons make the appliance look too busy and the learning curve can be a bit steep for neophytes. Anyone predisposed to fears about pressure cookers, which is not uncommon, may also take a pass at purchasing the Instant Pot.
While his gadget might be a novelty in American kitchens, Asian households have long been used to the idea of space-age rice cookers and pressure cookers — particularly in southern China and Hong Kong, where the latter are used to make bone broths sipped with every meal.
Wang, a 53-year-old former telecom engineer whose family originates from China, said he's now looking at other kitchen appliances to update — though he won't say which ones. He did, however, offer a clue. The Instant Pot is ideal for moist foods such as braises, soups and grains. But when it comes to roasts or anything that requires a crispy texture, the device falls short.
"Crispy would be a whole new area for us," Wang said.
Twitter: @dhpierson