JetBlue gives up gate slots at Long Beach Airport after city warning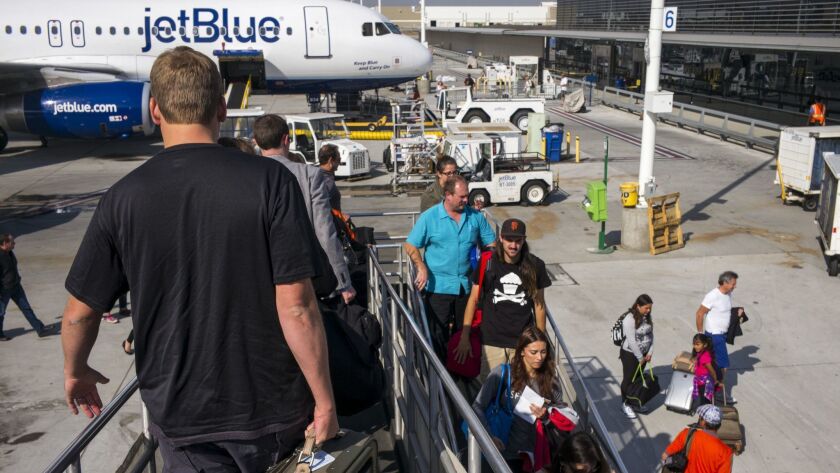 JetBlue Airways has given up nearly a third of its gate slots at Long Beach Airport only days after being warned that it was in danger of violating new city regulations designed to prevent airlines from sitting on under-used slots to keep competitors out.
The gate slots — the scheduled times that a plane can land or depart — probably will be distributed to competitors that have been on a waiting list to expand service from the airport. At the top of that list are Hawaiian Airlines and Delta Air Lines.
JetBlue notified the city on Tuesday that it would give up 10 of its 34 gate slots. The carrier said the reduction in service from Long Beach had long been planned as the airline expands services from other West Coast airports, such as Ontario International Airport and Hollywood Burbank Airport.
JetBlue announced even bigger route changes Wednesday, with plans to launch its first transatlantic flights to London by 2021. The airline said it hopes to begin service from New York and Boston to London, but has yet to decide which London airport will be served.
Long Beach Airport officials warned JetBlue Airways a week ago that the carrier was in danger of violating a regulation, adopted in November, to ensure slots are used to serve as many air travelers as demand allows and are not under-used to keep out competitors. The rules to prevent what is called "slot squatting" took effect Jan. 1.
JetBlue is the dominant carrier at the airport, with 53% of all landings and about 60% of all passengers, according to the most recent airport activity report. But the January report also shows JetBlue has cut back the number of passengers served by 38% compared with the same month in 2018. The second-busiest carrier at the airport, Southwest Airlines, has increased the number of passenger served by 72% in the same period.
In a letter sent last week to City Manager Patrick West, interim airport director Claudia Lewis said JetBlue Airways was warned that the airline is on pace to fall short of the minimum requirements imposed by the new rules.
The rule sets three minimum requirements: use at least 60% of the slots during any calendar month, and use slots 70% during any quarter and 85% during any calendar year. Airlines are required to meet all three minimum standards. The letter from Lewis said JetBlue was on pace to miss the 70% use requirement during the first three months of the year.
JetBlue representatives, in response to Times inquiries, referred to an April 2018 press release in which the airline said it was "advancing its West Coast strategy" following its successful expansion of its luxury, business-class Mint service to San Diego, Las Vegas and Seattle over the past year.
The press release said JetBlue was planning on "refining its Long Beach, Calif. schedule to better meet the needs of the market." In addition, the airline planned to add new nonstop flights between Ontario International Airport and New York's John F. Kennedy International Airport. That service began in September 2018.
In September, JetBlue added new service to Boston from Hollywood Burbank Airport and expanded seasonal service from Palm Springs International Airport to Kennedy International Airport.
When the anti-squatting regulation was adopted last year, then-airport director Jess Romo said in a letter to the Long Beach City Council that he was worried that "air carriers have the ability to essentially 'slot squat' on flights without permanently returning the underutilized flight slots."
Before the council voted to adopt the rules, JetBlue's associate general counsel objected to the new regulations, saying "such unjustified and unnecessary changes as the ones yet again proposed appear to be nothing more than punitive and discriminatory to JetBlue."
In the past few years, Long Beach Airport has rejected plans to serve international destinations but has added new gate slots which allowed Southwest Airlines to fly out of the airport for the first time.
With the new routes to London, JetBlue said the flights will be made by Airbus A321LR single-aisle aircraft with a new version of its high-end business service, which features lie-flat seats, flat-screen TVs, and upgraded food and beverages.
The announcement was made before more than 1,300 JetBlue workers in an airline hangar in New York. President Joanna Geraghty said she expects the added competition from her airline will be good news for all travelers flying between New York, Boston and London.
"Given a chance to compete, JetBlue can have a tremendous effect on lowering fares and stimulating traffic," she said.
Details about fares and flight schedules are expected to be announced in the next few months.
JetBlue already serves nearly two dozen countries, mostly in the Caribbean and Latin America, with flights reaching as far south as Ecuador and Peru.
---
Your guide to our clean energy future
Get our Boiling Point newsletter for the latest on the power sector, water wars and more — and what they mean for California.
You may occasionally receive promotional content from the Los Angeles Times.