U.S. job openings at highest level in 14 years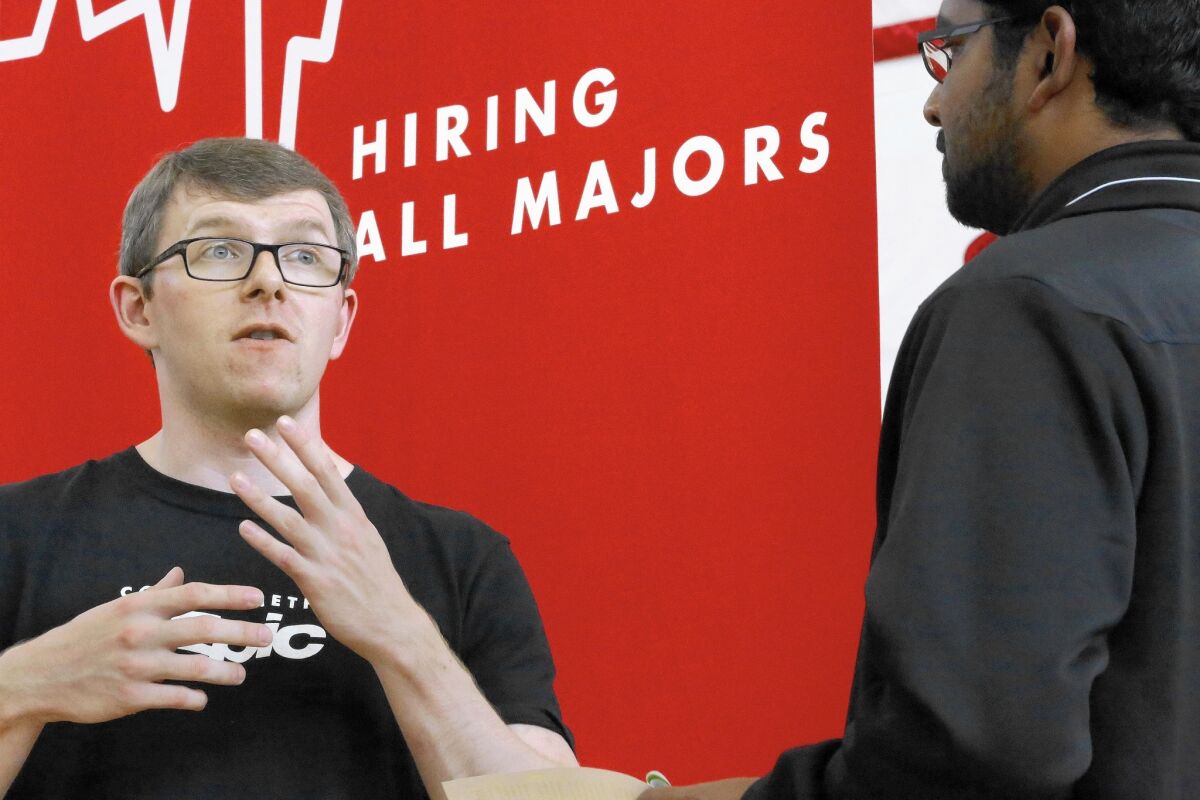 U.S. employers felt so secure about the economy's potential that this fall they advertised the most job openings in nearly 14 years, according to the latest government data.
U.S. organizations were looking to fill nearly 5 million positions available on the last business day of November, according to the Jobs and Labor Turnover Survey released Tuesday by the Labor Department. That's a 2.9% increase from October and the highest level since January 2001.
The survey of roughly 16,000 establishments zeros in on turnover and overall demand in the labor market, measuring job openings, hiring and departures at businesses and government entities across the country. It offers insights beyond the monthly jobs report, which looks only at the number of people who are employed.
Employers are making more jobs available because they expect improving demand and economic stability, analysts said. Hiring managers are also gearing up to replace a swell of workers of all skills and incomes who are starting to age out of the labor pool.
"It's a sign of a strengthening and more confident economy that there are openings — as opposed to extended hours and overtime for existing employees," said Stephen Levy, director of the Center for Continuing Study of the California Economy in Palo Alto. "And more baby boomers retiring are going to push openings across the board."
Some economists, however, cautioned that job openings don't always become new jobs right away. They pointed out that many positions have sat vacant for extended periods as employers seek candidates of a caliber that may be unavailable.
"As the economy gets better, people are more willing to move around," said Michael Bernick, a former director of the California Employment Development Department. "But employers still have a hangover from the Great Recession and are choosy about who they want to hire and what they're willing to pay."
Michal Goldvaser, a Los Angeles fashion industry recruiter, has seen firsthand how employers are eager to snap up qualified candidates. Over the last year, she said, job seekers have had the upper hand.
"It's such a candidate's market right now," said Goldvaser, a senior job recruiter at FourthFloor Fashion Talent. "I have more jobs than I can fill with qualified people."
On Tuesday, she said, she sent an apparel graphic designer to his first interview. By the time he left the interview, another company wanted a meeting.
"He told me whoever offers him the first job, he'll take it," she said. "That's the nature of every single day for me at this point."
In November, job openings increased in industries such as manufacturing, construction and professional and business services. After months of fluctuations, openings in the education and health services and leisure and hospitality sectors declined.
Overall, nonfarm job openings have steadily moved up since 2009 and gained more momentum last year.
"Companies see good activity today and tomorrow, and are willing to prepare for that by adding to their staffs," said Carl Tannenbaum, chief economist for Northern Trust in Chicago.
In October, hiring nearly hit a seven-year high but then fell by 111,000 workers in November. The hiring measure sometimes trails openings as companies screen job candidates.
But separations, which include layoffs, discharges and voluntary departures, also slid. The figure, a gauge of turnover, dropped by 240,000 workers.
The number of people who quit, which is considered an indicator of economic confidence, dropped slightly in November after reaching a six-year high the previous two months. Most employees who quit do so because they have a better-paying job lined up.
"People are leaving on their own, voting with their feet," said John Challenger, chief executive at Chicago job placement firm Challenger, Gray & Christmas. "It suggests that people are much more secure in their jobs and are willing to take chances and leave for better jobs."
For the 12 months ending in November, employers added a net 2.7 million workers.
In December, small-business optimism shot to its highest level since October 2006, according to an index from the National Federation of Independent Business. The index rose 2.3 points to 100.4 in December, returning to pre-recession levels.
And after months of sluggish wage growth, workers may be on their way to higher pay, according to the business group.
Economists were befuddled by government data Friday that showed a drop in average hourly pay in December. A falling unemployment rate, which is now at a six-year low of 5.6% nationally, generally prompts employers to dangle larger compensation packages to lure the strongest candidates and retain existing employees.
"For a long time, growth was slow, so businesses thought, 'I can get by if I just push my people harder,'" said Joel Naroff, president of Naroff Economic Advisors in Holland, Pa. "Growth is not that slow anymore — there's only so much blood you can draw from a stone."
A quarter of companies surveyed by the NFIB said that they boosted pay in the past three months. This was the most companies doing so in seven years. And 17% of respondents, compared with 13% in November, said they plan to raise compensation in the coming months.
Aetna Inc., the third-largest health insurer in the nation, said Tuesday that it plans to boost its minimum wage to $16 an hour in April. The Hartford, Conn., company said 5,700 workers, including 250 in California, would get a raise.
Other companies have discussed adding new benefits, work arrangements or stock options to keep employees they don't want to lose.
"As you dig deeper into the recovery and good people are harder to find, you don't want to be faced with turnover," Levy said. "The pool of unemployed workers is on average less experienced than the folks who have been hired — all workers don't have equal experience."
---
Sign up for the California Politics newsletter to get exclusive analysis from our reporters.
You may occasionally receive promotional content from the Los Angeles Times.