Economy has recovered 8.7 million jobs lost in Great Recession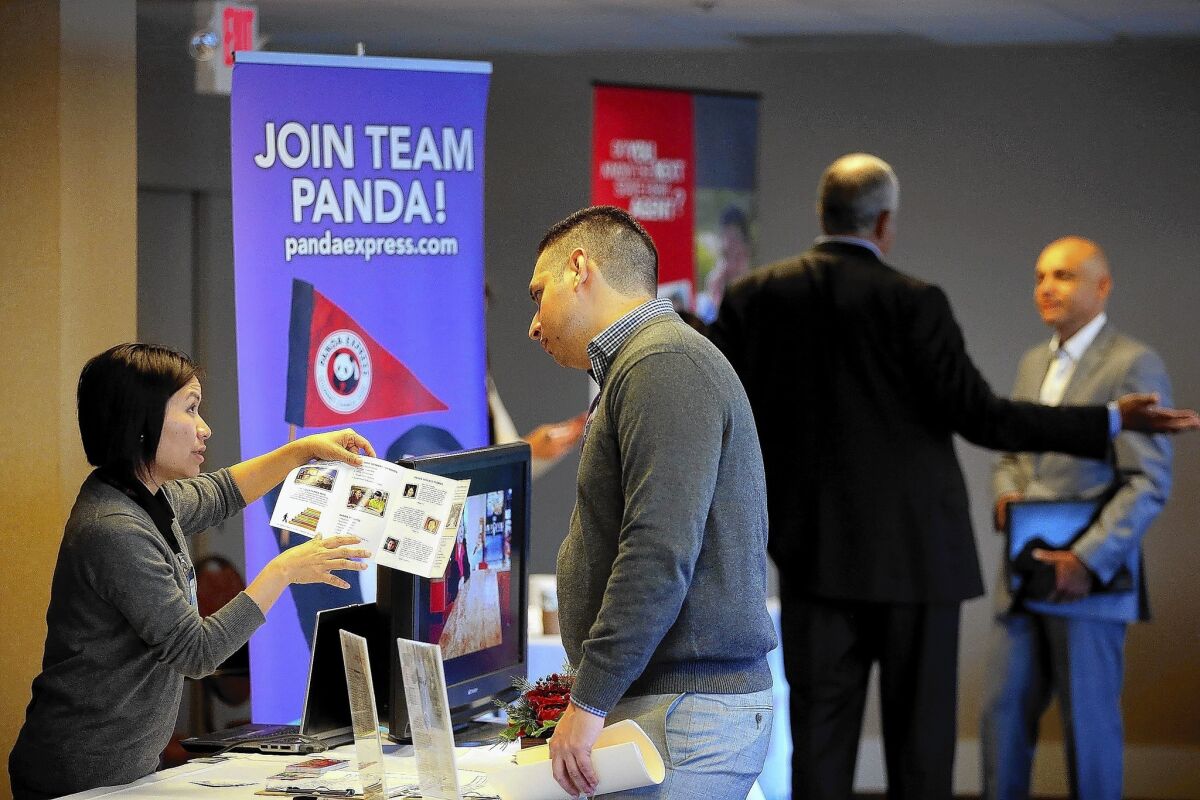 Reporting from Washington —
The nation's employers created a solid number of jobs last month that pushed the economy to a milestone: It finally recovered all 8.7 million jobs lost during the Great Recession.
But economists warned that it's not time yet to break out the champagne for a labor market that has failed to keep up with population growth over the last 6 1/2 years and continues to struggle to create higher-wage jobs.
"Things are improving, but it's happening agonizingly slowly," said Heidi Shierholz, a labor market economist at the Economic Policy Institute.
The milestone also marks the recession, which officially ran from December 2007 to June 2009, as the deepest and the slowest to recover since the Great Depression.
In addition, as government reports show, all jobs aren't equal.
Low-paying positions at restaurants, hotels and temp agencies now account for a greater percentage of the workforce than those in higher-paying fields such as construction, manufacturing and banking.
The increased number of lower-paying jobs is a key reason the recovery has been so slow: With less in their wallets, workers have less money to spend, economists pointed out. Consumer spending accounts for about 70% of the economy.
Still, the 217,000 net new jobs added last month were cheered by many analysts, who said the growth showed the recovery has shaken off a winter slowdown caused by extreme weather.
Although the May figure released Friday by the Labor Department was down from the revised 282,000 jobs added in April, it was consistent with stronger overall economic growth in the second quarter of the year.
The unemployment rate held steady at 6.3%, the lowest level since September 2008.
"The underlying hiring trend ... is encouraging, with more good news expected through the summer and into the autumn months," said Bart van Ark, chief economist at the Conference Board.
The economy has averaged 197,000 net new jobs a month for the last year, a moderate amount that is far different from the steep losses of the recession. At the labor market's low point in March 2009, the nation's employers shed 826,000 jobs.
May's job growth pushed total non-farm employment to 138.46 million, surpassing the 138.37 million jobs at the previous peak in January 2008, the Labor Department said.
From that point, the nation lost 8.7 million jobs until the labor market began slowly to grow again in February 2010.
Meantime, population growth since January 2008 has meant that the economy still is about 6.9 million jobs short of where it should be, said Shierholz, the labor market economist.
"At the pace we are currently going, it will take nearly four more years to get back to pre-recession labor market conditions," she said.
The gap partly is reflected in the unemployment rate. May's 6.3% level is well above the 5% mark in January 2008.
Besides, economists said, today's unemployment rate probably overstates the health of the labor market.
The labor force participation rate remained at 62.8% in May, the lowest level since 1978 and a sign that many people have given up looking for work. The low participation skews the unemployment rate, a reason Federal Reserve policymakers said they were using other labor market indicators to determine how much stimulus the economy still needs.
Even more disconcerting to many economists is the lower quality of the jobs being created to replace many higher-paying ones lost in the recession.
Compared to January 2008, jobs in construction are down 20%, manufacturing 11.7% and banking 4.8%.
Some lower-paying fields have seen increases. Temp jobs are up 16% and leisure and hospitality positions have risen 8.1%. Retail sales jobs are down slightly from the 2008 peak, but that masks an increase of about 925,000 positions since the labor market bottomed out in early 2010.
"It is a quality game much more than it is a quantity game," said Lindsey Piegza, chief economist at brokerage Sterne Agee.
"We're really not seeing that high-wage recovery that is indicative of a strong consumer lining their pockets with wages and going out and spending," she said.
It's typical for lower-paying jobs to lead the way out of a recession, economists said.
But even before the recession, there was a trend in the U.S. toward lower-paying jobs, with businesses contracting services to temporary workers rather than hiring full-time employees, said Arne L. Kalleberg, a sociology professor at the University of North Carolina at Chapel Hill.
The trend accelerated during the recession.
"It's definitely a drag on the economy because these folks don't have the purchasing power to buy stuff, and companies don't see the demand for their products," said Kalleberg, author of the 2013 book "Good Jobs, Bad Jobs."
Even so, the quality of new jobs has improved in the last 12 to 18 months, said Mark Zandi, chief economist at Moody's Analytics.
"Now we're seeing increasingly greater numbers of high-paying jobs being created and some middle-paying jobs," he said. "My sense is, going forward we're going to see much better-quality job creation."
The strongest sectors last month were business and professional services as well as healthcare and social assistance. Each added 55,000 net new jobs. Employment in restaurants and bars rose 32,000.
But higher-wage manufacturing and construction industries saw little change in employment.
Overall, average hourly earnings in the private sector rose 5 cents last month to $24.38. Over the 12 months ended in May, wages are up 2.1%, and inflation has risen 1.6%.
Weak wage growth keeps businesses from hiring more aggressively, which keeps the recovery from taking off, said Lance Roberts, chief strategist at STA Wealth Management, an asset management firm.
"We're still in this muddle-through economy," he said. "We're not really going stronger. We're not getting weaker. We're just kind of stuck."
---
Sign up for the California Politics newsletter to get exclusive analysis from our reporters.
You may occasionally receive promotional content from the Los Angeles Times.