U.S. economy adds 313,000 jobs in February, but wage gains slow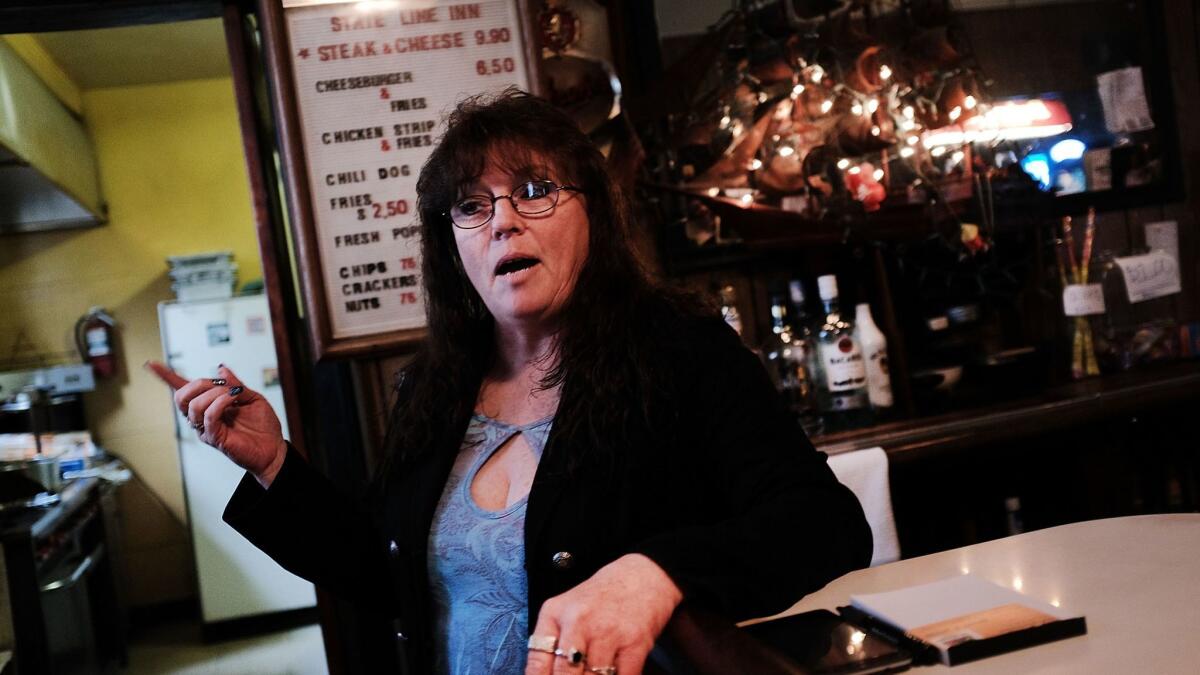 Reporting from NEW YORK —
Hiring surged last month at its fastest pace since mid-2016, but wage growth slowed — an ideal combination for the stock market but not for workers longing for consistently bigger paychecks.
The unemployment rate held steady at 4.1%, the lowest since 2000, as the labor force swelled by 806,000. That was the biggest increase since 2003 and indicated more people were coming off the labor market sidelines to look for work, which reduces the pressure on employers to raise wages to keep employees and attract new ones.

For the record:
2:40 p.m. March 9, 2018An earlier version of this article said the current economic expansion is the second-longest in U.S. history and would be the longest by midsummer. It is the third-longest expansion in U.S. history and would be the longest by the middle of 2019.
The 313,000 net new jobs added in February far exceeded analyst expectations and were a major increase from the previous month's upwardly revised 239,000 figure. Job growth for December and January was revised up by a total of 54,000 positions, meaning the economy has added a robust average of 242,000 jobs in the last three months.
"Three letters: wow," Mark Hamrick, senior economic analyst at financial information website Bankrate.com, said of the jobs report. "Certainly to see more than 300,000 jobs added in a month in this point in the economic cycle … is a stunner."
Stock futures jumped after the report came out as investors welcomed news that strong job growth wasn't about to trigger high inflation by pushing up wages too quickly.
Major U.S. stock indexes rose strongly Friday, also boosted by news that President Trump would be meeting with North Korean leader Kim Jong Un in a sign that tensions between the two nations could be easing.
The Dow Jones industrial average closed up 440.53 points, or 1.8%, at 25,335.74. The technology heavy Nasdaq composite index also was up 1.8%, while the broader Standard & Poor's 500 index increased 1.7%.
The increasing job opportunities mean Andrew Barocio, 21, of Whittier is about to get a pay increase.
He has been earning $12.50 an hour as a truck driver, delivering diesel generators and other heavy equipment. But on a recent delivery, he said, a customer who had watched him at work offered him a similar position with her Culver City company.
The new job, which starts Monday, pays $17 an hour.
He hopes the higher pay will allow him to move out of his parents' house and in with a roommate. He's even been promised a $2-dollar-an-hour increase if all goes well after a six-month probationary period.
"More money, more opportunities," said Barocio, who is interested in photography. "I want to move out to Culver City, get more camera equipment and pursue my own dreams."
But hopes that wage growth finally was accelerating after a big jump in January were dashed by a slowdown last month.
Average hourly earnings increased 4 cents to $26.75 after a downwardly revised 7-cent gain the previous month. For the 12 months that ended Feb. 28, wages increased 2.6%. That was down from 2.8% for the 12 months that ended Jan. 31.
The January year-over-year wage increase originally was reported as 2.9%, the best since 2009, and an uptick that fueled fears of higher inflation. Those concerns triggered a bout of financial market turmoil, as investors feared higher interest rates were coming to keep inflation in check.
Federal Reserve officials indicated in December that they would raise the central bank's benchmark short-term interest rate by a quarter-percentage point three times this year, to a range between 2% and 2.25%. The first hike is expected at the Fed's March 20-21 policymaking meeting.
After January's wage gains, analysts speculated the Fed might add a fourth rate hike this year. But the slowdown in wage growth last month makes that less likely, analysts said.
"To have the lack of more substantial wage gains at this point probably helps to alleviate some of the immediacy on the four-interest-rate-hikes-in-2018 question," said Hamrick, the Bankrate.com analyst.
Economists had said January's wage gains might have been a one-time jump, fueled by increases in the minimum wage that kicked in at the start of the year in several states, as well as raises spurred by tax cuts enacted at the end of 2017.
The recovery from the Great Recession has been plagued by tepid wage growth of about 2% a year. That has been expected to change as the unemployment rate falls and employers have to compete for new workers. But as February's large increase in the labor force showed, there are still Americans on the sidelines who can be lured back to a growing jobs market and keep wages from rising more quickly.
In California, wages rose faster in 2016 and 2017 than in the nation as a whole, according to data from the Bureau of Labor Statistics.
In December, the most recent month for which state data are available, average hourly earnings rose 3.7% from a year earlier to $30.45.
For all of 2017, the average annual increase in the state was 3.9%. For the U.S., it was 2.7%.
Jed Kolko, chief economist with employment website Indeed.com, was more optimistic that wage growth is picking up nationally, noting that the tighter labor market was putting pressure on employers to pay more.
"Workers should be encouraged the most about there being more job opportunities," he said. "The year-over-year wage number slowed down, but that's a volatile number."
The February job growth was driven by big jumps in hiring in construction, which added a net 61,000 jobs, and retail, which increased its payrolls by 50,300. Mild weather in much of the nation last month could have added to the construction gains.
But Kolko makes a monthly calculation excluding weather-sensitive industries — construction, mining, and leisure and hospitality — and said his figures show there was no impact last month.
The 229,000 net new jobs added when factoring out those sectors were the best since July 2016, he said.
"It was a very strong jobs report … stronger than what we should all expect at this stage of a recovery," Kolko said. The current economic expansion is the third-longest in the nation's history and, if it continues, would be the longest by the middle of 2019.
Kolko noted that the percentage of prime-age Americans — those 25 to 54 — with jobs jumped to 79.3% in February from 79.0% the previous month. The new figure was the highest since 2008 and means more people in their prime working years are getting jobs.
Overall, the percentage of Americans 18 or older who are in the labor force increased to 63% in February, still near a four-decade low.
Marc Short, legislative affairs director for the Trump White House, called the latest jobs report "exciting."
"We think that this economy is humming along," he told Bloomberg TV, giving some credit to the tax cuts that took effect at the start of the year.
---
UPDATES:
1:05 p.m.: This article was updated with the closing figures for major U.S. stock indexes.
12:30 p.m.: This article was updated with details from Andrew Barocio, a Whittier truck driver.
11 a.m.: This article was updated with additional information.
8:45 a.m.: This article was updated with comments from Jed Kolko of Indeed and additional details.
6:50 a.m.: This article was updated with additional details about the report and stock market reaction, as well as comments from Mark Hamrick of Bankrate.com.
6:05 a.m.: This article was updated with Los Angeles Times staff reporting.
This article was originally published at 5:30 a.m.