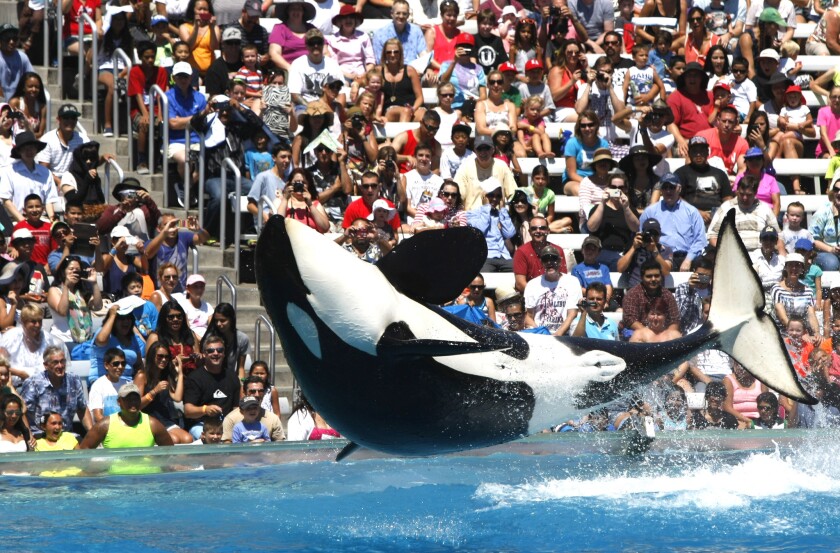 SeaWorld Entertainment won a victory against animal rights advocates when a federal judge threw out three lawsuits that contended the theme park company falsely advertises that its killer whales are treated well.
The lawsuits, filed by five visitors to SeaWorld parks in San Diego, San Antonio and Orlando, Fla., asserted that the company sells tickets under the false premise that the performing orcas are happy and healthy in captivity. The plaintiffs said they visited the parks between 2011 and 2014.
The lawsuits, which were combined by the court, alleged that if the public knew about the unhealthful conditions of the captive orcas, visitors would not buy tickets to the theme park. The lawsuit compared SeaWorld advertising to that of the tobacco industry.
But the lawsuits were dismissed by U.S. District Judge Cathy Ann Bencivengo, who said the allegations had several legal flaws, including that the park visitors failed to document what false advertisement they saw that persuaded them to buy tickets to SeaWorld.
Most of the examples of alleged misrepresentation cited in the lawsuit came after the 2013 release of the documentary "Blackfish," which accuses SeaWorld of abusing and neglecting killer whales. SeaWorld executives called the documentary unfair and inaccurate.
Join the conversation on Facebook >>
Also, the judge concluded that SeaWorld is not obligated to disclose to ticket buyers how it trains or cares for orcas, just as any company is not required to disclose how it treats its workers.
SeaWorld spokesman David Koontz said the lawsuits were "another in a series of efforts to ultimately phase out zoos and aquariums."
But he added that "SeaWorld and other science-based organizations are part of the solution, not the problem. Orcas at SeaWorld are healthy and thriving."
An attorney for the plaintiffs could not be reached for comment.
People for the Ethical Treatment of Animals, a vocal critic of SeaWorld, called the dismissal of the lawsuit a "legal setback."
NEWSLETTER: Get the day's top headlines from Times Editor Davan Maharaj >>
"The ruling does not clear SeaWorld of any misrepresentations regarding its cruelty to orcas," PETA said in a statement.
Attendance at SeaWorld parks in San Diego and San Antonio have been on the decline since the release of "Blackfish." The theme park company has responded by proposing a larger enclosure for the killer whales and a new show that cuts out the circus tricks and instead depicts how the orcas behave in their natural environment.
Plans for a larger enclosure may be on hold because of a legal dispute with the California Coastal Commission, which added a condition to the plans that SeaWorld end its whale breeding program.
The new whale show is scheduled to open in 2017.
To read more about travel, tourism and the airline industry, follow Hugo Martin on Twitter at @hugomartin.
MORE FROM BUSINESS
Worker salaries are poised to climb in 2016
The day three NASA astronauts staged a strike in space
Indian clothing maker settles California lawsuit alleging software piracy
---