Kaiser Permanente mental health workers threaten to strike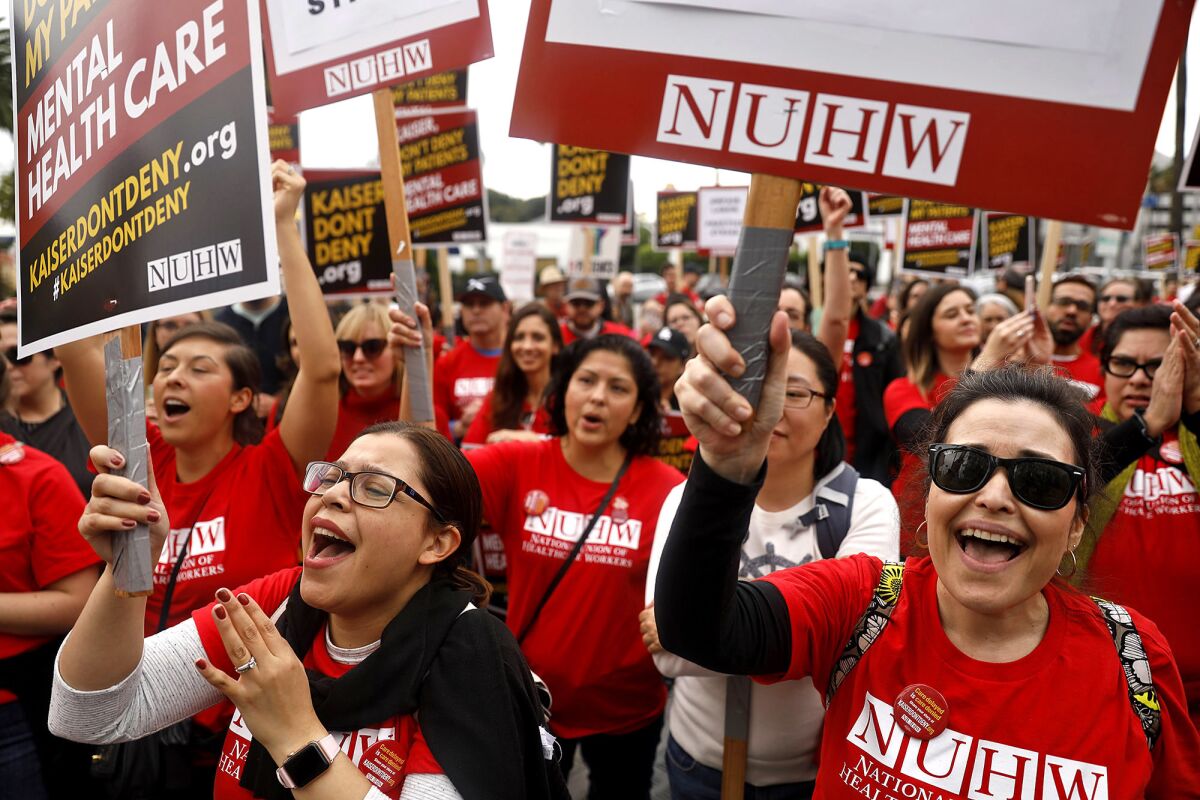 About 4,000 mental health workers at Kaiser Permanente will go on strike next week at facilities throughout California if they and the healthcare giant fail to reach a new contract before then, the workers' union said Thursday.
The main issue, the National Union of Healthcare Workers says, is that Kaiser is being too slow to enable its patients to access mental health care.
NUHW President Sal Rosselli said the strike would start Tuesday if the separate contracts for Kaiser's Northern California and Southern California mental health workers are not reached before then. They've been working without contracts since the last ones expired in September.
"I want to emphasize that none of our clinicians want this strike to happen," Rosselli told reporters. "We stand ready to negotiate 24/7 over the next few days."
In an effort to speed up mental health care at Kaiser, the union is seeking increased staffing, smaller patient-to-therapist ratios and fewer patient referrals to therapists outside the Kaiser network, among other changes.
In one example, the union contends that because of state requirements calling for new patients to be seen within 10 business days, Kaiser gives priority to those appointments while stretching out the times for return appointments or referring patients to outside therapists who may or may not accept them.
"We feel like we have our backs to the wall and there's no other way to get the attention of Kaiser to force a change and get the access needed and appropriate care," Rosselli said.
The union's members held a five-day strike in December to protest the issue, and since then "the situation has actually deteriorated," he said. "There's a crisis of access to care every day throughout the state."
Kaiser spokesman John Nelson said the union's claim "is simply not true."
Noting a surge in demand for mental health services in recent years, Nelson said via email that "we have taken action" by hiring more than 500 therapists since 2015 and implementing a a $700-million, seven-year project "to expand and enhance" Kaiser's mental health facilities, among other steps.
Kaiser also is seeking to hire at least 200 additional therapists immediately, Nelson said, adding that all its hospitals and medical offices would remain open if a strike occurs.
Oakland-based Kaiser is one of the nation's largest not-for-profit health plans; it has 12.3 million members, including 4.6 million in Southern California. The health maintenance organization, or HMO, generated nearly $80 billion of revenue and $2.5 billion of net income last year, according to its annual report.
The mental health workers include clinical social workers, marriage and family therapists, psychologists and psychiatric nurses, along with other caregivers and medical professionals.
Nelson said Kaiser has been bargaining with the union on a new contract for nearly a year "and in the last few weeks have made great progress toward an agreement."
He said Kaiser had offered pay increases, lump-sum payments, performance bonuses and student-loan repayments as part of its proposals in addition to the plans to boost its staff and services.
Criticism that Kaiser does not provide mental health care on a timely basis goes back years.
In 2013, Kaiser was fined $4 million by the California Department of Managed Health Care for "serious deficiencies in providing access to mental health services."
The agency alleged that Kaiser did not sufficiently monitor its provider network "to ensure that appointments are offered within the regulatory time frames" or "ensure that effective action is taken to improve care" where it found problems.
A few months later, in early 2015, Kaiser's mental health workers staged a walkout over the issues.
Twitter: @PeltzLATimes
Sign up for the California Politics newsletter to get exclusive analysis from our reporters.
You may occasionally receive promotional content from the Los Angeles Times.